With The Mid-Autumn Festival Here, The Mooncakes Have Arrived – What To Know About This Chinese Pastry
School's back in session, summer's winding down and with that comes the mid-autumn festival, the second most important of Chinese holidays.
The mid-autumn festival falls on September 8 this year, when the moon is said to be at its fullest and brightest of the year. In Asian countries, festivities usually include moon-gazing and the creation of bright paper lanterns and decorations. It's a period to give thanks for a bountiful harvest, and to celebrate family and unity.
Observed in Chinese and other Asian communities the whole world over, the 3,000-year-old holiday would be incomplete without the yolk-filled mooncakes.
The pastries can be found in elaborately decorated tins at Asian grocery stores. Many of these tins reflect famous characters of stories passed down from generation to generation, including the Moon Goddess. Folklore had it that she was a queen who escaped from a despotic emperor who was bent on taking an immortality pill and inflicting pain and suffering to those around him. She stole the pill and flew off to the moon to save the people from an unkind end and, the story goes, that the shadows on the moon belong to the Moon goddess.
Here are some of the interesting box cover designs:
There are two different type of mooncakes: the traditional sweet pastry with a lard crust, lotus-seed paste and duck egg-yolk filling that's favored by older customers. Then there's 'snowy mooncakes,' gorgeous pastel-colored cakes that come in a variety of flavors and is supposed to be less fattening than its conventional counterpart. More chewy in texture, they have a green bean paste base and flavors include green tea, sesame, mango, pink guava and even blueberry jam.
Here's a photo of the snowy-styled mooncakes: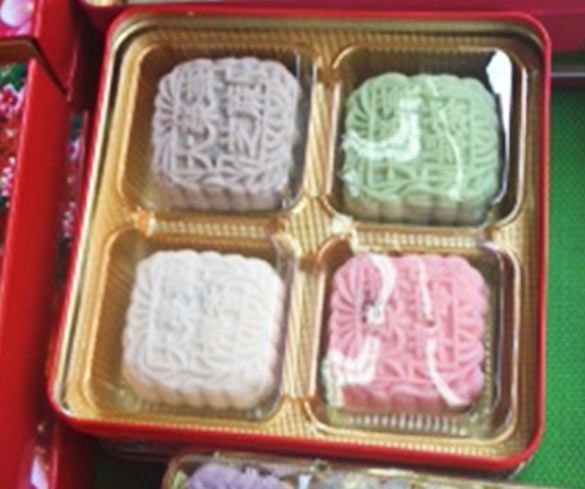 Regardless of which style of mooncakes you prefer, these can be purchased locally in Asian bakeries or supermarkets. From informal surveying, I've noticed customers prefer to purchase their mooncakes at bakeries for freshness. For this reason, if you're a last moment buyer, this might mean missing out on the popular flavored mooncakes as it runs out.
Being that the mid-autumn festival is family-oriented, tins of mooncakes are exchanged between family, friends and neighbors. For clients that you're trying to impress, premium mooncakes can convey the full importance of relationships and connections that you're trying to convey – so much so that mooncakes are included in China's crackdown strategy against graft and corruption. Average prices of a box of mooncakes ranges from $25 to $35.
Typically four regular-sized mooncakes are contained in a decorative tin box. Mooncake flavors vary depending on the regions and style of preparation. There's the ham and nuts version, which contains a mixture of sesame seed, walnuts, almonds, olive seeds and melon seeds. Background scenic photos of one's hometown are sometimes reflected on the tin box itself, bringing a little flavor of home.
Buyers may also purchase single mooncakes and also miniature-sized mooncakes individually wrapped. Fruits such as the pomelo are an essential accompaniment to the mid-autumn festival as a way of balancing the sweet taste of mooncakes with the tart flavor of the fruit.
Where to get them? You can check any local Asian market or bakery. For fresh ones, we recommend Lily Bloom Bakery at 2220 86th Street (between Bay 31st Street and Bay Parkway). A box costs approximately $20; single mooncakes costs about $4.
Here's to a happy moon-gazing and festive mid-autumn celebrations!
— Alina Tsui