Michelle Obama's Book Tour Coming To Barclays In December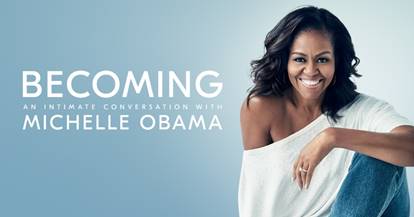 PROSPECT HEIGHTS – Michelle Obama is coming to Brooklyn! The former First Lady will promote her new memoir, Becoming, with a ten-city book tour, making her only New York City appearance at the Barclays Center on Saturday, December 1.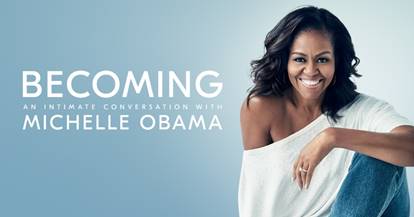 The event will feature conversations between Obama and a moderator (to be announced) about the varied stories within the pages of "her deeply personal book." Obama will discuss her experiences—from her childhood on Chicago's South Side, to her years as a professional working mother, and her time at the White House—sharing life lessons and inspiring attendees "to become the very best version of themselves."
"I've spent the last year and a half reflecting on my story as deeply and honestly as I could, and now I'm thrilled to travel the country and do the same with readers this fall," Obama said in a release announcing the book tour. "I hope that this tour will inspire others to reflect upon and share their own stories—all the joys and sorrows, all the scars and renewals—so that together, we can better recognize that each of us, in our own way, is in a constant process of becoming."
Tickets for the Barclays event go on sale to the general public starting next Friday, September 21 at 10am. They can be purchased online at BecomingMichelleObama.com, ticketmaster.com, or by phone at 800-745-3000. You can also pick them up at the Barclays Center box office starting Saturday, September 22 at noon.
To ensure that scalpers and bots don't get all of the tickets, the tour organizers are encouraging Obama fans to sign up at the Ticketmaster Verified Fan presale registration page which will allow them to purchase tickets on Thursday, September 20—a day before the general public. There will also be a limited number of VIP meet & greet packages available to purchase.
Ten percent of the event's ticket sales will be donated to various Brooklyn organizations including local charities, schools, and community groups. Some lucky members of the selected organizations will receive free tickets to the event!
The tour kicks off on November 13 in Chicago and in addition to Brooklyn, will make stops in Los Angeles, Washington D.C., Boston, Philadelphia, Detroit, Denver, San Jose, and Dallas.
Michelle Obama's Becoming will be released on Tuesday, November 13.