Grimm Sentenced To Eight Months In Prison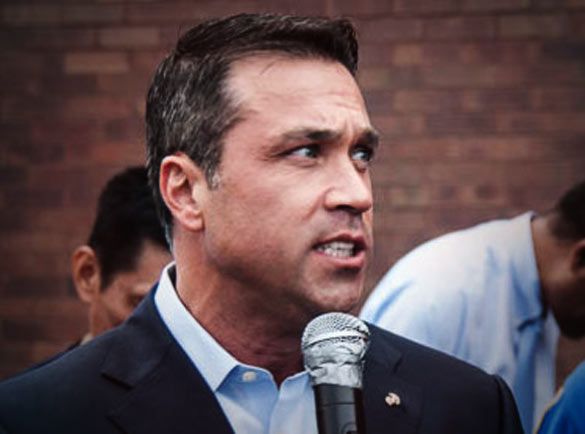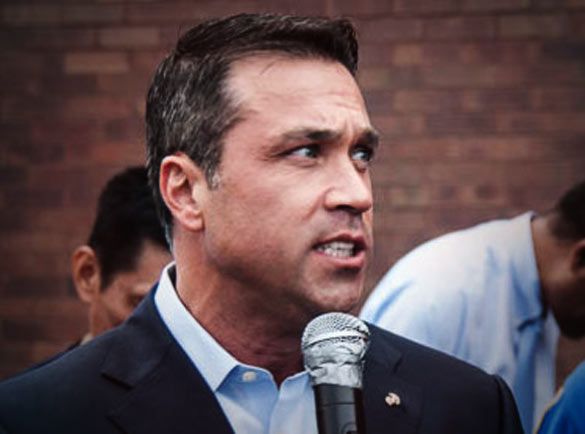 Disgraced ex-Congressman Michael Grimm was sentenced to eight months in prison and one year of probation by a federal court today, seven months after pleading guilt to tax fraud and resigning from office.
In January, Grimm admitted to underreporting his earnings in relation to a fast food business, called Healthalicious, that he owned before running for office. He also admitted to paying workers off the books with the unreported money.
"This prosecution and sentence should be a reminder to those in positions of trust that we and our partners in the FBI and IRS will vigorously pursue whomever commits fraud," said Acting U.S. Attorney Kellie Currie.
Grimm apologized in court Friday morning as his attorneys asked the judge to spare him jail time, according to the Wall Street Journal:
In an impassioned statement to the court, Mr. Grimm described himself as an ambitious but unsophisticated businessman who didn't know when to walk away from a failed restaurant.
Mr. Grimm said he had served the country for two decades and he was "ashamed to fail."
"I was a darn good congressman," Mr. Grimm said. "I can't tell you how terribly I felt that I walked away from my constituents."
Federal Judge Pamela Chen was unmoved by the apology, according to the outlet, calling it "somewhat belated."
"Your moral compass, Mr. Grimm, needs some realignment," Chen said.
When Grimm was first elected to the 11th District — which covers Staten Island and parts of Southern Brooklyn — in 2010, he touted his career as a Marine and time spent working for the FBI "investigating financial violations" as evidence of his integrity. A probe into his campaign finances eventually exposed his Healthalicious tax violations.
Grimm was reelected to the 11th District in November despite facing a 20-count fraud indictment in relation to his former business. Grimm was charged with concealing nearly $1 million in gross income, hiring undocumented workers, and perjury. He pleaded guilty to just one count of fraud before resigning in January.
During the trial, the defense called Grimm's shady business dealings "an aberration in an otherwise remarkable life in selfless service of his country," saying that losing his political career was punishment enough.
Prosecutors cited a news conference last year outside the Brooklyn courthouse during which Grimm claimed the case was just "a political witch hunt" as evidence of his defiance. They also referenced the incident when Grimm threatened to throw a television reporter off a balcony for asking about his campaign financing.
Last month, the former congressman submitted a 60-page memo to the court, including 35 letters of reference, pleading for the judge to give him probation over jail time, claiming he is a caretaker of former Staten Island Borough President Guy Molinari, citing his military record, as well as his time as an 11-year-old stock boy.
After today's decision, Molinari, a mentor of Grimm's and one of his fiercest defenders, said he was heartbroken over the sentence, reports the WSJ:
"It's a sad day for me to watch this young man who has so much promise and helped so many people to stand before a judge and be sentenced in a criminal trial," Mr. Molinari, 86, said.
"He's a Marine. So he can handle this. He can but I can't," Mr. Molinari, said. "It's very painful. I haven't felt this bad in a long, long time."