Michael Bak Of Friendly Rx Revives The Neighborhood Pharmacy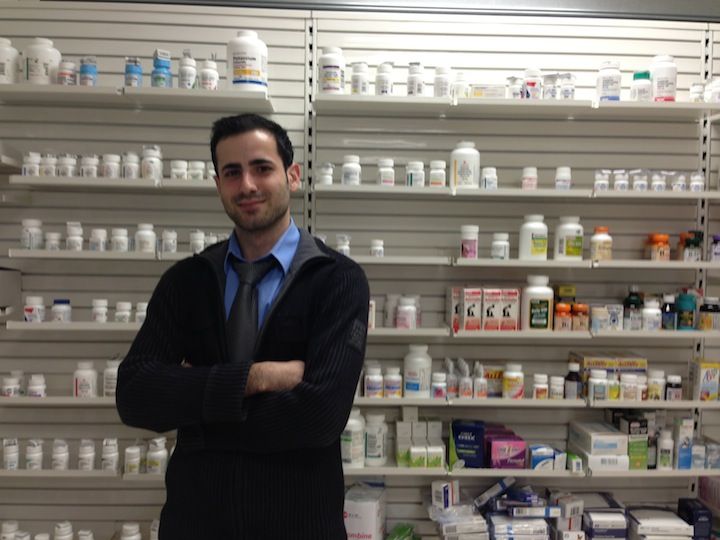 There's no denying Ditmas Park has a wealth of pharmacies, especially on Cortelyou–but have you noticed Friendly Rx on Coney Island Ave.? We spoke to Michael Bak, who opened on the ground floor of 651-C CIA in the fall of last year, about helping others, when he knew his life's path, and what the neighborhood pharmacy used to be.
The first thing you notice about Michael Bak of Friendly Rx at the corner of Coney Island Ave. and Slocum Pl. is that he's really young. At 25, though, Michael has already been working in busy pharmacies for nearly a decade, and the Borough Park resident is currently fulfilling his vision of an affordable local drugstore that harkens back to the days when the guy behind the counter knew just the thing for you.
Since opening Friendly Rx six months ago, Michael has been providing everything from specially-made compound medications to pet accessories–even free printouts for those trying frantically to redeem their Brooklyn Banya Groupons–with a kindness and familiarity that helps his business live up to its name.
"People are surprised when they come in and I tell them a prescription is $25 instead of the normal $60 or $90," Michael says. "If a co-pay is $2 or $3, I'll waive it. It may not seem like a lot, but you never know if it's an opportunity for someone to put it towards something else."
Michael told his business partner before construction started that if he wanted to make a quick buck, this wasn't the place–they'd reach their goal eventually, but the main objective was helping the community. Recognizing many of his customers are older or in pain, he's eschewed the typically-crowded New York pharmacy shelves in favor of an open space that's easy for people to get around. He holds promotions like offering free paper towels with prescriptions. He gives treats to all the dogs that stop by. It's not all about business strategy, he says, but about karma–and helping others has certainly seemed to pay off for him so far.
"Sometimes it comes back to you more quickly than other times," Michael says. Once, while looking for a place to keep cars for resale, Michael helped an old woman move a heavy tank of gasoline–at which point the she noted her garage was for rent. He met his wife at a party when her original ride home fell through. The couple, now expecting their first child together, were recently moved ahead of the line at an ultrasound appointment by a nurse to whom Michael once made a house call–delivering medicine from a friend's pharmacy since he'd run out of her medication at his own.
Michael first got into the industry at 16, when he took a bike delivery job with Klein's on 13th Ave. "I remember looking at the job listing and thinking I might be in a pharmacy the rest of my life," he says, adding that his ultimate goal is to bring a personal feel back to the drugstore, the way it used to be. "You can tell when someone's uncomfortable taking about something, and it's your job to help them."
His fascination with the idea of the neighborhood pharmacy even extends to his collection of antique signage and medication bottles, which he's had appraised at Scottie's across the street–and seems sufficiently amused at their apparent value.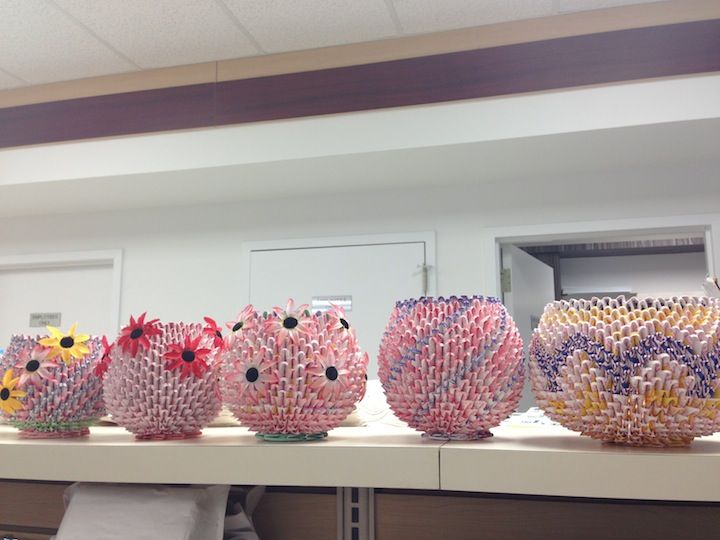 And just as much as Michael is interested in helping others, he continues to inspire others to help him. The popular hedgehog-esque baskets in Friendly Rx, made of upcycled lottery tickets by a former business partner who helped Michael start his current endeavor, are a strangely-perfect physical manifestation of the mutually-beneficial exchange Michael always intended at his business–and by treating each customer as the neighbor that he or she is, the goodwill Michael received from a friend is passed on.
Friendly Rx is a compound pharmacy that offers free delivery and pick up, and aims to make prescription transfers easy. For more information on their services, drop in or call 718-732-3399.