Mermaid Avenue Block To Be Named For Community Activist Lou Powsner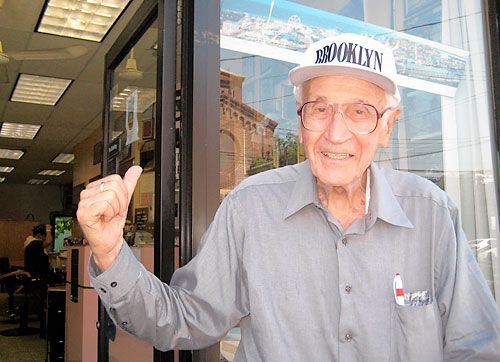 Councilman Mark Treyger will join friends and family of the late Lou Powsner on Saturday, September 26, at 11am to co-name the corner of Mermaid Avenue and West 17th Street in memory of the longtime southern Brooklyn resident and community activist.
Powsner was a quintessential New Yorker who served his city and country in a number of roles including businessman, civic leader, journalist, and World War II veteran. His love for his community and impact on life in Coney Island and southern Brooklyn touched countless lives and led to major improvement and progress for local businesses and residents. He remained in his community at a time when many of his neighbors fled to the suburbs, and he proudly kept his store open during tumultuous times, despite the presence of vacant and burned-out storefronts along Mermaid Avenue.
"Powsner is a true Brooklyn icon who is widely known and respected throughout Coney Island and Gravesend. Renaming this corner in his honor and memory would be a fitting and appropriate tribute to a great man who gave so much of his time and energy to his city and his neighbors," said Treyger.
We wrote about Posner when he died in April of 2014, over over the years his opinionated voice has been woven through our coverage of southern Brooklyn on everything from parking on 86th Street to gerrymandering in City Hall.