Men In Black Begins Shooting In Coney Island
By Howard Simon
PEOPLE OF EARTH! Aliens are here, at Coney Island, and there are people shooting them!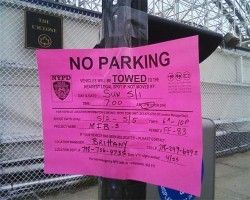 No, we're not talking about early arrivals for The Mermaid Parade, but the ones coming from Hollywood. Not to worry, though, because those Men In Black will be here to protect it, with the man who makes their wardrobe "look good" leading the way.
Filming for Men in Black 3, starring Will Smith, Tommy Lee Jones and Josh Brolin, began filming yesterday in the People's Playground. As we told you before, they've headquartered in the historic Grashorn Building, saving it from potential demolition.
Now Amusing the Zillion is reporting that they've gussied up the boardwalk from West 12th Street to Stillwell Avenue for their time-travel twist, giving it a late-1960s look. Amusing the Zillion has more photos and details on that.
We went on location Wednesday to check out the area where the threequel will be shooting from May 2 to 5 and it was mostly calm before the Hollywood storm, except for an equipment truck on Surf Ave across from the Grashorn Building, and some production assistants on the watch. Most of the pink No Parking signs announcing the Men In Black 3 shoot are posted on West 10th Street and running the length of The Cyclone.