Meet Your New "Small Town" Doctor: South Slope Pediatrics' Dr. Cao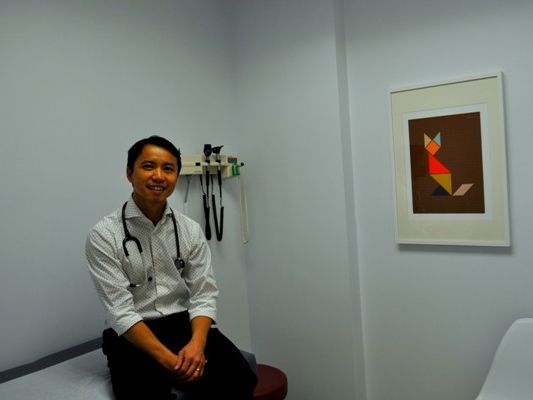 South Slope Pediatrics, the new office of Dr. Hai Cao, is a delightful breath of fresh air. Everything from the warm welcome received at the front desk by Matteo Trisolini, Dr. Cao's partner and office Renaissance man, to the pediatrician's genuine love for his patients and practice make this a welcome addition to the neighborhood for parents across the city.
The men recently moved to South Slope with their 21-month-old daughter and, as Dr. Cao puts it, found their new office space quite serendipitously after a chance toddler encounter.
"Matteo was with our daughter," he said, "and she had taken a toy from these twins. He was having her return it and started talking with their mother. It ended up that her father owned the building and had medical space to lease, and here we are!"
Dr. Cao's practice may be new, but he's no stranger to the community. He spent the last 10 years with Park Slope Pediatrics, located on Prospect Park West and President Street.
"I think my previous job was great," he told us, "and it was a really good learning experience for me, but I did feel like my relationships with my families were being diluted out by my other responsibilities, so hopefully we can have me be available here for my all folks."
This "small town doctor" mentality is the cornerstone of South Slope Pediatrics' philosophy, and one that Dr. Cao thinks is the perfect fit for this neighborhood.
"I think that South Slope is actually a great little town inside a big city," he said. "I like seeing people on the street, I like seeing people at the Y. And I don't mind when people ask me questions about their kids when I see them on the street."
For Windsor Terrace resident Teresa Lagerman, who recently transferred her two boys from Park Slope Pediatrics over to Dr. Cao's new office, it was love at first sight.
"The office is beautiful, and Matteo at the front desk is incredibly nice and helpful," Teresa said. "We were seeing Dr. Cao at the appointed time, which is a first for a pediatrician visit.
"Dr. Cao is obviously fantastic with kids and won my little guy's approval immediately," she added. "Overall it feels like a comfortable, well-run practice."
"Kids are honest," said Dr. Cao when asked why he likes working with children. "If they're scared, they'll tell you. If they're screaming, there's a reason they're screaming. Adults you never know, but kids…you know what they're bringing to the table, and it's okay."
South Slope Pediatrics located at 501 5th Avenue between 12th and 13th Streets, and is open Mondays, Tuesdays, Thursdays and Fridays from 9am to 5pm and on Wednesdays from 12pm to 7pm. For more information, visit Dr. Cao's website or call the office directly at 718-576-2450.