Meet Your Neighbors And Their Buzzing Garden Oasis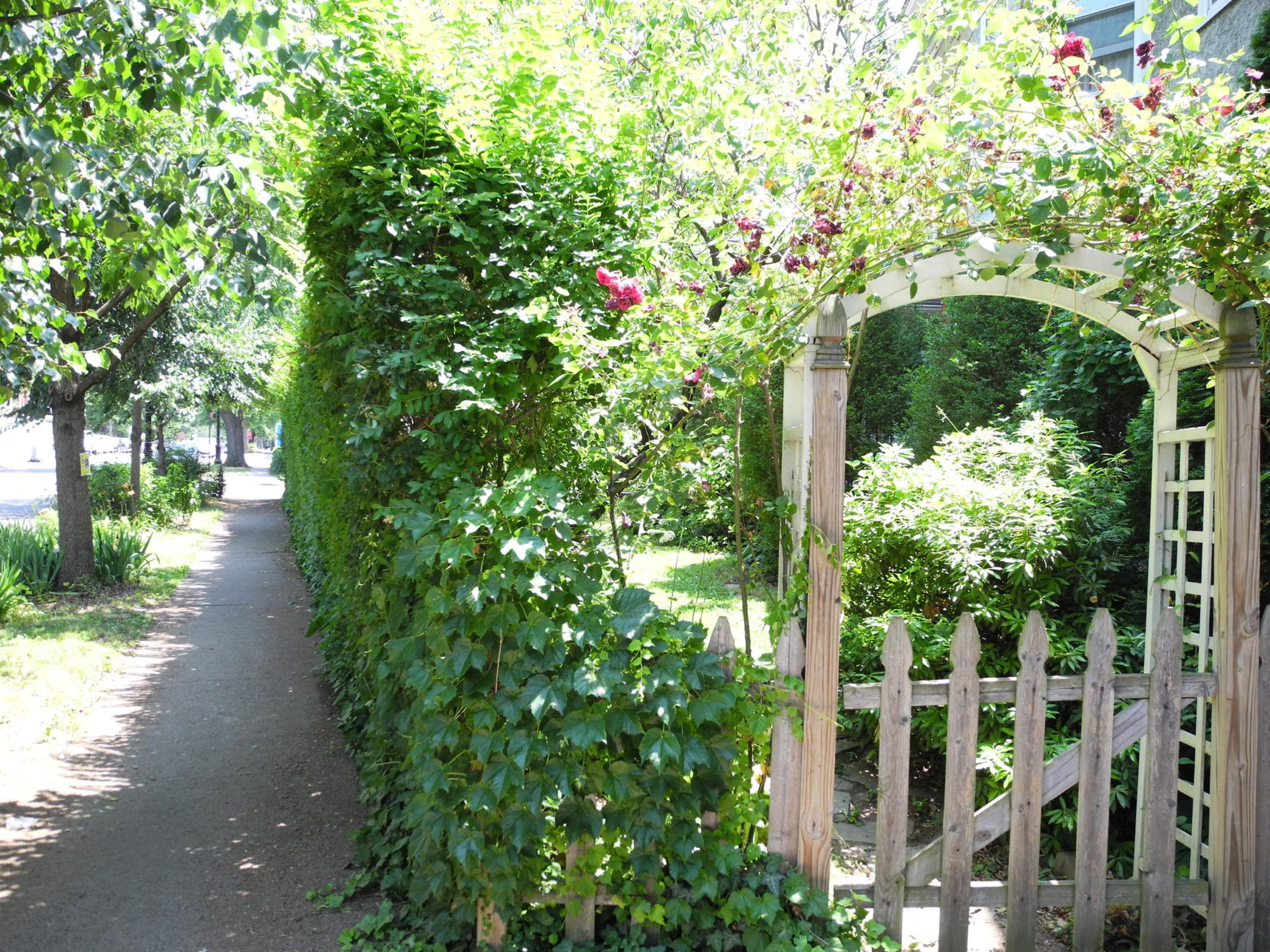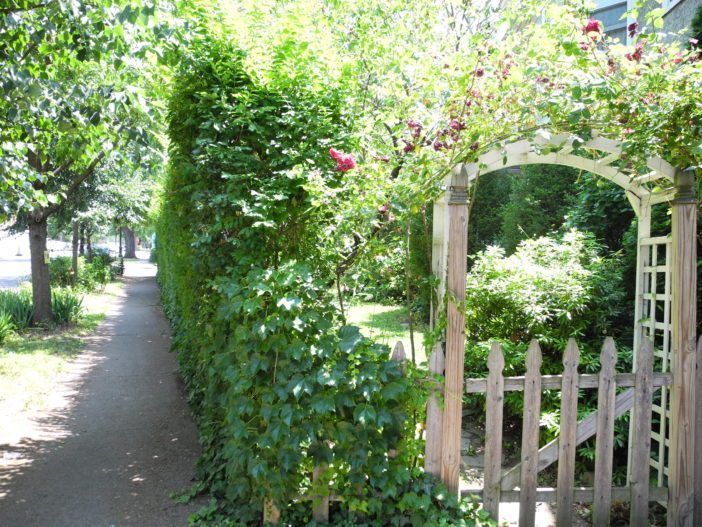 This garden looks like a leafy haven one might find in Savannah, Georgia or the New Orleans' Garden District, but it's here in the heart of Ditmas Park, on the southwest corner of Marlborough and Dorchester Roads.
Framed by a pair of forty-foot weeping willow trees, the charming garden surrounds a large three-story house owned by Chico Boyer and his wife, Kathy. Take a moment and peek over a flowered hedge beside this home, and you will see a hidden oasis — an island of repose for people, pets, nesting birds, and thousands of honey bees.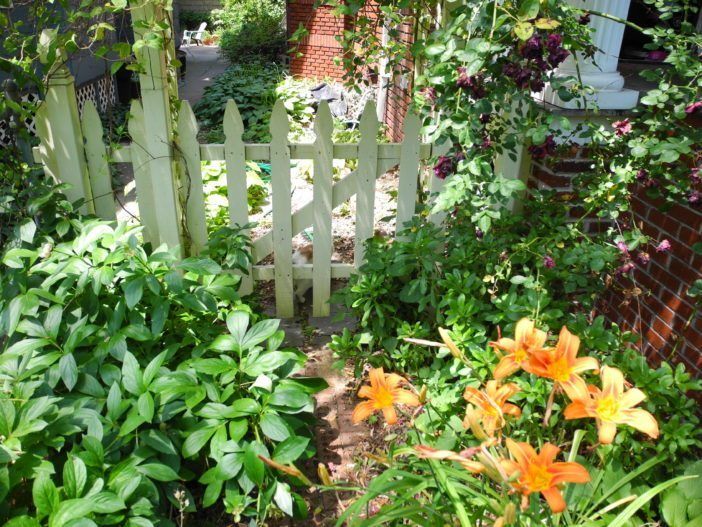 Soon after they moved into their Ditmas Park home in 1999, Kathy planted privet hedges along the northern edge of the yards. Today, the hedges stand a dozen feet high providing privacy, shade, a nesting place for robins and cardinals, pollen for bees, and a barrier to the sound of street traffic.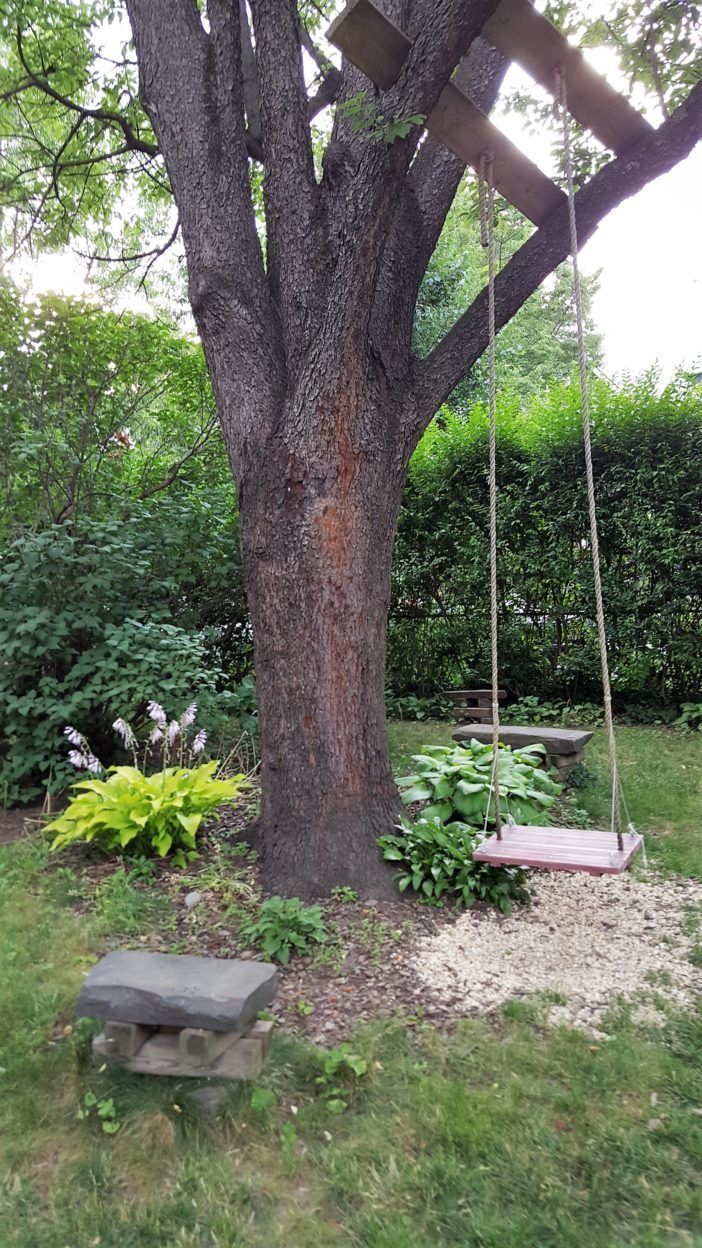 Some original garden elements remain, including an enormous linden tree, a large spruce, an old lilac bush, and a cherry tree.  But gradually over the years, Chico and Kathy added folksy yet practical installations to create a beautiful space for people to relax and enjoy the natural world.  "It wasn't something we did with any conscious plan in mind," Chico said. "It just came out intuitively."
Chico planted the willow trees as slender saplings just ten years ago; their trunks now are more than a foot in diameter and their graceful fronds fill the sky. Blue hydrangeas overwhelm the hurricane fence that runs along the east side of the property. Peonies, day lilies, irises, hostas, pots of orange nasturtium, crowd the walkways with color. A patch of tall bee balm flowers stands just a few feet from the beehives.
He fashioned walkways from bricks and old pieces of blue-stone pavement, placing salvaged slabs of slate upon wood blocks to create benches in shady nooks. He installed cedar wood arbors at the front and side entrances to the yard. These entryways are now entwined with climbing red roses and blue-violet clematis vines. Catbirds build their nests within; their mewing cries provide a sound track on a warm summer day.
And then there are those wonderful bee hives!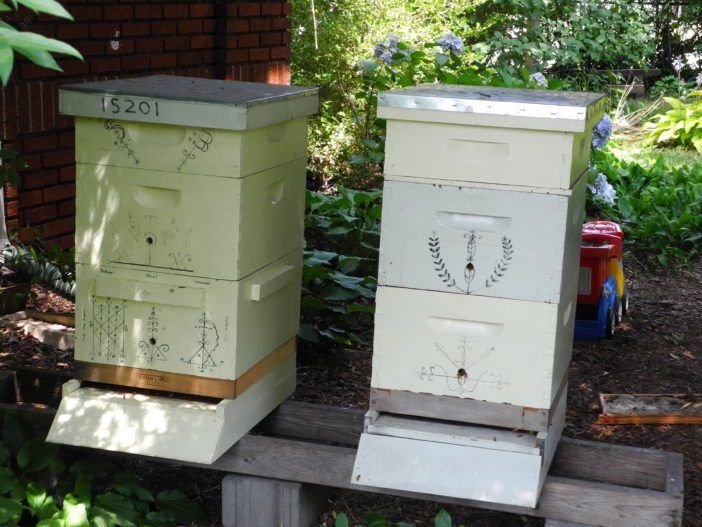 "About eight years ago, Kathy and I saw a documentary about natural and healthy living and one of the things they talked about was raising bees, and we thought that would be a good thing to do," said Chico. So the couple took a course in rooftop beekeeping taught in Manhattan by the renowned Connecticut beekeeper, Andrew Cote.
When the Boyers started beekeeping at the house, they got a summons from the City's Department of Environmental Protection because beekeeping was illegal. "So we had to put our hives up on our neighbor's roof," Chico chuckled.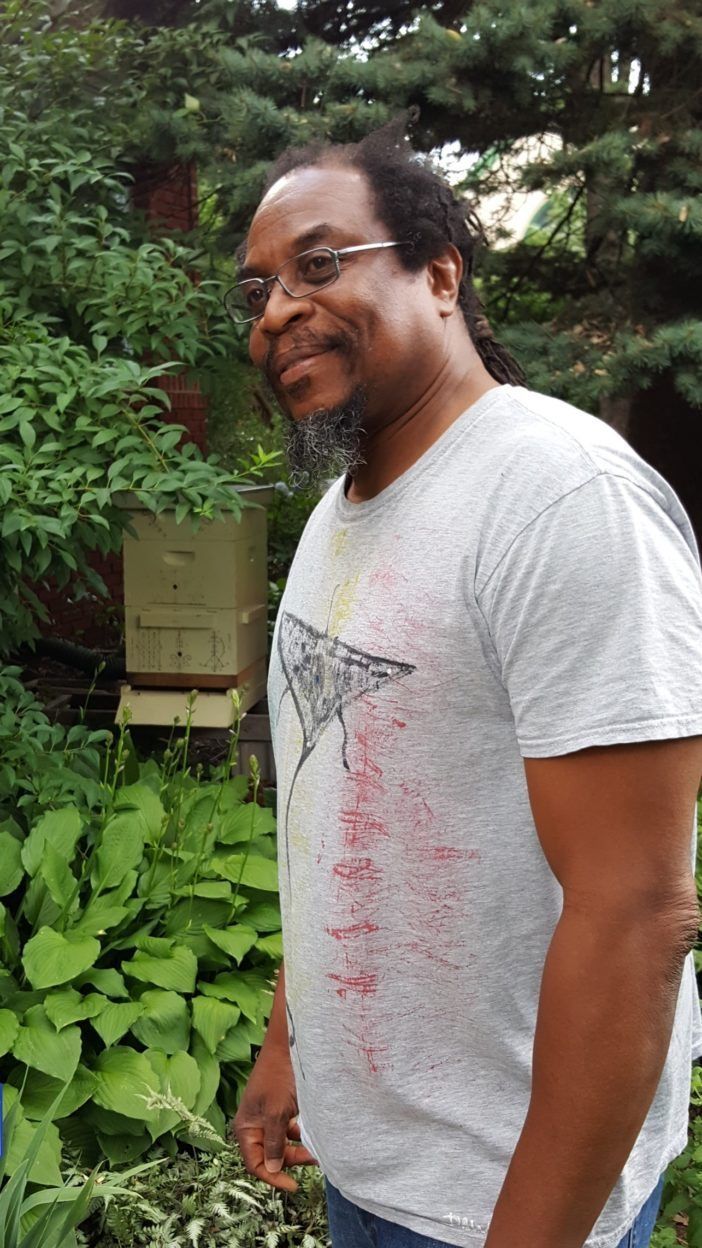 Now it's legal to raise bees in the neighborhood and their three large hives are thriving on all the flowers that surround them. The couple enjoys honey they harvest from the hives, but collecting that honey was a learning process.
"You have to be careful with bees; don't move too quickly around them," he said. "Bees can sense when you are nervous, they can feel the vibrations." During one of their early honey gatherings, Kathy got a little jumpy and Chico paid the price. "I got stung thirty-two times, seventeen in one leg," he laughed. "I know because I counted all the stingers that were in my sock." Luckily, on a visit to the garden in late June, the bees were too busy to be bothered with a visitor who kept a respectful distance.
Chico is originally from Haiti, but left the country during the repression of the Duvalier regime. He and Kathy wanted to live as close to Brooklyn's Haitian community as possible, in a peaceful place that could accommodate an extended family and music studio in the basement. The rest of their home is devoted to the three generations of Chico's family that live there, including his daughter, Laissa; grandchildren Denzel and Chrisette, their grandmother, Lisa; and two cats, ReRe and MiMi. All enjoy the shaded porch and verdant bowers that surround and soften the contours of the brick and stucco home.
As a student at the University in Port-au-Prince, in the 60's, Chico turned from the study of natural sciences to music. "For me, music seemed a better way to help my people," he said. He is now a musician and sound engineer, and has become something of spokesperson for the music of Vodun — a melding of religious practices of West African and the Caribbean-African diaspora. "It's not what people commonly think of as Voodoo with witch doctors," he said, but a culture with strong traditions in music, dance and food, espousing an approach to life that seeks spiritual harmony with the natural world.
Chico just left for a trip to Spain and Portugal where he'll be playing bass in a gig with the large Indie band, Orchid Fire.  When he returns home in a few weeks, he'll be back in his garden getting in touch with spiritual peace, surrounded by his family on a lush and quiet Ditmas Park corner.