Meet The New District Manager of Community Board 6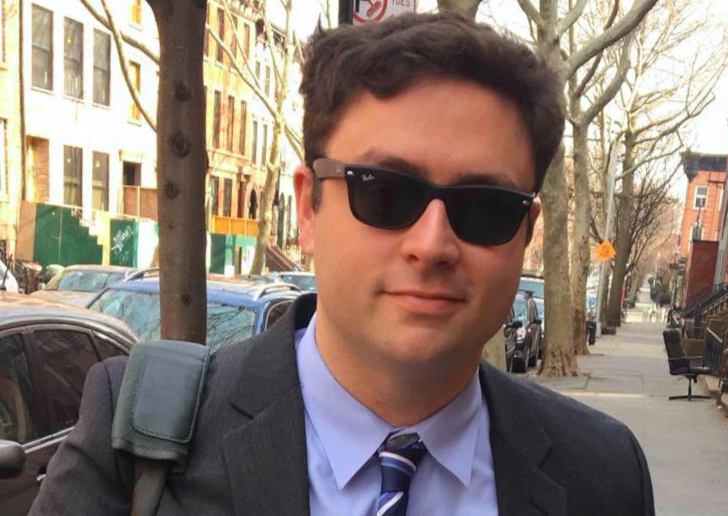 COBBLE HILL – Brooklyn's Community Board 6 welcomed new District Manager Michael Racioppo in May, following a tumultuous year in which his predecessor, who served in the position for 27 years, resigned amid accusations of stalking a former girlfriend before being indicted a few months later for forgery and theft.
Racioppo's induction into the role has been low-key by comparison. "My first day was the same day Craig got arrested," he recalls, declining to comment further on the board's former longtime head.
A native Brooklynite, Racioppo was born at Methodist Hospital and raised in CB7 in Windsor Terrace. "Despite my CB7 heritage, I think I understand CB6 fairly well," he told BKLYNER last week at the CB6 office on Baltic Street. Racioppo has lived in Carroll Gardens for six years and has been a part of Community Board 6 for four years, serving as Vice Chair of the Board for two years and Chair for the Permits & Licenses Committee for three.
Racioppo attended Xaverian High School in Bay Ridge and went to Quinnipiac University in Connecticut where he studied political science on a tennis scholarship. He earned his graduate degree in American Politics from Brooklyn College. He taught Government and Political Science at Brooklyn College for approximately four years after completing his studies. While fascinated by politics, he insists he has no intention of running for political office.
"I just love New York City history," Racioppo said. "My grandparents were the first people to give tours of Green-Wood Cemetery. They were the historians there," he added, while pointing to a vintage map of the cemetery displayed above his desk. "Obviously I have a bias for Brooklyn, but I do love New York City."
His interest in politics combined with his love for the city make Racioppo a fitting advocate for the district and its constituents. "I am excited to be serving the community," he said. "I am making myself as available as I can. I am definitely willing to listen, discuss, and figure out how best the community can be served and move forward on a whole host of issues."
One summer while teaching at Brooklyn College, both of his classes were cancelled for the semester, so Racioppo applied for a position as Program Director for the Carroll Gardens Association. It was there that he started meeting community leaders and getting involved with community boards and the City Council. He served as District 40 Council Member Mathieu Eugene's Chief of Staff for about a year and a half before working for former Assembly Member Joan Millman. He had been working at the Gowanus Canal Community Development Corporation for approximately two years when the CB6 District Manager position became available.
"I went to a lot of meetings," he said, and was "so involved anyway," that he thought he'd be a good fit for the job. "I think I know this community and I'll do my absolute best to listen and pay attention and be persistent," he insists. "When I got the job, I was confident that I would like it, but after working with [the staff], I really love it," he notes, crediting Assistant District Manager Ty Beatty, Office Manager Liza Santiago-Sierra, and "Hall of Fame-caliber volunteer" Helena Miskel for their hard work, efficiency, and dedication.
Racioppo began his new position at the start of the summer hiatus, making the general meeting this month only his third full board meeting, so he's now getting a feel for how the board really operates. For his part, he's been working to increase communication with board members, sending out regular emails with various updates, and improving the board's social media presence. He's also making efforts to improve outreach to community members by visiting with local groups and organizations, advertising the board and committee meetings on LinkNYC kiosks (as well as on BKLYNER.com), and noticeably adding new meeting venues across the district, including the oft neglected Red Hook area.
"I think one thing my role involves is [ensuring that] people are as aware as possible," he says. "They may not agree with everything—the route the board takes or something like that—but I think involvement and awareness is a really important part of it."
Among the issues that concern CB6 constituents, transportation tops the list, such as the Carshare Pilot Program. "You have people who are frustrated about certain changes and some who want more change," Racioppo says, noting the need to strike a balance. Other district concerns include affordable housing, the impending Gowanus rezoning, and education. Racioppo plans to work with the board and "the community at large" to find how to "best advocate and address these various concerns."
He recommends that constituents who want to be involved but not necessarily join the board complete the Non-Board Member Committee Application. "They can sign up for email notifications for meetings if there are particular topics they are interested in," he says. If someone is interested in transportation issues but doesn't want to be on the committee, they can complete the form and be kept up to date on transportation topics as well as upcoming meetings.
Aside from attending the monthly Community Board 6 General Board Meetings (next on Wednesday, November 14 at 6:30pm at the NYPD 78th Precinct, 65 6th Avenue), CB6 community members who have questions or concerns can reach out to Racioppo via email at racioppocb6dm@gmail.com. Welcome, Mike!