Meet Shelley Worrell, Founder Of CaribBEING & The Flatbush Film Festival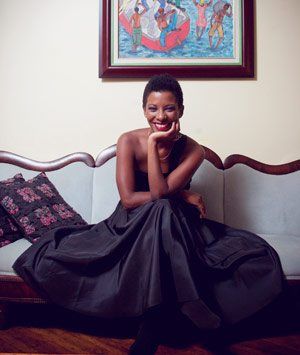 Last week we introduced you to neighbor Shelley Worrell's non-profit arts organization caribBEING and the Flatbush Film Festival. We met Shelley over tea to learn more about her heritage, her life in Ditmas Park, and how she's bringing cinema back to the community.
"We started in 2010 at the Flatbush Public Library," Shelley says about her first venture into the world of film programs. "My friend asked if I wanted to put together a film festival, and I agreed to do it, not knowing anything about festivals–and still learning as I go along. We put on a series of films, but it proved to be hard to build an audience in the library," she says, alluding to the event that quickly turned into exclusively-senior programming. Shelley decided the project was a bust, and returned to her position as a media executive. Then the Haiti earthquake hit.
"My friend was working on a film about the aftermath and relief efforts, and I thought, 'What a great moment to resurrect the idea of doing a film festival in such a large Caribbean and Haitian population.' Rhoda Jacobs put me in touch with the then-executive director of Whitman Hall at Brooklyn College, and he loved the idea."
His support was matched by local businesses.
"Cole from T.B. Ackerson came, himself, and poured wine for our after party. The owner of Ox Cart hand-delivered our hors d'oeuvres instead of just sending someone from the staff. We did all of our printing at Far Better Copy–we just kept everything really local. We got a lot of our seed money from student groups at Brooklyn College. 300 people came, and I realized we had to do this again."
"The next year, we diversified our program. Instead of focusing entirely on Haiti, we added other islands–Jamaica, Trinidad, and the French Caribbean. We also added art; I curated my first exhibition at the Museum of Contemporary African Diasporan Arts (MoCADA). It ended up being extremely popular, but it's hard setting up an exhibition simultaneously in two spaces!"
Shelley also added dance temporarily to the program, but it proved to be more of a challenge than she'd anticipated. Fortunately, though, the festival was making headway with other organizations who understood her vision.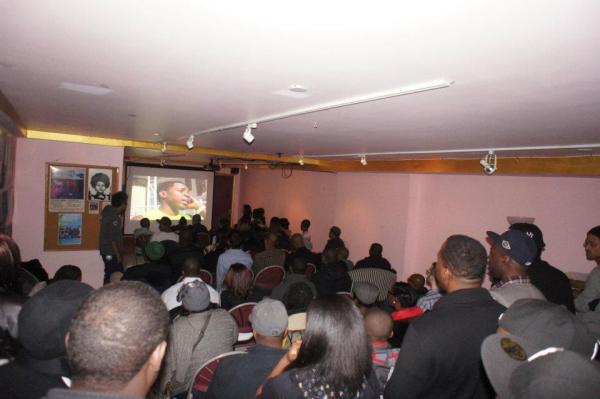 "It was the first time we executed the festival outside of the community, and that was because of lack of space. That's still something we struggle with–where can we have something that's accessible, that's conducive for a film or art exhibition? That's when we started to forge partnerships with MoCADA, with Maysles (above) in Harlem–someone else who really got what we were trying to do. We had a lot of events that were standing room only or to capacity, and that seemed like a sign that we were onto something."
Shelley's intuition was right. Last year, the Flatbush Film Festival's "enhanced programming" expanded to include a culture component in addition to the art, film, music, food, and director Q&As featured in previous years. She was invited to the Center of Film Academy in Poland to show a "Best Of" the Flatbush Film Festival's programs, and back to MoCADA for a Portraits of Carnival exhibition. CaribBEING also collaborated with the Queens Museum of Art, El Museo del Barrio, and the Studio Museum in Harlem  to host Carnival Panorama: Families Celebrate Carnival Traditions, and showed two films at TriBeCa Cinemas.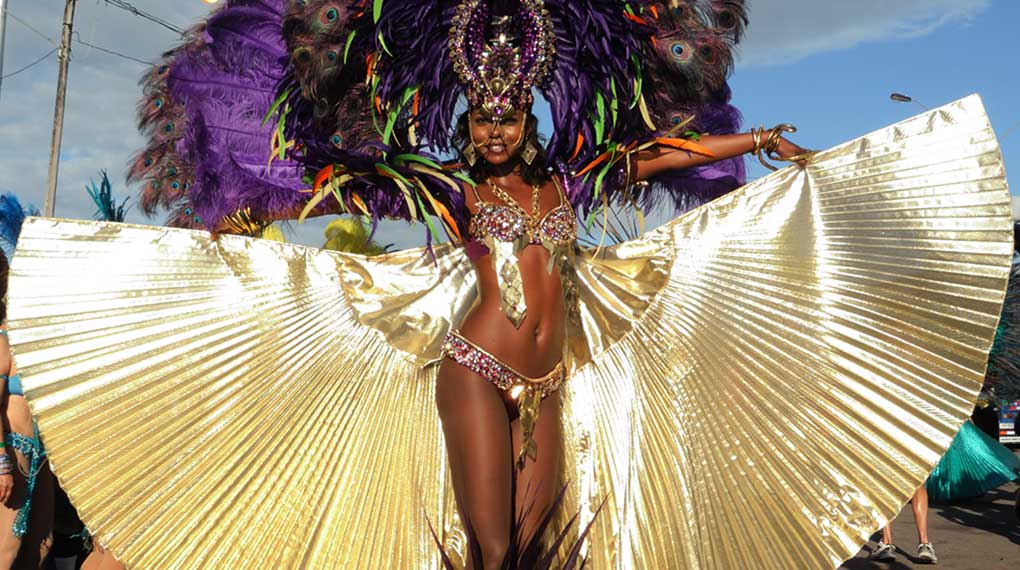 "Portraits of Carnival" photo via caribBEING
After that, the festival hosted its first pop-up program at the Flatbush Reformed Church. "I always had this vision that we would do high-impact screenings in highly-visible spaces," Shelley says. "Another place I've been thinking about is Newkirk Plaza." She's also been talking to the Flatbush Development Corporation about integrating film into the Flatbush Frolic. "For me, maintaining a presence in the Ditmas and Flatbush community is really important."
For the 2013 festival, caribBEING is partnering with Brooklyn ARTery for a pop-up screening. Shelley is also considering a return to the Flatbush Reformed Church. She was invited to join bigwigs from Lincoln Center, Sundance, and SXSW on a recent TriBeCa Film Festival panel about grassroots programming. "We do whatever is takes to get our stuff done," she says. "'By any means necessary' is our mantra."
And it seems like a lot has gotten done. Flatbush Film Festival has gotten press from outlets like Indiewire, Good Morning America, and the NY Daily News. Filmmakers who've met at the festival are in talks to make films jointly, and movies originally shown at the Flatbush Film Festival have attracted the attention of other major festivals as well. Shelley is bringing three films to Cannes this year (including  Janluk "Slas" Stanislas' Trafik d'Info, pictured below), and participating as part of the jury.

"I'm of Caribbean descent. I live, and work, and play in this neighborhood. I'm always on Cortelyou, and I think, where can we go to consume art and cinema here that's reflective of the community? I added the lens of Caribbean sensibility, because of my background and because Flatbush, and Brooklyn, and New York City is largely Caribbean, so that was the impetus of me forming the festival.
"The question now is, how do we diversify programming? We've built a strong brand with Caribbean programming, which is very reflective of the neighborhood, but our neighborhood is very mutli-cultural. There are a lot of films that are made here, a lot of filmmakers in the neighborhood, and we'd like to be representative of the entire Flatbush community."
A completely unfunded organization, CaribBEING will be holding their first benefit cocktail party on Tuesday, May 7, at the New York Foundation for the Arts building in DUMBO. They have also set up a crowd funding campaign on Seed & Spark (read more about that in last week's post), which allows benefactors to donate skills or money, or to loan materials to help the festival reach its 2013 goals–and offers some pretty sweet incentives.
The 4th Flatbush Film Festival is scheduled to begin October 31 and run over three weekends into November. If you believe in Shelley's mission, help them "get stuff done" through their Seed & Spark campaign, by attending their benefit next week–and if we're lucky, we'll have them in Ditmas Park before the end of 2013.
Top photo via Worrell Media