Meet "Rotten" Author Michael Northrop
Michael Northrop is a two-year resident of Ditmas Park, sappy dog video pusher, and all-around lyrical genius. Read about his affinity for Dungeons & Dragons, gravitation towards the YA genre, and Twitter faux-pas below.
Tell us about yourself, where you're from originally, and your experience moving to Ditmas Park.
I'm originally from a tiny town in the northwestern corner of Connecticut. To give you an idea, I went to a regional high school that drew students from all six towns in the area, and there were 99 students in my graduating class. I was in the top 100.
I went to NYU, which was a huge adjustment. I slowly got my bearings in the city and graduated knee-deep in debt—NYU, the gift that keeps on accruing. I eventually got a job at Sports Illustrated Kids and worked there for 12 years. Then I sold my first book and quit. That sounds more dramatic than it was. I didn't get very much money for that book, but I'd paid off my loans by then and was ready to move on.
I needed to cut costs, and I was ready to move on from Manhattan, too. I made a list of Brooklyn neighborhoods to explore. A friend suggested I start with Ditmas Park. I visited on a sunny day in 2011. The backyards were open at Sycamore and The Farm. I saw a bright, clean apartment just off Cortelyou and threw myself at it. That was that. I never got to the other neighborhoods on my list.

How did you become interested in writing, and what made you decide to focus on YA books?
Well, I'm dyslexic, so the long answer involves some special ed and a lot of Dungeons & Dragons. The short version is that I began reading poetry because it's short and being a slow, deliberate reader actually helps. Then I won a writing contest in sixth grade for a rhyming poem about a knight. It was my first award for anything. I was dazzled by the little certificate.

I wrote (mostly bad) poetry all through high school and then majored in English in college. A degree in English plus all that debt led to being a journalist. Eventually, I was writing articles for SI Kids during the week and short stories for literary journals on the weekends. That's when I decided to write a novel. I finished one, but it was awful, and I deleted it. The next attempt was better, but it fell in between publishing categories (which hadn't even occurred to me). By my third try, I knew it had to be in a recognizable genre to get published. I picked young adult because the story I wanted to tell was about a group of teens, and it sort of split the difference between SI Kids and the short stories.
How has the neighborhood affected your writing?
The main thing is that my apartment is bigger, sunnier, and more open than the ones I had in Manhattan. I have a home office set up, and it's a very productive space for me. I do all my writing there—I need the quiet—but I get a coffee on Cortelyou before I start. The walk, the human interaction, and the caffeine all help me wake up.
I like to go to the cafes to work on revisions and clerical stuff. Cafe Madeline is closest, but I also love to sit in the front windows at Lark. I go to Qathra if I really need to focus. The rows of individual tables sort of remind me of the workstations at a university library.
Even when I'm not actively working, the neighborhood helps. Walking between all the beautiful houses on my way to Church or Newkirk, riding the spin bike at Ditmas Fitness, sitting in the backyard at Sycamore… The atmosphere here really recharges me. It's good for daydreaming and little epiphanies.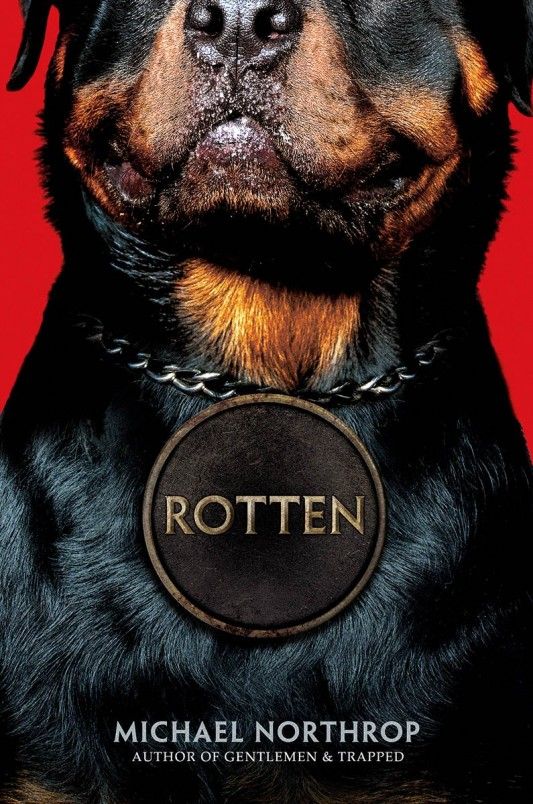 Tell us about your published works.
Gentlemen was my first published young adult novel. The New York Times called it "creepy," so I think that's official. Trapped was my second. That's the one that made writing for a living feasible. Before that, quitting my job had basically been a huge miscalculation. It's about seven teens stranded in their high school during a weeklong blizzard. After that, I wrote Plunked, a baseball novel for younger readers and sort of a nod to my SI Kids days. My new YA, Rotten, is about a tough teen named Jimmer Dobbs and a rescued Rottweiler named Johnny Rotten. All my books are published by Scholastic. My agent is awesome, by the way. She lives in Ditmas Park, too.
Where can we find your books and keep up with you online?
Wherever books are sold! That's not even a euphemism this time. The last one did well, so stores are stocking the new one, on the off chance that I don't fall on my face, sales-wise.
I have a website: michaelnorthrop.net—I wasn't fast enough to get the dot com. My Twitter handle is @mdnorthrop. I went a little Twitter-crazy on launch day Monday, but I only lost one follower, and I don't think anyone was hurt.