Meet Novelist Clay McLeod Chapman & Attend His Reading At The Cortelyou Library This Saturday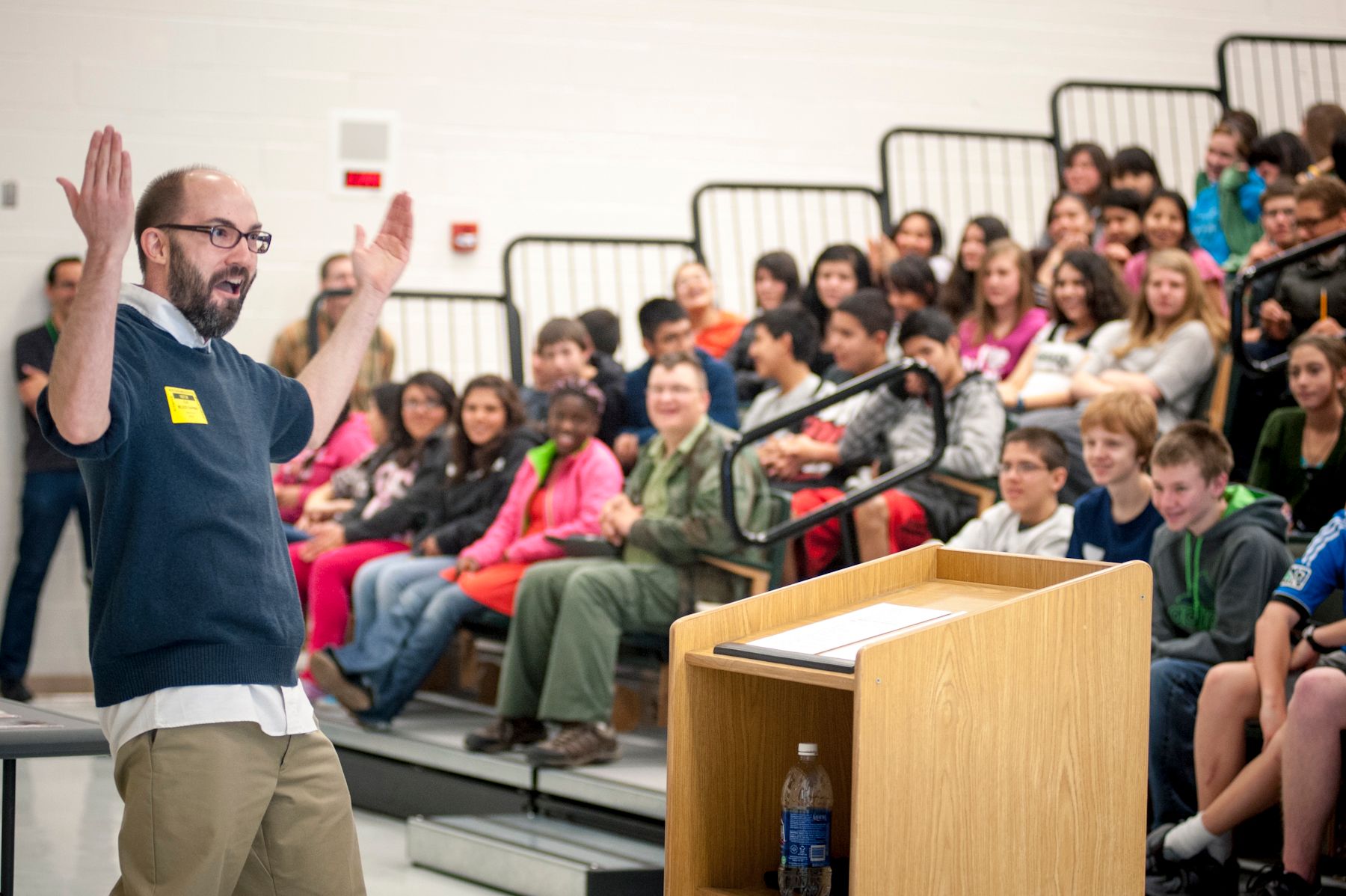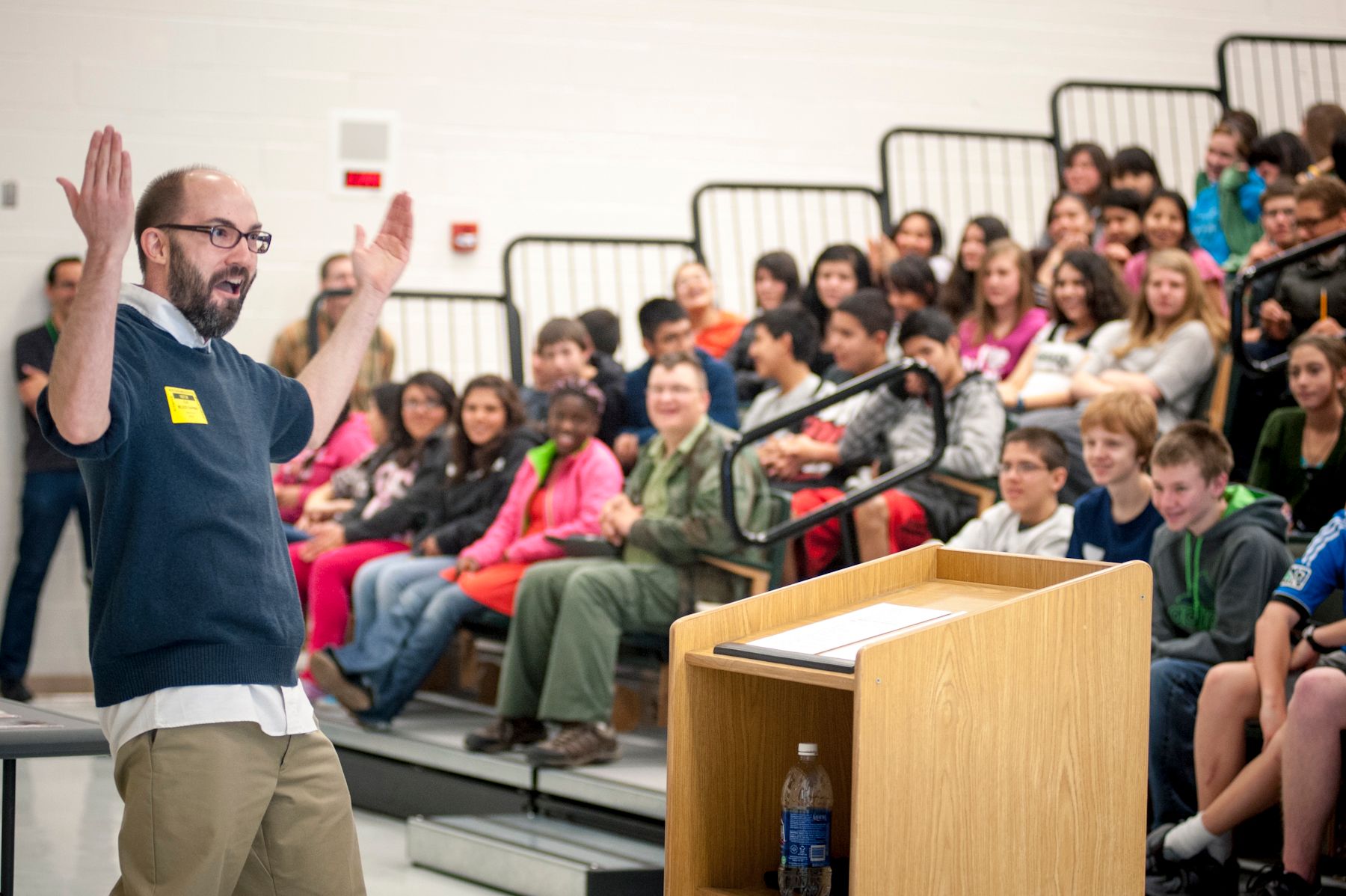 If there's ever a sighting of neighbor Clay McLeod Chapman asleep, please let us know about it – because we just don't think it's possible. A recent transplant to Ditmas Park, Clay is long known in New York by downtown theater fans as the originator of The Pumpkin Pie Show, a series of barebones, sweat-inducing, tent-revival-like storytelling sessions that he and Hannah Cheek have been performing since 1996. Since then, he's branched out into writing novels, screenplays, comic books, and musicals, on his way to becoming our own local King of All Media.
Clay's just returned from a month-long book tour and will be reading from The Tribe: Homeroom Headhunters, his most recent work and first book in a trilogy of YA novels, this Saturday, June 8, at 3pm at the Cortelyou Library thanks to the Cortelyou Library Friends group. If your kids ages 8-14 love a good storyteller — and whose don't? — this is one reading not to miss.
In anticipation of Saturday, Clay graciously invited us over to his home to chat about the book and other things Chapman, all while making coffee and juggling his utterly charming but very vocal 7-month-old son as well as his equally vocal 11-year-old pug, Penelope. Again, the man must not sleep.
So there's kind of a lot to talk about. You've got a lot going on.
Yeah, and the fun of this interview will be to see how much [my son] lets me talk. He wants to be a part of the interview as well.
That's ok. So Homeroom Headhunters came out today? I saw Amazon had only two left in stock today.
Really? That's great. I feel like I'm kind of in that interesting, just uphill battle of getting word out. God bless Facebook and all things social media 'cause it's just that weird bully pulpit to convince folks that there's something worth their time.
What's the story of book one and how does it fit into the trilogy — unless that'd be giving too much away?
Oh no. We're following our narrator Spencer Pendleton. He's a troublemaker, one of these misunderstood kids who cries wolf  a few too many times. So when this tribe of runaway children find him and asks him to join them, no one believes him. It's great at first but he quickly realizes that certain members of this tribe are using their secret society for questionable means and Spencer has to make a decision of whether to join them or not and what that entails. Can you leave your family? Can you run away? Can you leave the life you had behind? Without giving away the end…book one follows Spencer through fall semester in the 7th grade; book two will take place in the summer between 7th and 8th grades, when Spencer is shipped off to a summer camp for troubled youth; and book three (if I can make it to book three) will take place in 8th grade at a kind of boy's house, like a school for wayward boys.
What was your inspiration for the story?
The idea came about, honestly, in the sixth grade. I was definitely not a model student and was quickly marginalized by my lack of capacity to do anything. If there was a window, my attention definitely went out it. And there was just this one day in class, there was a shifting sound above my head. Something moved. I just heard something up there and I went off on this tangent in my imagination of, "What if there's somebody up there? Who would that be? How cool would it be if there was a kid up there?" I started imagining myself crawling up there — I kind of held onto that thought of a kid being on the other side of those fiberglass panels.
Fast forward to 20 years later, where I kind of lucked into an opportunity to have lunch with a children's book editor and she was asking me about ideas. I think I came to her with 3-5 ideas, and one of them was this thing I remembered from middle school, this 6th grade fantasy. And I posed to her this question: What if there was a group of kids living in the school? It was that kind of Boxcar Children, Mixed-Up Files of Mrs. Basil E. Frankweiller, kind of literary heritage of children living in environments that are familiar but somehow foreign. I really wanted to write about a group of marginalized kids who are the outcasts and the bullied, but who have found a place that they can call home in that school. And until they're ready to make their presence known, they're good as ghosts. I thought that was a fun place to start.
Most of your other work is really geared toward adults — do you think, having a kid yourself now, you'll write for even younger children? Given I guess that kids' tastes seem to be getting darker younger. You started writing for comic books recently. Seems like you're moving younger and younger.
(laughs) I'm slipping down. I mean, I would not say no to it. It's funny. I feel like kids are getting more advanced in their tastes. I know The Hunger Games is for a YA crowd, but I'm astounded that this massively popular book is about kids killing kids. But will I write for younger children, below the age of 8? I'd say if there was ever an opportunity to, yeah.
And how was it writing for young readers? How did you prepare for that? Did you read other YA novels?
I started reading a lot of middle grade books. There's a whole pile of books I read. I wanted to read a few contemporary middle grade books, but books that are considered YA today — that niche market didn't exist when we were kids. They were just books. I think there's an argument to be made that The Catcher in the Rye would be a YA book. For me, I just wanted to read a lot of the classics. Those books like The Outsiders, Call of the Wild, Lord of the Flies. These are all the books that influenced a huge part of Homeroom Headhunters. The Tribe has its own reading list. They're books they're assigned to read in class, but they take it to this advanced level, like "we live by these books."
The funny thing I hadn't anticipated was that my editor said, "This is too tame." It was the absolutely last thing I thought he'd be saying to me. But because of books like The Hunger Games and Harry Potter and Lemony Snickett, we're kind of in a place now where you have to kind of live on the edge if you're gonna go there. If this is a book about bullied kids, it's gotta be warts and all. When they first bought it, they thought it would be like another Diary of a Wimpy Kid, but my editor, who's a real rebel rouser, wants to rock the boat as much as possible. So this might be his Trojan Horse in the publishing house. Like the book that's banned in public libraries and embraced by precocious kids.
And what else are you working on? I know Henley, a short film you wrote, was picked up by Elijah Wood's production company to be made into a feature.
We're in the kind of development phase. Craig Macneill (the director) and I have spent a good portion of last year getting the script to a place where the producers felt like it was ready. And now it's all about casting and money — two very scary things that are out of my control. It all started with this novel I wrote in 2003 called Miss Corpus. It's not a great book, but there's a chapter called The Henley Road Motel. Craig, who I'd worked with on another short called Late Bloomer, was always struck by that chapter. We kind of took the first half of it and made a 10-minute movie out of it, which made it to Sundance, which got us to the table with Elijah Wood, which is phenomenal.
You also just wrote a Spiderman comic book. How do you negotiate working in different industries like theater, publishing, film, and now comic books? Is it difficult moving from one to another?
I think the correlative that draws them together, beyond me, is the ability to tell a story. What's great with comics is that I've been able to do what's called the back nine. There's usually the A story, which is the first 20 pages, and then there's the B story, which is like Spiderman learns how to do his laundry or The Avengers have to fix their car. It's a story that tells itself and doesn't mess with the mythology. So they let me pitch some ideas. I've done three. Two of them have come out and there's a third that I'm dying to have come out because I've seen the artwork and it's gorgeous. If the 13-year-old me knew what the adult me was doing, he'd be very proud.
People talk a lot about the Southern Gothic nature of your work. Do you feel like you keep that regardless of whatever you're writing, or does it depend on the work?
I think the Gothic follows me wherever I go. The Southernness gets maybe a little more embedded. Like the Spiderman comic I did was kind of a riff off of the old EC Tales from the Crypt comics. It's basically about a ghost who haunts Peter Parker's locker. It's pretty dark, dark for kids. It's talking about this bullied kid who get stuffed in his locker, they forgot about him, and he died in there. For an eight-year-old, that's gotta be pretty intense. That's what Gothic to me — taking real-life stories and throwing them in the swamp.
There's such a Southernness to some of the houses in the neighborhood. There's one on Albemarle with these huge columns…
Yes! The plantation.
Do you think living here helps your work?
Yes, it helps. We're in NYC but we have space. I have an office for the first time in a long time. I'm in the attic and my window looks out on the front yard with the sidewalk. I'm gonna be the old man in the attic. "Look up at the window. That's old man Chapman!" Which I totally get into. I'm writing to be the weird guy in the neighborhood. And this is gonna be home. We're raising a family here. We wanted him to be from Brooklyn but we didn't want him to be from Williamsburg. Indrani, my wife, is half-Italian, half-Bengali, so her South Asian roots are really tingling here and it's important for us to have him be familiar with that side of his family.
What's next?
The book is the primary focus. I'm basically going wherever anyone wants to have me — have book will travel. If we get invited to go somewhere for The Pumpkin Pie Show, I'll coordinate with the local library to do a reading of the book. I just got back from the Stanley Film Festival in Colorado and they had a screening of Henley, a performance of The Pumpkin Pie Show, and then a reading of Homeroom Headhunters. That's probably the biggest benefit to this pan-media thing. It's a package deal, 3 for one.
But it's been 10 years since Miss Corpus came out and all I wanted was another book. The thing that justifies my existence for myself, for better or worse, is these books. I've wanted it and I've been praying for it and hoping for it. That's why all these happy accidents of something that started in the 6th grade and then the map points kind of led to it. It was very natural and organic — it's just a relief.
This Saturday's reading is the last in the Cortelyou Library Friends' Local Author Series this season. The season is set to pick back up in September. Authors interested in reading or seeking more information should email the group at cortelyoulibraryfriends@gmail.com.
Photo via thetribebooks.com