Meet Liz Picarazzi: Neighbor, CEO, Inventor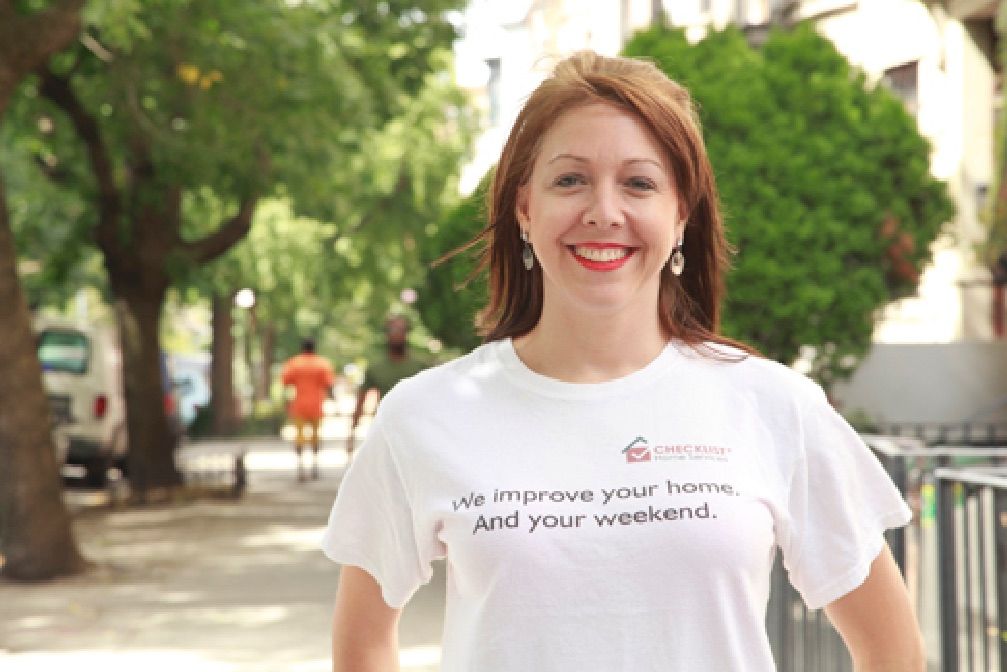 Neighbor Liz Picarazzi has her hands full. That's because she's in the business of taking your handiwork woes out of yours.
Picarazzi is the founder and CEO of Checklist Home Services, a handiwork service that she founded in 2011. While her clients are located throughout the city, she has a significant focus on our area and has garnered sterling reviews. And her strong marketing planning and business analysis has earned her thousands of clients before she even celebrated her company's four-year anniversary.
In addition to CHS, Picarazzi is also an inventor of an attractive trash enclosure called CitiBin. The bins are made of recycled bamboo and aluminum, prevents the eyesore and smell of garbage, and comes with a 10-year warranty to boot. You're likely to see them in our neighborhood because the venture grew 10-fold in 2015, primarily from sales to single- and multi-family homes, coops, and condos.
CitiBin has been featured in both Dwell and Martha Stewart.
We took some time to catch up with Picarazzi to ask her about how she got all this started, her commitment to the community, and what the next steps are for her innovative ideas.
SSN: Congrats on the fourth anniversary of your company Checklist Home Services. For those of us who don't about it, what does the company do?
Liz Picarazzi: Checklist Home Services is a handyman company serving homes and businesses in Brooklyn, Manhattan, and Queens. We handle repair and improvement projects that tend to accumulate on a "honey-do list" — such as mounting TVs, installing window ACs, painting, assembling furniture, caulking, grouting, changing plumbing and lighting fixtures.
We are all about the work that a general contractor thinks is too small, but you don't want to hire a fly-by-night handyman from Craigslist to handle.
What background do you have that brought you to starting this company?
My background on paper has nothing to do with home improvement. After graduating from college with a degree in Russian Literature and Political Science, I worked in Russia and Ukraine during the 1990s on U.S.-sponsored democracy assistance programs. Which weren't all that effective, as we now know.
Wanting to make a better living, I completely shifted gears and went to business school, which led me to American Express, where I worked in small business marketing. At Amex I caught a severe case of entrepreneur envy. I was so inspired by the small businesses that I worked with, and increasingly uninspired by the corporate environment. I wanted to be a small business, not sell credit cards to them.
The catalyst for the business was buying a home in 2007 that needed a lot of work. I DIY'd much of the renovation, and hired handymen to help with some projects. Every handyman I hired underwhelmed or disappointed me in one way or another. Which led me to realize that there was a critical gap in the marketplace for professional handymen. I wrote a business plan, left my corporate job, and the rest is history.
It also sounds like it's connected to our community.
I am the personification of my target client — a working mother that tends to hire outside services to keep life in order. And we live in a community with many people like that who are trying to be efficient with their time.
Checklist is naturally embedded in the community because our first clients were my friends, neighbors, and colleagues. We sponsor community events like Touch-a-Truck, donate gift certificates to school raffles, and donate pro bono handyman services to organizations we believe in. I'd like to sponsor a soccer team at some point, if any of your readers can make that connection!
Now, in addition to being the owner of Checklist, you're also an inventor. Tell us about CitiBin. How did you come up with the idea?
Similar to Checklist, the idea came from my own unmet need. I found it strange that in a city where practically everyone keeps their garbage out front, there wasn't a good solution for trash storage. I hunted for a trash enclosure for my own house, and found that the plastic, wood, and metal ones on the market were shoddily made and ugly.
The idea germinated for five years or so before I built the first prototype for a Checklist client. It was a hit. Since then, we have iterated with design, materials, and installation approaches many times. The current CitiBin is version 11.3 and is built with aluminum and recycled bamboo composite, with patent and trademarks pending.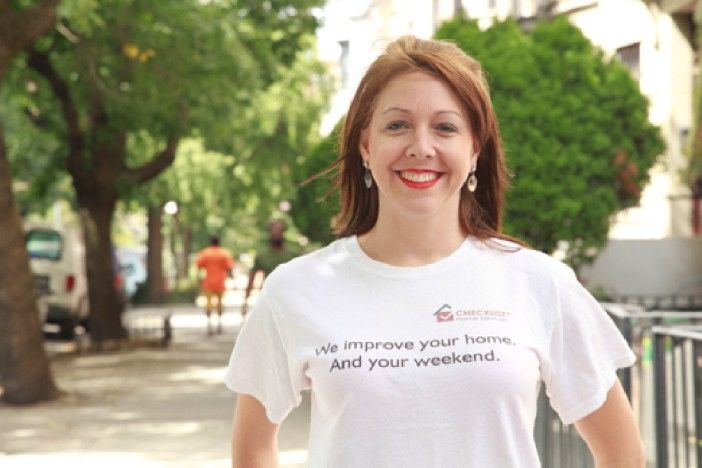 How has the response been so far? And what are your long-term goals with invention?
We are selling CitiBins to individual homeowners, coops, condos, property management companies, landlords, and businesses all over NYC. Like Checklist, a lot of people say, "It's so obvious a need, I wish I had thought of it!" In 2016 our goal is to design a kit version of CitiBin, to be able to ship nationally for the end consumer or their contractor to assemble. Currently we do all of the building in our shop in the Navy Yard, and install only in NYC.
Since you're a neighbor, we have to hear about what you like to do in the Slope.
I love going to Grand Army Plaza on Saturdays with my husband and daughter for the farmer's market. My husband is a vibraphonist and sometimes sets up and plays for the public. He can play any song requested, people test him with obscure songs from the 80s, current pop hits, and he rarely doesn't know it.
My 9-year-old daughter has a little hair accessory business, so she sometimes sets up a table next to my husband to sell her wares. Those Saturdays remind me why I love living in NYC and grateful that I've made South Slope my home.
You can contact Liz Picarazzi at the Checklist Home Services website or CitBin at 347-695-1882 or citibin@checklistnyc.com. And keep in mind her interest in sponsoring a soccer team!