Meet The Documentary Filmmakers Of The Raging 'Gowanus Current'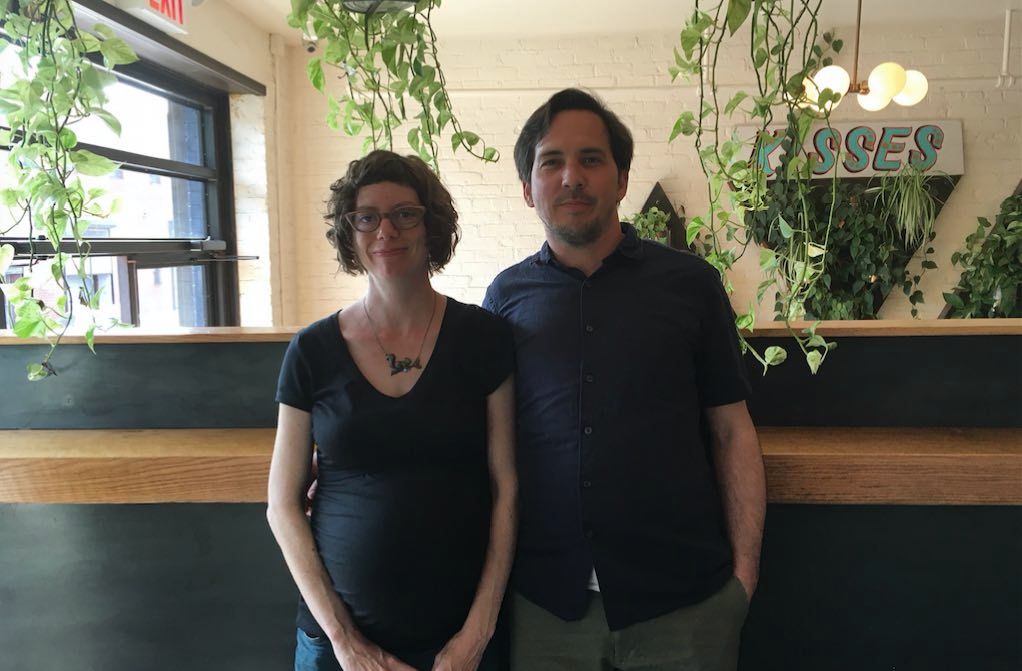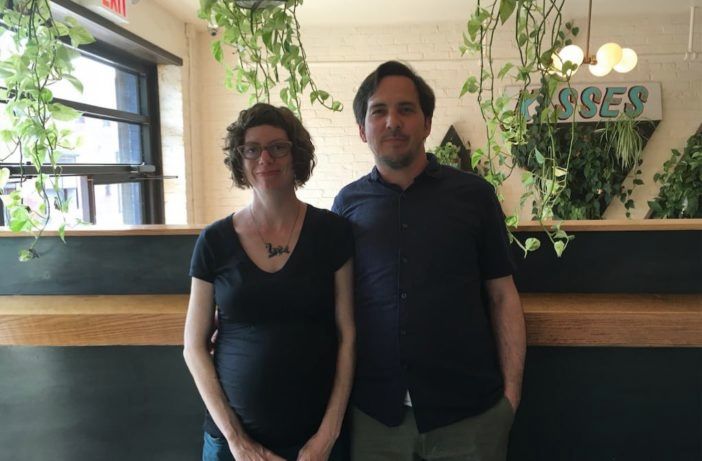 Sifting through the stories of the Gowanus neighborhood often seems murkier than the toxic canal itself.
Stitching together the patchwork of environmental, legal, historical, savagely political, communal, artistic, fiscal, real estate-laden topics and personal stories has the potential to yield a vital urban story. The issues surrounding the Gowanus touch on perhaps every human element imaginable.
Filmmakers Jamie Courville and Chris Reynolds are here to capture all of this in a film they call Gowanus Current. They are in the third year of developing a seven-year documentary. And they embrace the mystery of telling a story full of unending questions. "We don't get to pick our ending," says Courville. Clearly, they are both intrigued by this.
Courville and Reynolds are collaborators in both work and in life. The two of them met on a film set 16 years ago in their native Texas before making their way up to New York. Courville explained how she had her heart set on moving here. "I'm going to New York, would you like to join me?" she asked Reynolds. And indeed he did.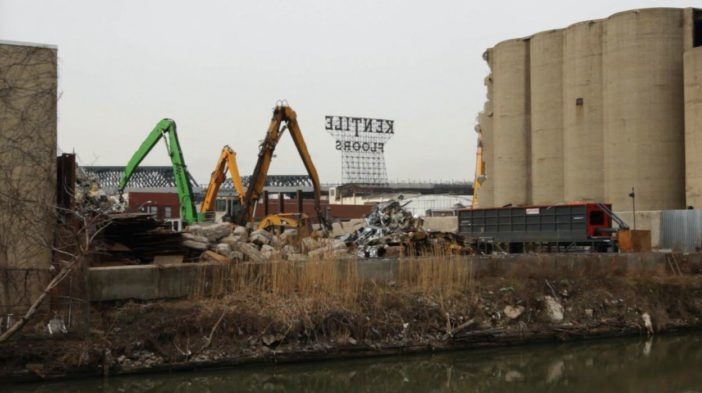 Their timing led to an even more intense move than normal. The couple showed up on October 15, 2001. "I had no idea what we were getting into," says Reynolds.
The deep dive of arriving here weeks into the aftermath of 9/11 parallels how they've become ensconced within one of the most pressing of New York stories. And they're more than up to the challenge of capturing all that is happening in Gowanus.
While Courville and Reynolds now live on Douglass Street in the Gowanus neighborhood, they didn't start out there. "We've lived in Bushwick, Williamsburg, and Sunset Park — where our basement was once flooded with five feet of sewage," recalls Courville, clearly not conjuring up the most pleasant of their Brooklyn real estate stories.
And then came an opportunity to head over to Gowanus. "The place was listed on Craigslist for awhile. I knew the canal was there," says Reynolds, but they weren't terribly familiar with the neighborhood. However they were intrigued. "I liked the idea of an industrial neighborhood," adds Courville.
While Courville and Reynolds use the camera to tell their story, the same issues that neighbors struggle with manifest themselves in their own lives. "We have one year left on our lease," says Courville, an all too familiar issue for this community and others throughout the city.
While Gowanus Current focuses heavily on the myriad of issues facing the neighborhood — and of course the gargantuan story of the canal clean-up — the creators want the documentary to have a personal bent. The neighbors' experiences are a huge priority.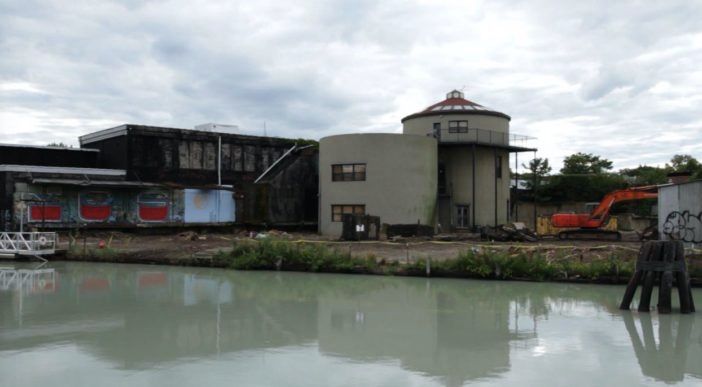 "We're trying to make this more than a just about the Superfund issue," says Courville. She's creating some intriguing ways in which to do so, setting up a phone line that community members (or anyone, actually) can call to share their story:
participate
Hello. If you live, work or have other involvement in Gownaus, I want to hear from you.
I have a phone line set up to record your thoughts at 347-765-0148. Nobody will ever answer that line and you can call at any hour.
What changes have you seen since you have been in the neighborhood? What do you think about it? What do you see happening now? What is your vision of the future?
Please pass this around to your friends and neighbors. I want everyone to be heard.
Do note that the recording will stop after three minutes. Feel free to call right back if that happens. Calls may be used in our documentary and shared on our Facebook page.
Courville's work involves audio portraits which she is collecting as additional documents to use. "Some people respond better this way," she says. She's used this method in other projects —  her Squirrel Stories is a collection of first person stories – and often rather personal and difficult ones. "Nobody talks about disease and dying well," Courville told us last year in the lead-up to her Squirrel Stories listening event. "People feel uncomfortable about it, they don't know what to say and there becomes this huge disconnect."
In addition to the neighbors, getting to know the Gowanus community involves becoming integrated with political issues, public gatherings, and real estate developers. "We can go to a meeting and shake everyone's hand," says Courville.
Clearly, the filmmakers are making headway with finesse. The two have different approaches in which they do so. "We have good non-verbal communication," says Reynolds, and this is evident while we sit at 9th Street Espresso (at 333 Douglass Street, of course) to discuss their project.
Courville tends to lead the interview while Reynolds chimes in. They explain this is consistent with the way they normally work together. "Sometimes we have disagreements about how we choose to approach people. Chris wants to give them space," she says. "And Jamie wants answers," says Reynolds. Both smile wryly.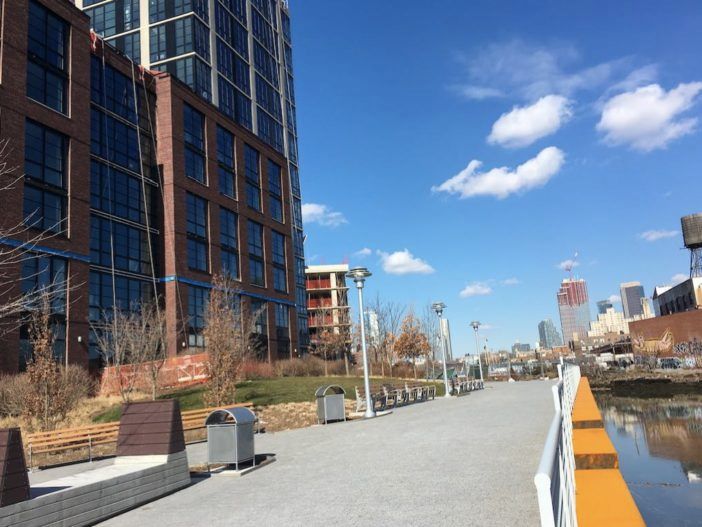 When I ask the filmmakers to name the most significant parts of the documentary so far, they have no problem answering quickly. They speak about The Whole Foods opening, the Kentile Floors sign coming down, the Lightstone residential project, the damage from Superstorm Sandy, and the artist and musician studios which have closed.
Courville and Reynolds believe that — while the documentary is Gowanus-specific — the film has the potential to resonate outside of Brooklyn and New York City. "We want to make this story for people who live elsewhere. It doesn't matter where — it could be Tucson. People who live in urban cities can understand gentrification."
So, what's next for the couple? "We have a forced hiatus coming any minute," says Courville, referring to the baby they are about to have. Days after this interview, the couple became parents of a little girl.
As neighbors, Courville and Reynolds have grown with Gowanus Current. We asked them if their personal opinions affect the documentary. "We have a responsibility to stay neutral," says Reynolds. "But it would be impossible to do this project if we didn't have a personal stake."
For more information on Gowanus Current and to be part of the story, visit their website and Facebook page. You can record your thoughts at 347-765-0148.