Meet Das Upholstery's Das Chunilall As He Brings A Rocking Chair Back To Life
How many times have you walked past Das Upholstery (1312 Cortelyou Rd. between Arygle and Rugby Rds.), seen the stacks of furniture piled inside the window like it's 1832 France, and thought, "Can this place possibly be any good?"
Well, the perfect opportunity to give it a try arose recently when my wife and I purchased a secondhand rocking chair from Trailer Park in Park Slope. While we loved the chair, we weren't crazy about the cushion fabric, plus the back panel needed some repair. So it was upholsterer huntin' we went.
Given that front window, we were a little apprehensive about including Das Upholstery in the mix, but after an interior decorator in the neighborhood recommended it without any prompting, we stopped in to see how the price stood up to other quotes we had gotten.
So, what can you expect when you walk into Das Upholstery?
1) A path. You will not have to climb over furniture once inside, although it is a little tight.
2) A man named Das. If you're like me, you may have suspected that Das Upholstery simply meant "The Upholstery," like "the only place you'll ever need for upholstery." In fact, the owner's name is Das Chunilall, he is very friendly, and not only does he own a business in the neighborhood–he also lives here, "right over on Westminster."
He's a man of few words, but the ones you get out of him are pretty great. When asked where he's from, he immediately replies, "Me? I'm from Heaven." (He's originally from Guyana.)
Das says the shop has been in business for about 10 years and, before that, he worked for 15-20 years in a shop on Jericho Turnpike. He mostly learned by working alongside more experienced people, and from books. That's as specific as he got, but his work speaks for itself.
3) More store. If you were wondering where Das and his staff find space to work, this is where:
He also briefly disappeared downstairs, so there's that as well.
4) A fair price.
(A brief interjection here — getting furniture reupholstered is surprisingly expensive. Well worth it, but not cheap. Just be prepared.)
At $325 for labor, Das came in lower than any of the quotes from any of the other upholstery spots we contacted. I did pickup/delivery myself, but you can't put a price on supporting a neighborhood business!
5) Flexibility with fabric selection. Das has some samples in stock and swatch books to select from if you want him to order something for you. Or, maybe you'll find yourself inspired by something you pass on the way in.
Alternatively, if you find fabric elsewhere, he'll let you know how much he needs for your job. We shopped around at various NYC fabric stores, but actually ended up finding the fabric we wanted for the price we wanted online.
6) Excellent work with a good turnaround time. Here's the before and after: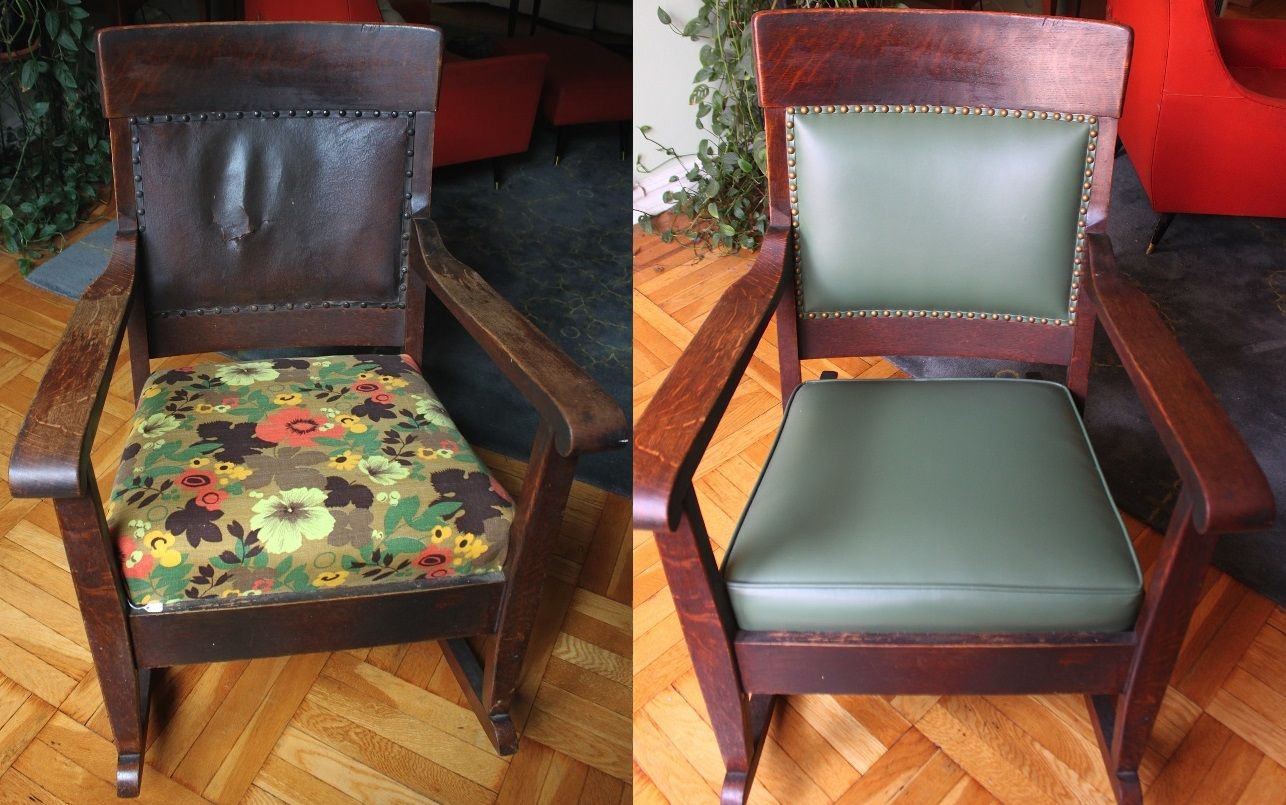 When we first spoke, Das said he could finish the chair in a week. When I dropped it off, though, he said it would probably be closer to two because things were pretty busy. I was fine with that, but it actually wound up being only 10 days before he called to say that the chair was ready. The call came on the Saturday of Memorial Day weekend, which is pretty good evidence of how hard the man works.
Not only does Das repair furniture, but he builds original pieces from designers' plans as well. So if you're an interior designer/decorator, stop by to check out his work. He has lots of photos on his phone that he'll proudly show you. See?
Having sat in our new rocking chair, I almost believe the "I'm from Heaven" thing. And so it turns out, the answer to whether Das Upholstery is any good is a resounding YES!
If you're looking to get some Heavenly reupholstering, furniture repair, or furniture construction expertly done right here in Ditmas Park, stop into Das Upholstery one of these days. He's in the shop every day except Sunday, but hours can be a little irregular (sometimes he's in at 11am, sometimes at 8am), so catch him when he's open or call ahead first at 718-284-1079.