Meat Department Workers Picket 5th Avenue Key Food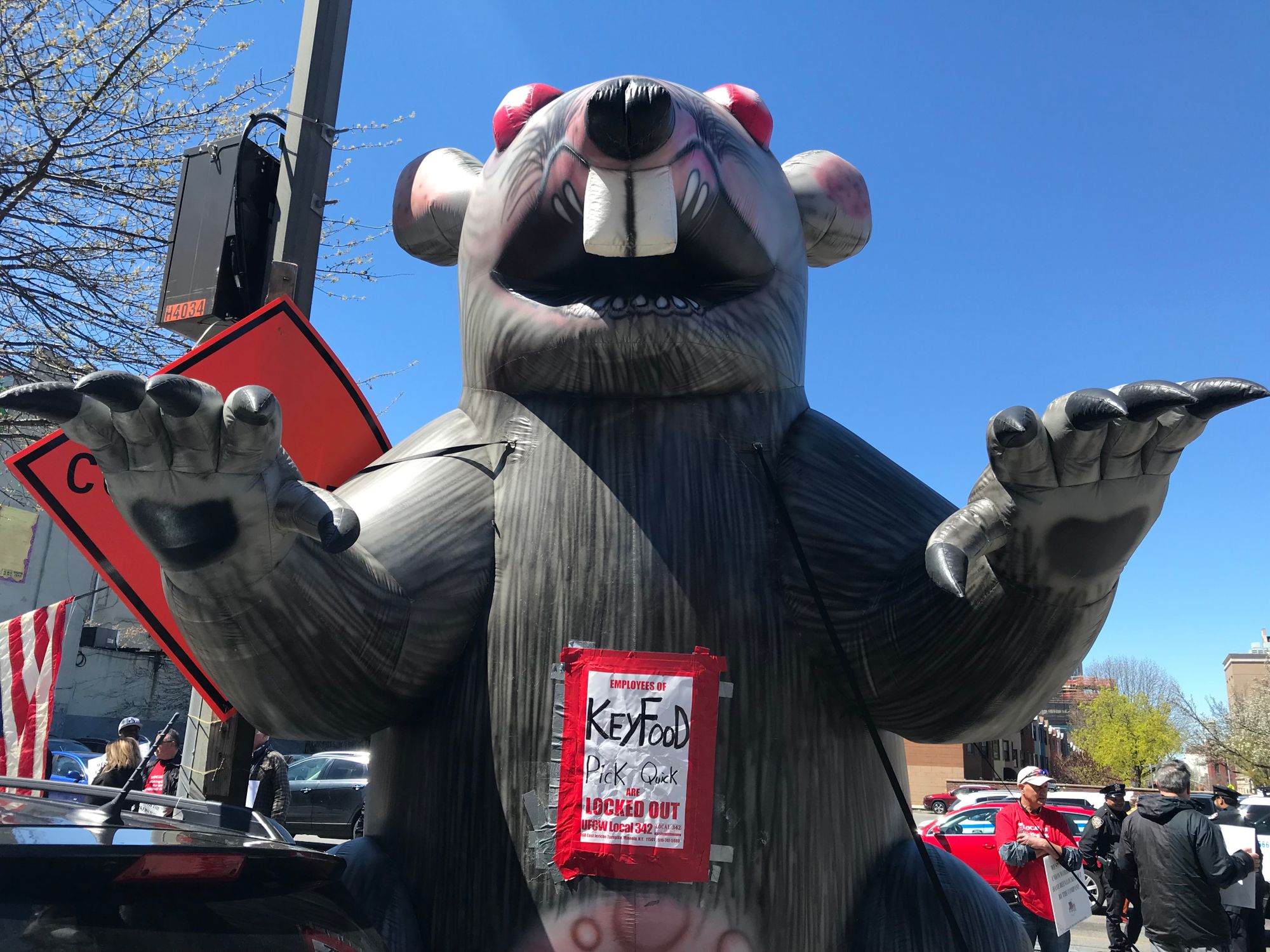 PARK SLOPE – Drivers on 5th Avenue honked their horns Tuesday afternoon to show support for the dozens of union members picketing in front of Key Food supermarket (120 5th Avenue).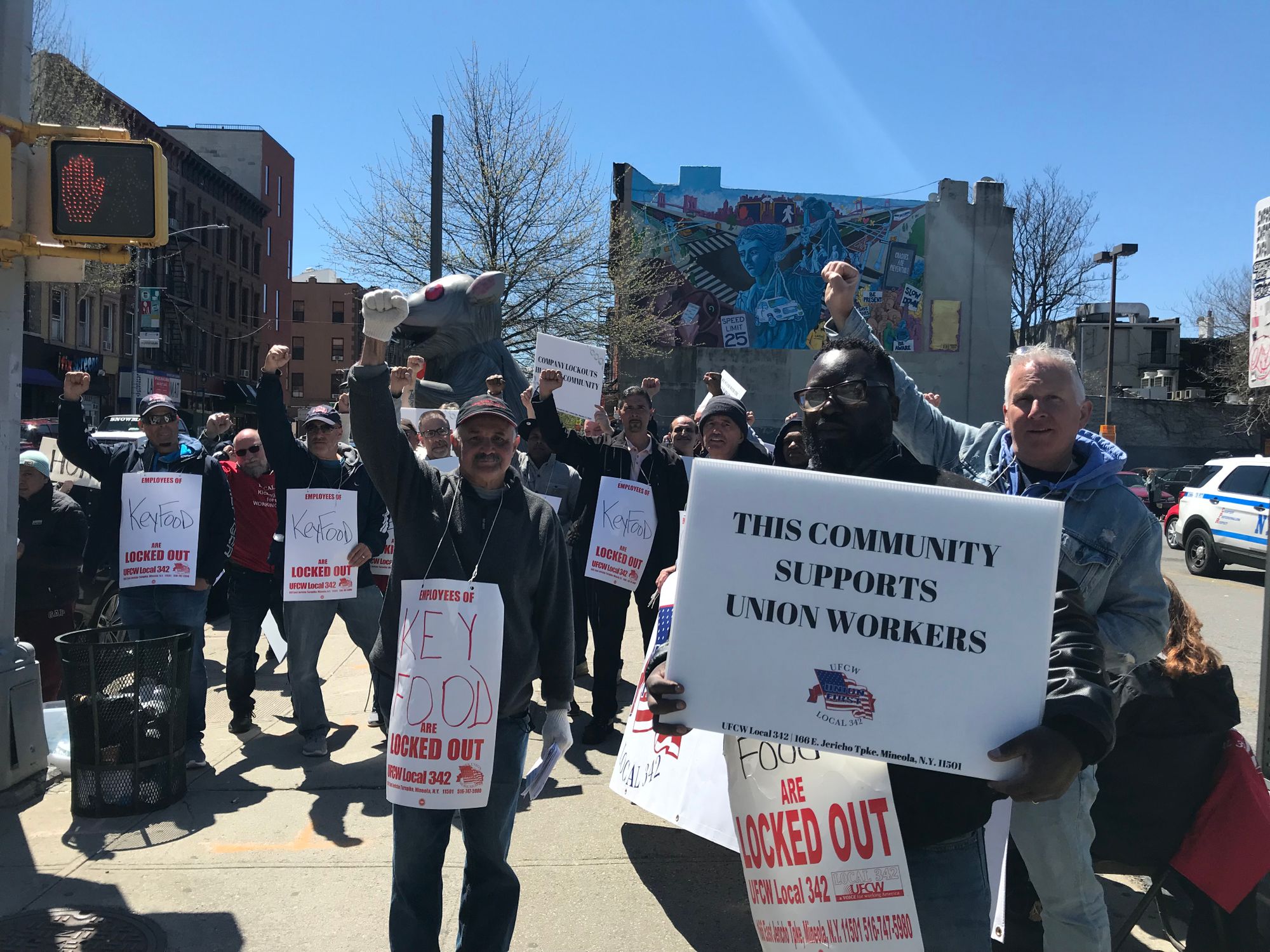 Employees of Key Food's meat departments have been working without a union contract for four and a half years. During this time, a total of 38 staffers working in the company's seven stores (four in Brooklyn and three in Long Island) have not received pay increases and are currently facing a reduction in their health care and retirement benefits.
"It's pretty simple," explained Freddy Mulé, the manager of the Park Slope store's meat department. "Every three years the company is supposed to negotiate with the union for a contract and it's been four-and-a-half years and there's been no contract. Every time the union was looking to meet and sit down with the company they would always cancel. They would never, ever attend a meeting. There's only so long you can do that…. We knew that it might come to this one day and it finally did."
Local 342, a meat cutter's union, represents the affected Key Food employees, including the six meat department workers at the 5th Avenue location.
On Saturday, April 6, the Park Slope workers staged a protest. "We walked out on strike and then we went back in at about 3:00 in the afternoon and they wouldn't let us in. It was a lock-out," Mulé said. He and his coworkers have not been allowed to return to work since. "They wouldn't let us in and we've been out here ever since."
Along with no raises in nearly five years, Mulé said, "They want to strip our medical to a lower medical plan and make us pay quite a bit for it. Right now it's a small contribution but they want $800 a month for the minimum [coverage]…. They want to strip our pension. They don't want to contribute to our pension any more."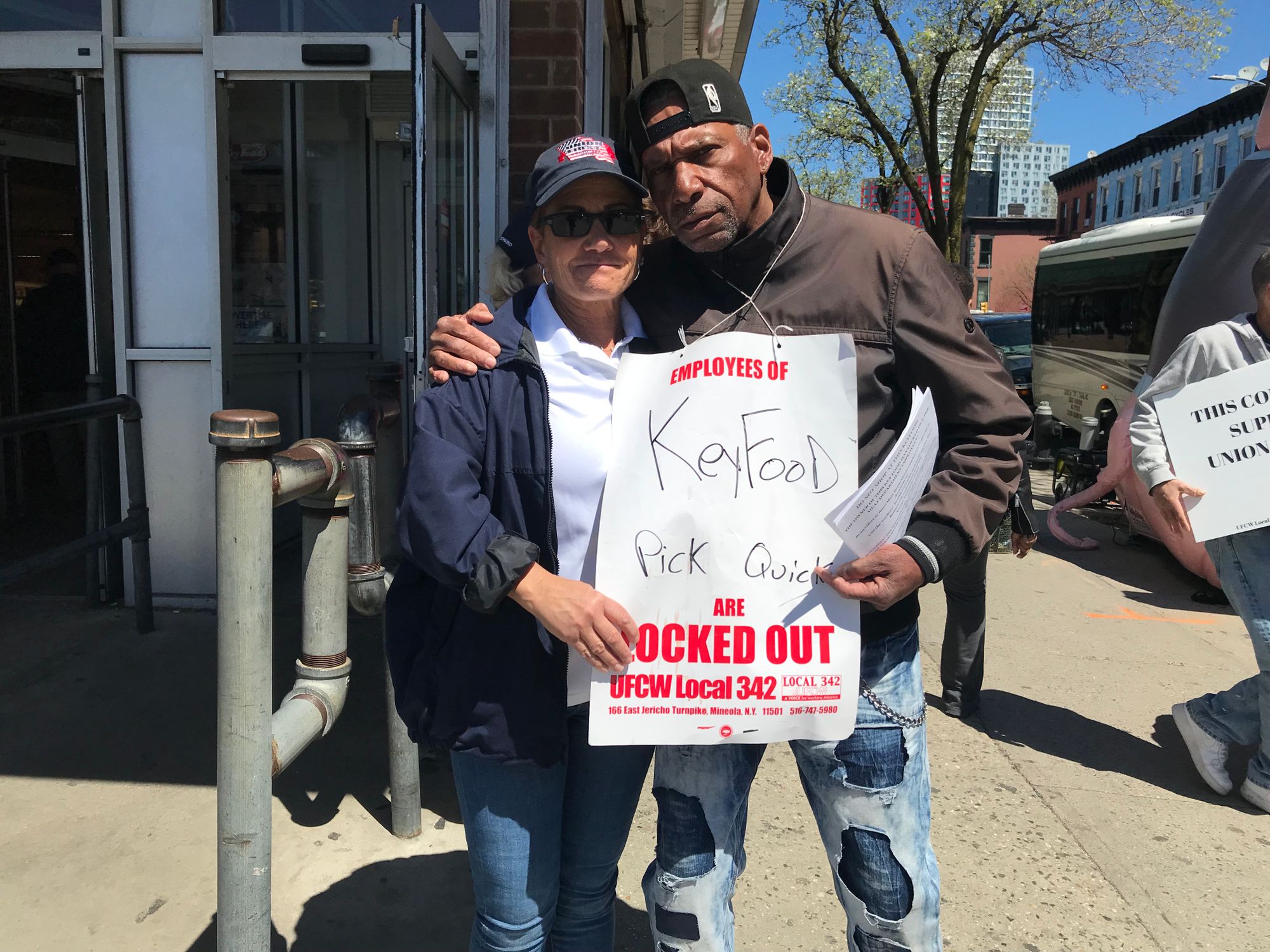 "It's been a nightmare. Terrible," said Leslie Callier who has worked at the Park Slope Key Food for 32 years. With the cost of living constantly rising and his wage remaining the same for more than four years, the Crown Heights resident was forced to move from his apartment. "I've got bills to pay. It's hard. I can't pay the rent," he said.
Council Member Brad Lander showed his support at Tuesday's rally. "We don't cross a picket line in this neighborhood and it's heartening to see people who are joining in solidarity with the workers and committing not to shop at this Key Food until [the owner] signs a contract with the meat department," he said. "We're just going to have to stay out here supporting the workers until they get a contract."
Pick Quick Foods, Inc. operates the seven Key Food stores and is owned by Benjamin Levine. Bklyner reached out to Key Food for comment but did not hear back prior to posting.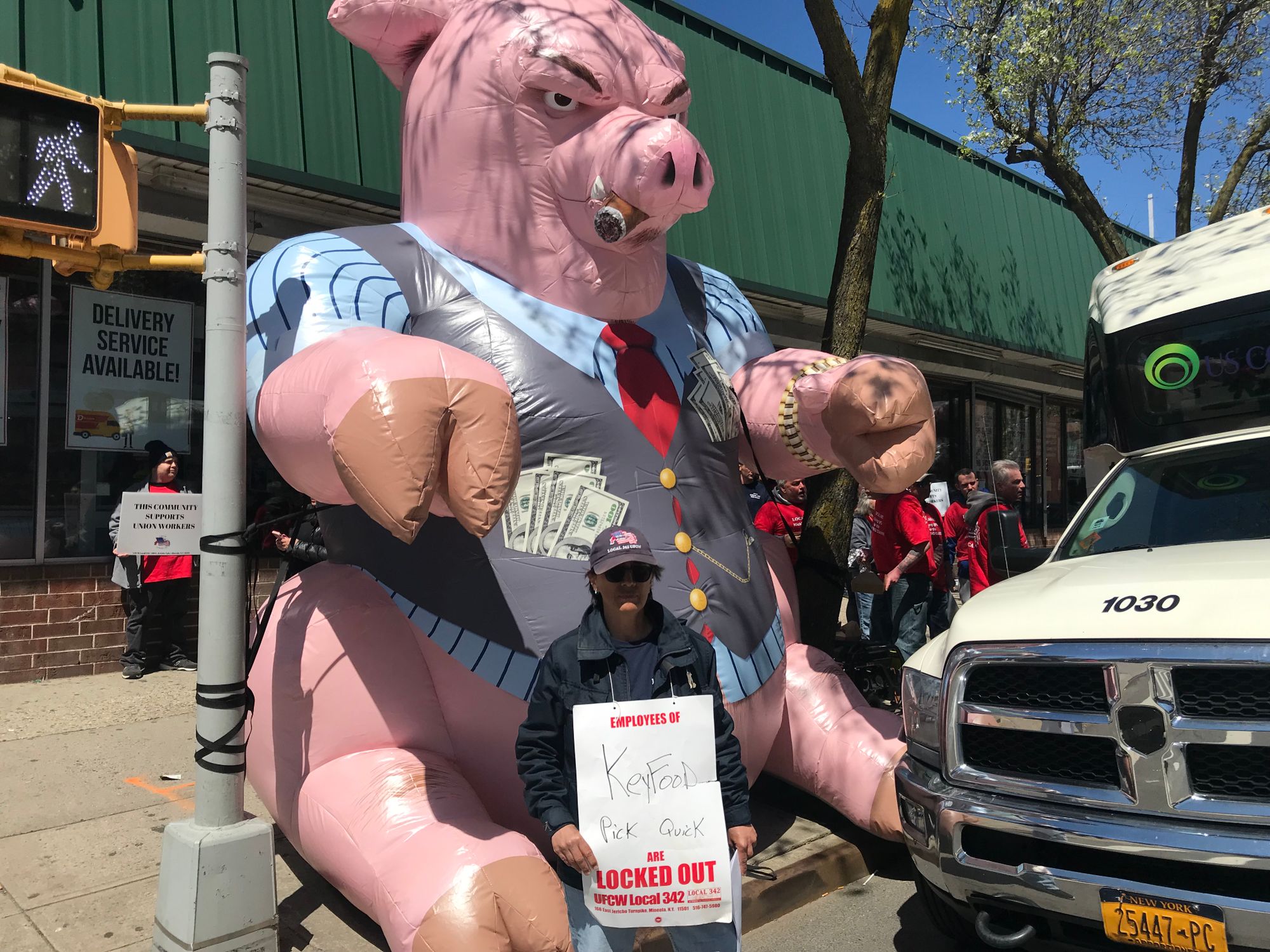 Bronx resident Bonnie Alarcon has worked for Key Food for 29 years. She transferred to the Park Slope meat department four years ago after the Bronx location she previously worked at closed. "I've been working in this store without a contract the entire time. No raises, so I'm getting paid what I was getting paid four-and-a-half years ago."
Alarcon also serves as the liaison between her store and Local 342. "They were willing to sit down at the beginning. All the years that I've worked at this company they've always signed the contracts, so we weren't worried," she said of the lapse in contract renegotiations. "I guess we [thought] that he appreciated us. We really didn't think that we would get to this point because it had never happened."
Alarcon says the lock-out has been a "devastating" experience. Along with taking care of her family of four, Alarcon also cares for her 75-year-old mother. "We've been out of work, not getting paid. This is the first time in my life—I'm 53-years-old—that I have to go and apply for unemployment."
"I need a job to pay bills. I need a job to survive. I need a job to feel good about myself," she said. "Just give us what we deserve. And what we deserve is what the whole industry is getting. We're not asking for more."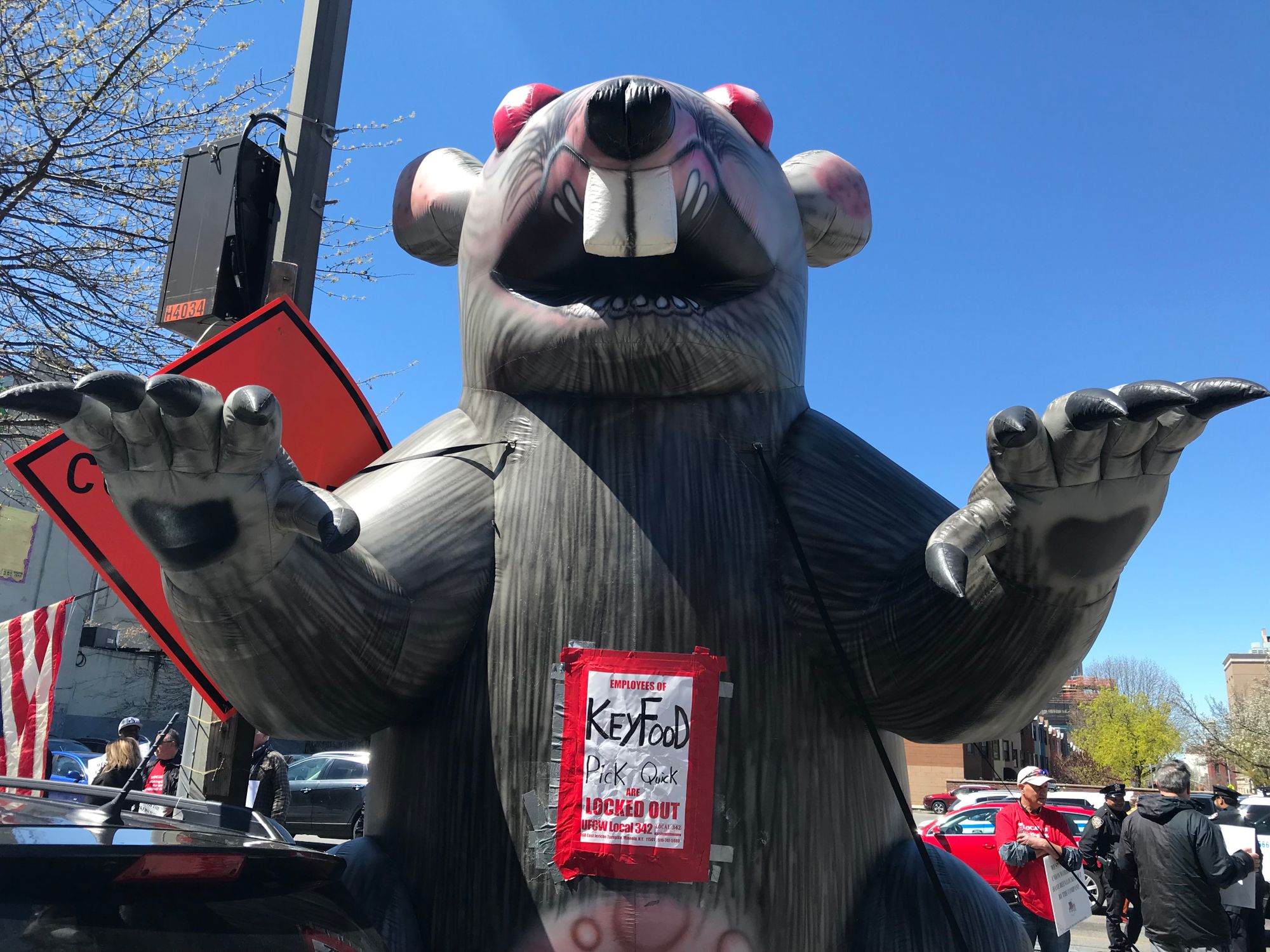 "We have a negotiating committee within the union which sits down with the employers and of course lawyers [for each side] and they try to get things worked out," explained Local 342's Keeley Lampo. "We've had dates scheduled, the dates get canceled, and it's just kind of back and forth. We want a resolution."
"These are your everyday hardworking people, and to turn around and to not show respect to that is just unacceptable," Lampo said.
"There were negotiations yesterday [Monday] which were absolutely fruitless," added Kelly Egan, Executive Director of Local 342. "Nothing came out of it. We're back at it tomorrow [Wednesday] where we'll have a federal mediator present."
Given the opportunity, Alarcon would tell the owner of Key Food how crucial his staff is. "I want him to understand that he needs us as much as we need him. We make him his money," she said. "We are very humble people. We are very hardworking people," Alarcon added. "We are not asking him for nothing more than what we deserve."