Meal Deliverers Save Senior's Life In Blizzard Aftermath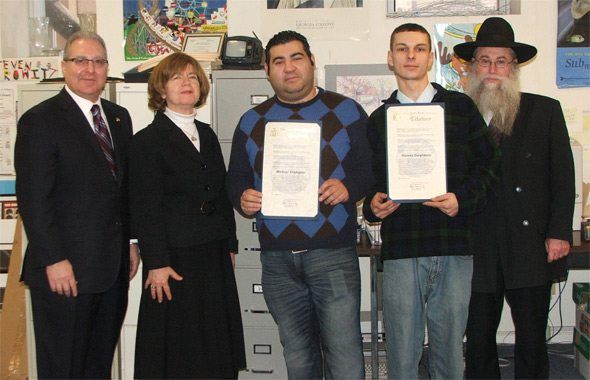 Amidst all the moaning and groaning after the December 26 blizzard paralyzed the city, one heroic story fell under the media's radar. Two men working for the Jewish Community Council of Greater Coney Island as deliverymen of meals to homebound seniors saved a client's life.
Roman Gershtorin and Michael Shabayev plodded on foot through the colossal snow drifts, determined to ensure the seniors depending on them would get their meals. Arriving at their final delivery of the day, they found an elderly diabetic client on the floor in distress. Though they arrived later than their usual delivery time, the duo appeared just in time to make the phone call to emergency services that saved the senior's life. Gershtorin and Shabayev stayed with the client until she was placed in the ambulance.
The client is now back at home and doing well.
For their efforts, Assemblyman Cymbrowitz presented them with New York State Assembly Citations.
"This is not only a story about two exceptionally dedicated workers looking out for the well-being of their client, but it vividly demonstrates the importance of providing continuous, regular human contact when delivering meals to homebound seniors," Cymbrowitz said.