McCay House Renovation Nears Completion, Price Tag At $1.4 Million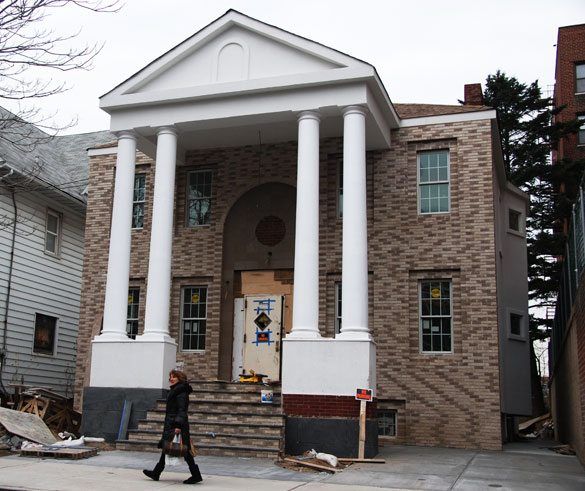 Looks like the Hell House has been granted salvation.
Since November of 2010, contractors have been renovating the spacious white-colored house where legendary animator Winsor McCay once resided, and now the property owner said the project is almost complete – and has a price tag nearly six times the amount he paid.
Isaac Itah, of EEI Properties, stated that a few details need to be wrapped up, which should take about two or three weeks.
The house at 1811 Voohries Avenue garnered the name "Hell House" in February 2010, after disgruntled residents of the Single Room Occupancy building spray painted "Welcome to Hell" and "Bedbugs Paradise" across its front.
Though rundown, the building, with its stately white columns and original stained glass that hearkens back to its 100-plus-year-old roots as a getaway for the rich and famous, was a staple of local imagination. Itah has kept the columns, but gutted the interior, removed the stained glass and redid the facade with beige brick.
According to Itah, the makeover is getting rave reviews from neighbors.
"The neighbors and anybody else who passes by thanks me for fixing the house," said Itah.
Also, the home is no longer set as an SRO, which, in the past, prevented it from being torn down and converted into condos. Itah obtained a new certificate of occupancy classifying the building as a two-family house. The price tag on the house is currently set at $1.4 million, nearly six times the mere $250,000 he paid for the house in May 2010.
"A lot of people are calling about the house," said Itah.
Sheepshead Bites, with the help of local historian Joseph Ditta, was the first to uncover the colorful past behind the building: one of the neighborhood's most notable residents lived there.
Winsor McCay, the famous cartoonist whose work set the standard for Walt Disney, lived in the house during the early 1900s. His most notable work was Little Nemo in Slumberland. After renting a room here for some time, McCay fell in love with the neighborhood and purchased a home in the area that has since been torn down. He passed away in 1934 and was buried at the Cemetery of the Evergreens.
Check out our previous coverage of the houses' history.