MBNA Turns Eye To Area Flooding, Insurance Issues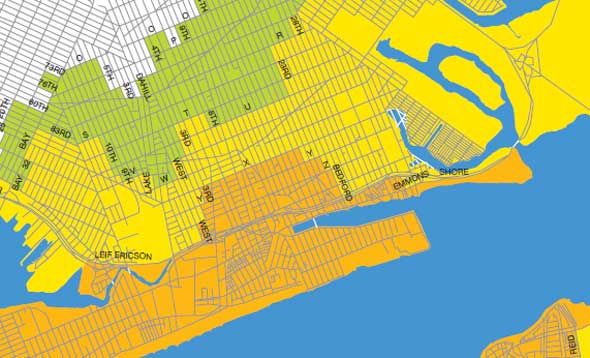 Homeowners in Southern Brooklyn face tough environmental challenges, and the insurance industry is turning its back on neighbors.
To help neighbors understand the unique problems Southern Brooklyn's communities face, and to guide them through insurance options, the Manhattan Beach Neighborhood Association is hosting a question and answer session about homeowner's insurance in Manhattan Beach. Manhattan Beach resident Stuart Fries, VP of insurance agent/broker Garber Atlas Fries & Associates, will lead the discussion. The event takes place during the group's general membership meeting at 8 p.m. tonight in P.S. 195 (131 Irwin Street).
According to the NYC Office of Emergency Management, enormous swaths of Brooklyn are in risk of devastating floods. The neighborhoods of  Coney Island, Brighton Beach, Manhattan Beach and Sheepshead Bay could be among the worst hit by storm waters as we head into this year's hurricane season (June 1 to November 30).
The flood map of our neighborhood (above) shows that a Category 1 hurricane can reach in as far as Avenue X, while Category 2 and 3 storms could turn Avenue O into waterfront property.
Despite that hundreds of thousands of households lie within the flood regions, insurance companies are making it ever more difficult to protect property.
According to the Manhattan Beach Neighborhood Association, many large carriers are cancelling or not renewing policies due to the proximity of waters. Some area homeowners are being dropped after more than 20 years as a customer. As a result, owners are forced to switch to carriers with low ratings and four-to-five times the regular price. Similarly, residents are struggling to find flood insurance.
"This is because many carriers just don't care about the area anymore to guide them properly," said MBNA President Edmond Dweck. "The federal government needs to step in, but there are too many other issues of more importance it seems."
Attend the MBNA's meeting to learn more about the problem and what you can do.