MBCG Spotlights New Leadership, Peace Offering At Meeting Celebrating 72 Years Of Service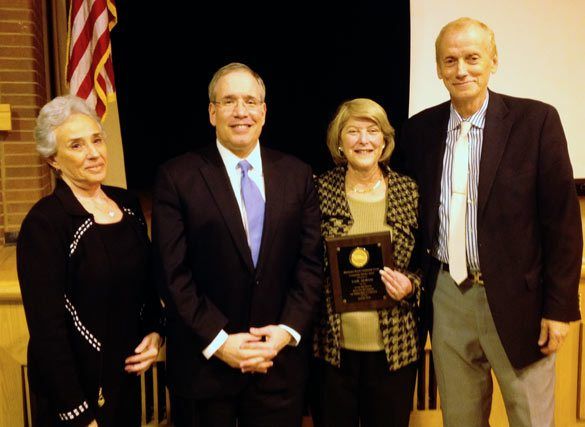 The Manhattan Beach Community Group met earlier this month for their 72nd annual general membership meeting, an end-of-year celebration where new officers are installed and the year's accomplishments celebrated. This year's event carried extra weight as the group's president, Ira Zalcman, said goodbye after seven years of leadership, and the group passed an amendment to its bylaws intended to create peace with its rival neighborhood group.
The December 4 event – which we must note with regret has taken far too long to find its way to our website – drew nearly 200 neighbors, as well as a broad swath of incoming and outgoing elected officials.
Most significantly, the group passed an amendment to its bylaws that they hope will end a bitter six-year feud with the Manhattan Beach Neighborhood Association, a rivalry that many say has divided the community, and diminished its power to effect positive changes in the area.
The new bylaws create an exception for members of the "other group" to rejoin the MBCG as directors without having to wait the requisite two years. Passed with only one objection, by MBNA member Ed Eisenberg, the motion provisions for the group's president to appoint as many as four members of the MBNA to the MBCG's board, so long as the MBNA agrees to dissolve.
"This is an opportunity that we hope will be received positively, that Manhattan Beach will be represented by one group so that we will become a more powerful group and be able to get everything that is necessary for the citizens of our community," said the chair of the bylaws committed as the vote was recorded.
If accepted by the MBNA, it would end a six-year feud that began in 2007. Zalcman ran for president that year, ousting incumbent Ron Biondo. Biondo and his allies, Edmond Dweck, Alan Ditchek and Al Smaldone split off to establish the second group.
Ever since, they've thrown as many obstacles in each others' way, even when they agree with each other in principle.
Zalcman, who stepped down as president at the meeting, making way for successor Judy Baron, said striking peace with the other group would be his crowning achievement.
"All I have to say is that we are much better off today than we were six or seven years ago. Our membership is strong, politically we are strong and most of all, the thing I'm most thankful for is that the people who tried to hurt us, we're inviting them back with open arms and dignity. And to me that is very important," he said before the group.
He added that terrible events over the past few years should serve as an important lesson to bringing the groups together.
"If there's anything we learned from Hurricane Sandy, and having a natural disaster and living with it in our front yards, our back yards, is that we need to work together to get this neighborhood back into top shape. I hope these guys come back, and I hope we can move forward," he said. He made similar comments following the traffic-related death of a 4-year-old in 2010, and kicked off an attempt to unite the groups then, but claimed it was sabotaged by an unnamed elected official.
The MBNA has not made any formal statement since MBCG's bylaws change, but previously indicated to Sheepshead Bites that the dissolution of their group was unlikely.
"They just want us to fold the group, but our membership is up. That'd be preposterous," said MBNA President Alan Ditchek when we asked him about the planned motion in November. He also called the exception allowing them to join the MBCG board "off base," stating that it was "never a negotiating point."
Aside from the peace overture, the 72nd meeting included heaps of praise on Zalcman for his leadership from both members of the group and elected officials, and he was presented with an award for his service to the group by its directors.
Zalcman reflected warmly on his tenure and those he worked with.
Baron, the group's new president, kicked off her reign with an open call to members to join committees and be involved.
"The strength of the group, the strength of this office, of my presidency, will be how much we can do together. And that is how we will make our community whole and strong," she said.
The meeting also featured a parade of politicians, both incoming and outgoing. Brooklyn Borough President-elect Eric Adams served as the keynote and swore in the group's new directors.
State Senator Marty Golden, Councilman Michael Nelson and Comptroller John Liu were among the incumbents who addressed the group, with Nelson and Liu both delivering their final addresses before leaving office next week.
Adams, the incoming beep, gave a rousing speech, and Councilman-elect Chaim Deutsch and Comptroller-elect Scott Stringer thanked the group for their support.