Mayor de Blasio's Housing Plan is Exacerbating Housing Crisis and Failing to Address Mass Homelessness in NYC: Report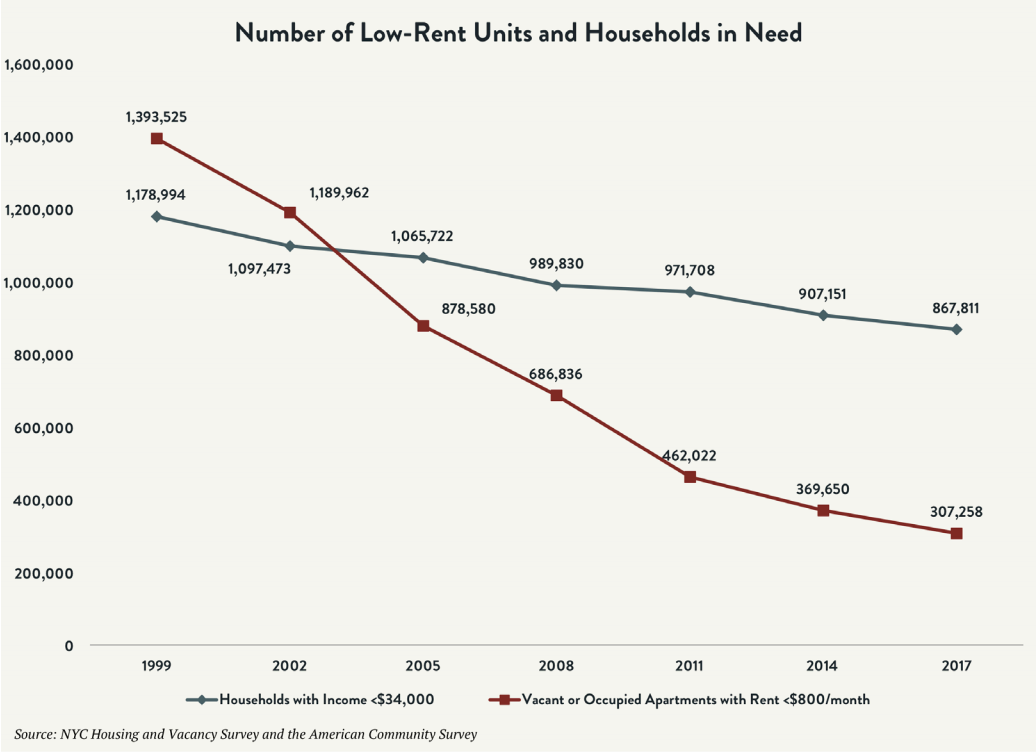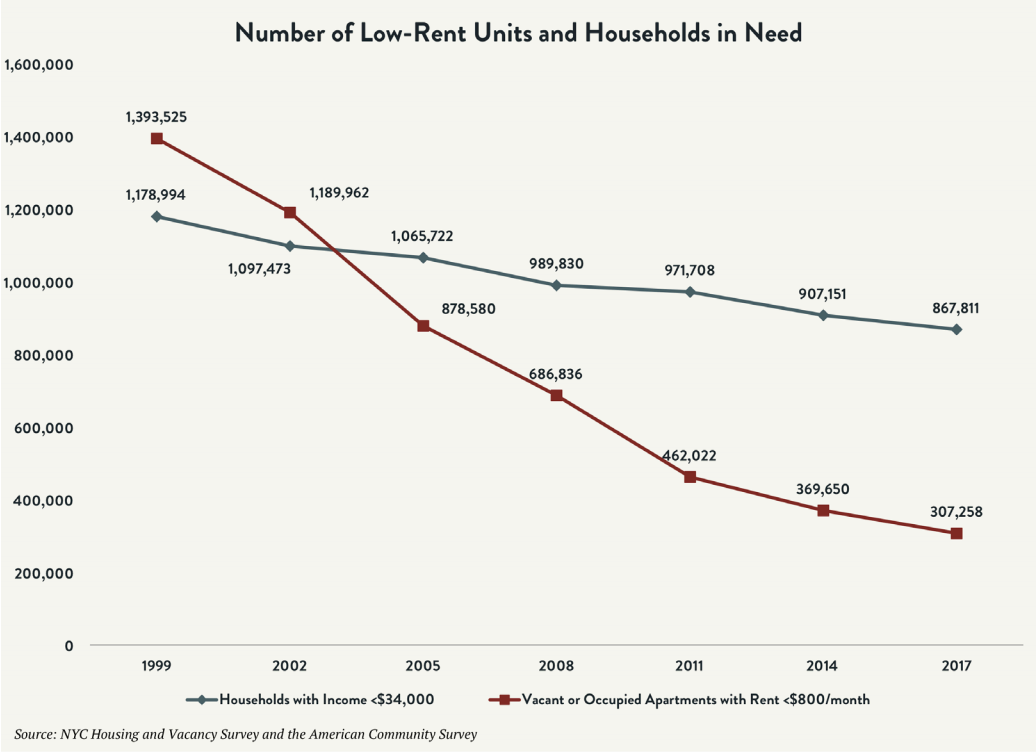 From the Coalition for the Homeless:
The Coalition for the Homeless released a new report today, while rallying at City Hall with homeless New Yorkers and members of the House Our Future NY campaign to demand bold action from the Mayor to curb the city's homelessness crisis. The report, The Tale of Two Housing Markets, details how Mayor de Blasio's housing plan is further bifurcating the city's housing market and failing to address the homelessness crisis.
New York City is in the midst of a major homelessness crisis: The number of people in municipal shelters each night is higher than the total population of many cities around the country. Despite the Mayor's campaign promises to end New York's "Tale of Two Cities," the divide has only deepened, due in no small part to the gross misalignment of the Mayor's affordable housing plan.
Under Mayor de Blasio, homelessness in New York City has reached record levels not seen since the Great Depression, with more than 60,000 people sleeping in shelters each night. Instead of using his Housing New York 2.0 plan to build homes for homeless families and individuals, he has chosen to squander valuable City resources on the kind of high-rent apartments that the city is already awash in. This inexcusable disregard for realities of the city's housing market leaves tens of thousands of the poorest New Yorkers with nowhere to go but shelters or the streets.
"Unless Mayor de Blasio wakes up and does the right thing by using the Housing New York 2.0 plan to finally reduce homelessness, this crisis – and the suffering of the people affected by it – will continue to define his mayoralty," said Giselle Routhier, Policy Director at Coalition for the Homeless. "The Mayor has failed to recognize this crisis for too long and the misguided direction of his housing plan is a missed opportunity of tragic proportions.  The solution to homelessness is simple, but we need bold action to match the current scale of this crisis. This is why we are calling on the Mayor to implement the House Our Future NY Campaign's recommendation to build 24,000 new apartments – and preserve the affordability of at least 6,000 more – for homeless families and individuals. By refusing to make this critical investment, Mayor de Blasio is squandering resources, breaking his One City promise, and steering our city in the wrong direction."
The newly released report shows that between 1999 and 2017, New York City lost over one million apartments renting for less than $800 a month. In 2017, there were approximately 560,000 more households in need of low-rent apartments than there were apartments affordable to them on the private market – evidence of the disparity between rising rents and stagnant wages.
There has been a steady decline of low-rent apartments and a surge in the availability of apartments with rents above $2,000 a month. New Yorkers are being pushed out of apartments they can afford, and housing vouchers do not help to expand the supply of affordable housing. There are now more homeless single adults living in shelters (17,887 people) than there are vacant apartments for rent at the CityFHEPS subsidy level for studios (16,480 apartments), signaling an extreme crisis for the fastest-growing segment of the homeless population.
On Mayor de Blasio's watch, New York is on track to see homelessness rise by another 5,000 individuals in the next five years. The House Our Future NY Campaign is calling for the construction of 24,000 new apartments and the preservation of the affordability of at least 6,000 more for homeless New Yorkers under the Mayor's Housing New York 2.0 plan. With this bold and sensible investment, thousands more families and individuals could leave shelters each year, move into permanent housing, and put the City on a trajectory to actually reduce homelessness for the first time in 15 years.
Local elected officials sounded off. Here's where our Brooklyn politicians are at:
"New York is in the midst of a housing crisis with low vacancy rates, and new housing development not keeping pace with population and job growth. We need act boldly to meet demand and ensure that New Yorkers have access to housing that is safe and affordable. I support House Our Future NY's call urging the Mayor to create and preserve new units to house people experiencing homelessness," said Council Member Robert E. Cornegy Jr., Chair of Housing and Buildings Committee (D-36 Brooklyn).
"Of all the ironies of Mayor de Blasio's tenure, his housing policies rank highest. The City is experiencing the worst homelessness crisis since the Great Depression, yet his plan would subsidize twice as many wealthy households as affordable ones. He has consistently supported large-scale development proposals for the rich against the wishes of working class and immigrant New Yorkers, and his tepidness and condescension when confronted by advocates inspires little confidence. Only a commitment to building 24,000 affordable housing units can restore whatever moral authority he has left in the fight against homelessness," said City Council Member Carlos Menchaca.
"I want to commend the Coalition for Homeless on their efforts to bring increased attention to the homeless crisis in New York City," said Council Member Mathieu Eugene. "It is not right when thousands of hardworking New Yorkers and their families are forced to live in shelters because they cannot afford a place to live. In the great city of New York, we have the resources available to end this epidemic, but we must continue to work together to find an effective solution."
"While I commend the de Blasio administration's efforts to address New York City's housing crisis, our homelessness crisis must be met with greater urgency and targeted resources," said Council Member Antonio Reynoso. "The de Blasio administration's Housing 2.0 plan aims to create and preserve 300,000 affordable units. However, the current plans for creation and preservation do not go far enough in helping to house homeless New Yorkers. I join the Coalition for the Homeless in urging the de Blasio administration to construct 24,000 new apartments and preserve the affordability of 6,000 more for homeless New Yorkers by 2026."
"New York City is seeing an over saturation of apartments for rent above $2,000, this is in complete disregard for what the affordable housing market is demanding. As our most vulnerable New Yorkers struggle to find shelter space, we are now observing the growth of the homeless population outpacing and eclipsing the number of affordable apartments available" said Council Member Alicka Ampry-Samuel. "We have to approach the housing crisis with a comprehensive lens, and that means, developing housing for all New Yorkers, including the homeless population. New York City is in dire need of real affordable and supportive housing that speaks to the needs of homeless and low-income families."
"With homelessness on the rise, we are continuing to call for Mayor de Blasio to commit to increasing the amount of new affordable housing units for the homeless. It's unacceptable that 23,000 children and their families are homeless in New York City, one of the richest places in the world. The lack of stable housing conditions affects children in all aspects, especially in the classroom. We must create a social safety net for these families, and I urge the Mayor to act immediately to alleviate the homeless crisis," said Council Member Mark Treyger, Chair of the Committee on Education.
"Last October, I went from Long Island City to the Park Slope YMCA to confront the Mayor about housing for the homeless.  That was nearly a year ago, and I am still in that shelter in Queens," said VOCAL-NY leader Nathylin Flowers Adesegun. "Since that day, I have become well connected to elected officials, political organizations like VOCAL-NY, and I am already a seasoned self advocate who attended the March on Washington 56 years ago. And I am still homeless. If I can't get out of the shelter, what hope is there for folks who need more support than me? We need a real leader in New York City–one with the courage to commit to new housing construction."