Mayor Bloomberg, Commissioner Kelly Visit 61st Precinct To Commend Officers' Storm Response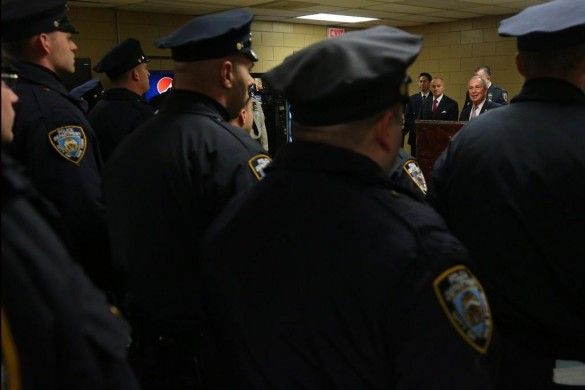 Mayor Michael Bloomberg and Police Commissioner Ray Kelly visited the 61st (2575 Coney Island Avenue) Precinct to talk to officers about the current conditions of the storm-battered neighborhood.
Cops from the 60th Precinct (2951 West 8th Street) were there, too, because their headquarters suffered a great deal of damage and the precincts combined for the time being.
Bloomberg spoke highly of the officers' work during trying times. Kelly noted that the 60th Precinct requires a lot of repair work, including a major rewiring, before things are up and running again, according to a NY1 article. Kelly hopes to have the officers back in their Coney Island location in about a week.
"There was a tremendous amount of flooding, of course, at the 60th Precinct station house, which is in Coney Island, right in the middle of Coney Island," stated Kelly. "Officers had to evacuate that building. They're still not back in the building. They're turning out of the 61st Precinct here. It's working well, but obviously we want to get them back into that location as quickly as possible."
According to reports, over 1,700 officers also have to deal with their own private property damage as a result of the storm.