Mayor Bloomberg Boo'd Out Of Rockaways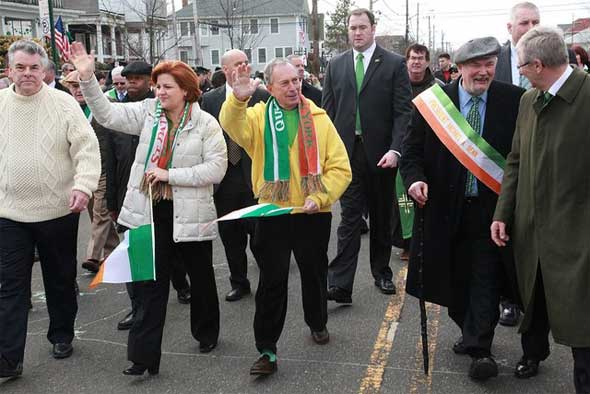 Even the luck of the Irish couldn't help Mayor Bloomberg.
Mayor Bloomberg visited Rockaway, Queens, on Saturday to march in their annual St. Patrick's Day parade, but hizzonah was not welcomed warmly.  According to the New York Post, the crowd shouted "Go back to Manhattan!" and "Take the A train home!" as he marched the 30-block route.
Residents were more than a little ticked off at the mayor's recent spate of initiatives that aren't holding much water outside of Manhattan, especially in middle-class residential strongholds. And, in true old-school New York fashion, the folks in the Rockaways gave Bloomberg their unvarnished opinions on everything from teacher and FDNY layoffs (they chanted "Union buster" as he marched) to the latest anti-smoking bill.
"What he's doing to our teachers and our Fire Department – it's shameful," said one parade attendee. "Who cares about bike lanes? He's an idiot."
According to the Post, Bloomberg didn't stick around to play nice with the revelers. He and his entourage drove off as soon as he finished the parade route.
As a Brooklynite, it can be a little hard to praise Queens on a job well done. But on this one, the enemy of our enemy is our friend. Kudos to you, Queenies, for keepin' it real and giving Bloomberg the kind of welcome he's earned.
[via Gothamist]