EXCLUSIVE: Early Maurice Sendak Illustration Discovered In High School Yearbook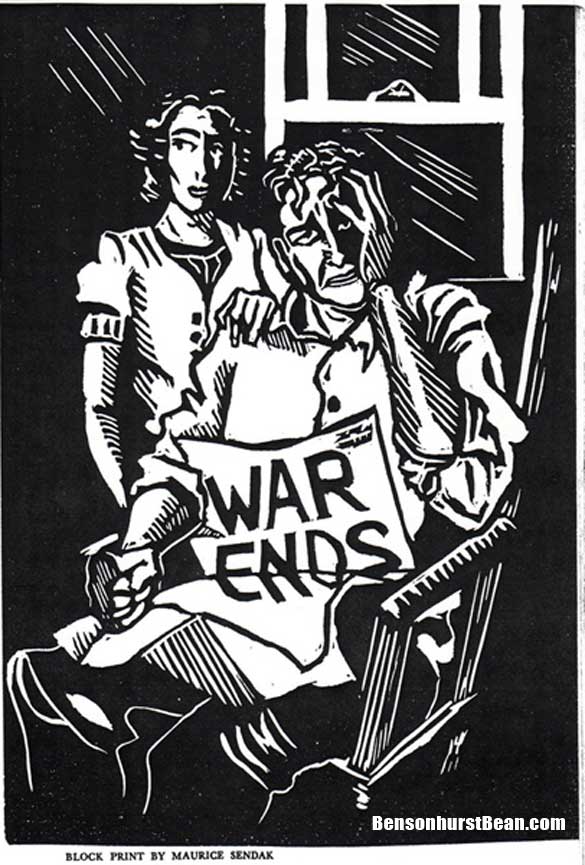 See the image above? It could be Maurice Sendak's first-ever published illustration, a block print created to run alongside the touching personal essay of a friend in their Lafayette High School yearbook. That same year, Sendak, a Bensonhurst native, also illustrated a textbook titled Atomics for the Millions by Dr. Maxwell Leigh Eidinoff. It's hard to know which came first, but the block print above isn't just a potential milestone in the career of the legendary author and illustrator of works including Where the Wild Things Are, it's an example of the kind, giving nature he's renown for.
Similarly, the story behind the resurfacing of the print shows the same sweet generosity.
Bensonhurst Bean reader Michael C. Marmer tipped us off about the illustration following Sendak's death on Tuesday. His mother, Ruth Luberoff, wrote the essay it was created for. Marmer shares his and his mother's story below, and a copy of Luberoff's original essay is at the bottom of this post.
– – – – –
Maurice Sendak was a classmate of my mother Ruth Luberoff at Lafayette High School. They graduated around the same time in 1947.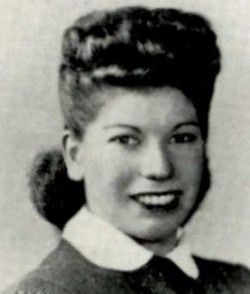 Mom wanted to be a journalist. She wrote stories for the high school literary book and the yearbook. One of her stories, perhaps the most important story in Mom's life, was about her late brother, Harry Luberoff. He was known simply as Hesh to her.
For a long time, I did not remember too much about that story. All of Mom's possessions are gone, including her high school yearbooks and her other high school things. Her belongings were thrown away by my father, which is a different and long story altogether.
What I do remember is that mom was deeply haunted by her brother's tragic death. It was a big loss for her small family. There were only the two of them, no other brothers or sisters. Mom and Hesh were very close. I don't think she ever got over his death.
I remember hearing a great deal about a classmate of mom's. He was a storyteller and an artist. She always spoke with great pride of his accomplishments.
She often mentioned the illustration he made to accompany a short story mom wrote for the yearbook in memory of her beloved brother.
The artist had drawn a man, who I had believed to be my grandfather, sitting in an armchair. Mom stood behind him. Grandfather held a newspaper with the headlines clearly visible. It was something about an accident and the loss of a life.
I remember anguish in their faces, especially grandfather's, as he held his hand to his head in shock. The portrait was vivid.
Harry "Hesh" Luberoff was in the Army for World War II. He was training in Florida to be a pilot. Then, there was a training accident and he died at the young age of 20.
I spent a lot of time researching my uncle and my grandparents. They spent most of their lives in Bensonhurst. My grandparents lived on West 4th Street in a house that has since been torn down. I've been to see it since, but nothing there now looks like anything I recall from photos.
I had thought a great deal about contacting Mr. Sendak to inquire about the story and the artwork. I wanted access to this piece of my mother's life. Before doing so, I tried various websites to find people who were in her class. I manged to write to several people, but none seemed to know what I was talking about. Classmate Rose Meli did respond and sent me an email copy of mom's high school yearbook picture.
I also contacted Lafayette High School and asked if someone could look for the story in some of their material for the years that Mom and Mr. Sendak were in school. They said they would get back to me, but I never heard back.
That little story she wrote was deeply personal to me. It was a symbol of Mom's professional desires. It was also her writing about the loss that defined much of her life. I would have paid any amount for that treasure that had been long gone in my household.
I finally contacted Mr. Sendak on March 11, 2005, by way of his assistant, Jennifer Lavonier. Sixty years after he last saw my mother, he did not turn me away on my quest. At the time, he was suffering from severe back problems but he, with his assistant, still searched for the yearbook. They generously made photographs of the story and his illustration and sent them to me.
Today, this is something else I will remember: his kindness to me, a complete stranger to him.
For a long time, I thought the illustration was of my mother and grandfather. Later when I saw the work, I came to find out that the woman in the picture was my mother, but the man was not my grandfather. I didn't know this man, he was not a part of my memories or my mother's story. Yet, it was his face that was full of sadness in the artwork.
Looking at Mr. Sendak's illustration now, I am struck by how different it is from his typical work. Then again, maybe this melancholy portrait of the strange man is something that haunted Mr. Sendak. Perhaps he was someone from Mr. Sendak's story and perhaps this illustration was deeply personal for him too.