Mathylde Frontus Takes The 46th Assembly Seat, Early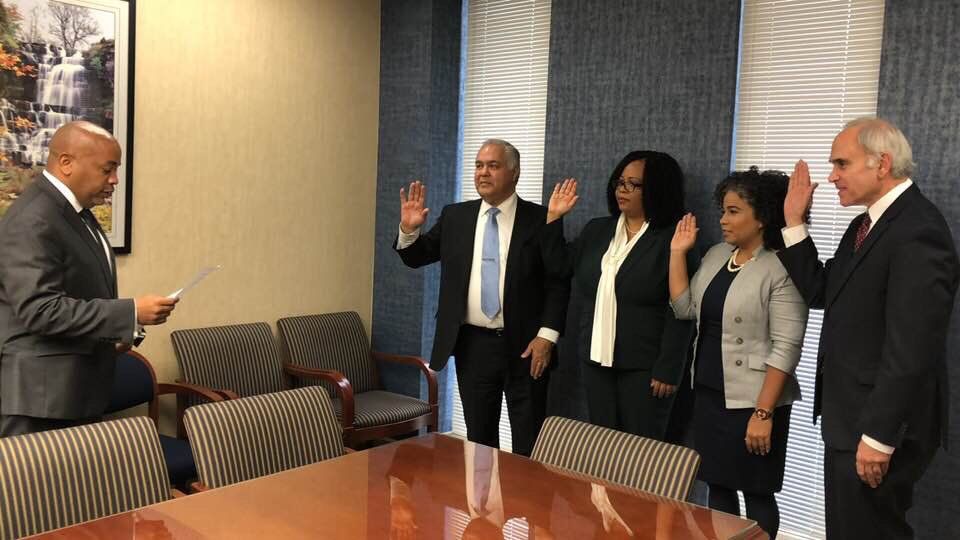 BAY RIDGE – Newly elected Assemblywoman Mathylde Frontus took her seat as the next 46th assemblymember on Thursday in Albany and is already back in Brooklyn opening her new office.
For now, Frontus will share a space in Councilman Justin Brannan's Bay Ridge office at 8018 5th Avenue.
"I'm excited to be back in Brooklyn and to hit the ground running," Frontus told Bklyner.
Assembly Speaker Carl Heastie swore in the four freshman assemblymembers – Frontus as well as Karina Reyes (AD 87), Jonathan Jacobson (AD 104) and Nader Sayegh (AD 90) on November 15 in his Albany office, according to a Facebook post.
Frontus' district encompasses Coney Island and Sea Gate and parts of Bay Ridge, Brighton Beach, Dyker Heights, and Gravesend. The Coney Island underdog overtook Ethan Lustig-Elgrably in a contentious primary and then Republican candidate Steve Saperstein in the Nov. 6 general election.
Frontus, a Coney Island native, fills the vacant seat weeks ahead of 18 other new assembly-elects. Disgraced ex-assemblywoman Pamela Harris abandoned the position in April after facing several federal indictments.
In a Twitter post, Frontus thanked her new constituent base for their "vote of confidence". The Coney Island native ran a grassroots operation since officially announcing in April with less than $50,000 in her coffers throughout her entire campaign.
The candidate, post-campaign, is already on the political circuit. This week, she addressed members of the Dyker Heights Civic Association to promote plans of a Southern Brooklyn Think Tank – a campaign promise.
Before that, the assemblywoman made her rounds in Bensonhurst along the Chinese-American portion of the district. She visited with members of the Fujian Consolidated Benevolent Association and The Chinese Chamber of Commerce.
Former campaign manager Joe Herrera confirmed he won't move forward to her administration but is helping her with the transition. Frontus told Bklyner she is building her staff and will announce the next steps in the coming days.
"This is an exciting time for us in Southwest Brooklyn and I feel honored to be a part of the change which is taking place in terms of new leadership, fresh ideas and community engagement," Frontus told Bklyner.