Assembly Member Staffer Who Once Rallied Against Embezzlement, Arrested For Allegedly Embezzling $80k Himself
SUNSET PARK – Maruf "Mitu" Alam, 29, had been working for Assembly Member Felix Ortiz's office for eleven years. Yesterday morning, the FBI arrested Alam for allegedly embezzling $80k from the Assembly Member's campaign account.
On Thursday, August 8 at around 2:30 p.m., Alam showed up to his arraignment wearing a blue Penn State t-shirt and jeans. He didn't say much except answer Magistrate Judge Sanket Bulsara's questions. He also said a few words to his mother in Bangla after the arraignment. He was charged with wire fraud. If convicted, he can face up to 20 years in prison.
According to the criminal complaint, Alam "knowingly and intentionally devise[ed] a scheme and artifice to defraud the Campaign Committee… and donors thereto, and to obtain money and property from them by means of one or more materially false and fraudulent pretenses, representations and promises, and for the purpose of executing such scheme and artifice, did transmit and cause to be transmitted, by means of wire communications in interstate commerce, writings, to wit: electronic mail messages attaching false campaign finance disclosure reports."
Alam was released on a $100,000 bond. At his arraignment were his mother and a man presumed to be his father. His mother, who said she was a nurse, sat quietly in the back of the courtroom in an olive green hijab, her body covered in a black abaya. A man sat next to her, wearing a white button-down shirt, topped with a white kufi on his head.
The criminal complaint also states that Alam's alleged embezzlement scheme had been going on from January 2012 to January 2019. Alam was listed as treasurer for a campaign account. As treasurer, he allegedly disclosed inaccurate campaign contributions and expenses, stole campaign funds, and deposited the cash into his personal account.
"As alleged, Alam was caught red-handed using a New York State Assemblyman's campaign account as his personal piggy bank," United States Attorney Richard Donoghue said. "Alam betrayed the trust placed in him to act honestly as the treasurer for the account and then attempted to cover up his crime by filing false disclosure reports for years. Today's arrest makes clear that dishonest public employees will face the consequences of their crimes and be prosecuted to the fullest extent of the law."
After the arraignment, Alam refused to speak to reporters. His mother, though, approached Bklyner to ask what was going on outside the courthouse. She then told Bklyner, "He didn't do anything."
Ironically, in December of 2017 (during the time Alam's own alleged embezzlement was taking place), Bklyner spoke to Alam when he helped organize a rally outside a Kensington Mosque, Masjid Nur Al Islam, whose imam later resigned after claims of embezzlement.
At the time, the Kensington community had raised about $350,000 to purchase the property next door to the 21 Church Avenue mosque. It turned out, the imam never bought the building. What he did instead, was buy the community mosque (with his trustees), became the owner of it, and change the name to Islam Community Trust as Trustee. When people asked for the money, the money seemed to have disappeared.
"The rights of this community were taken away by force, the rights of the people to congregate, to pray the five times prayer and the Friday sermon was taken away by one man," Alam told Bklyner at the time about the embezzlement. "We will not stand idle while this devastation is taking place."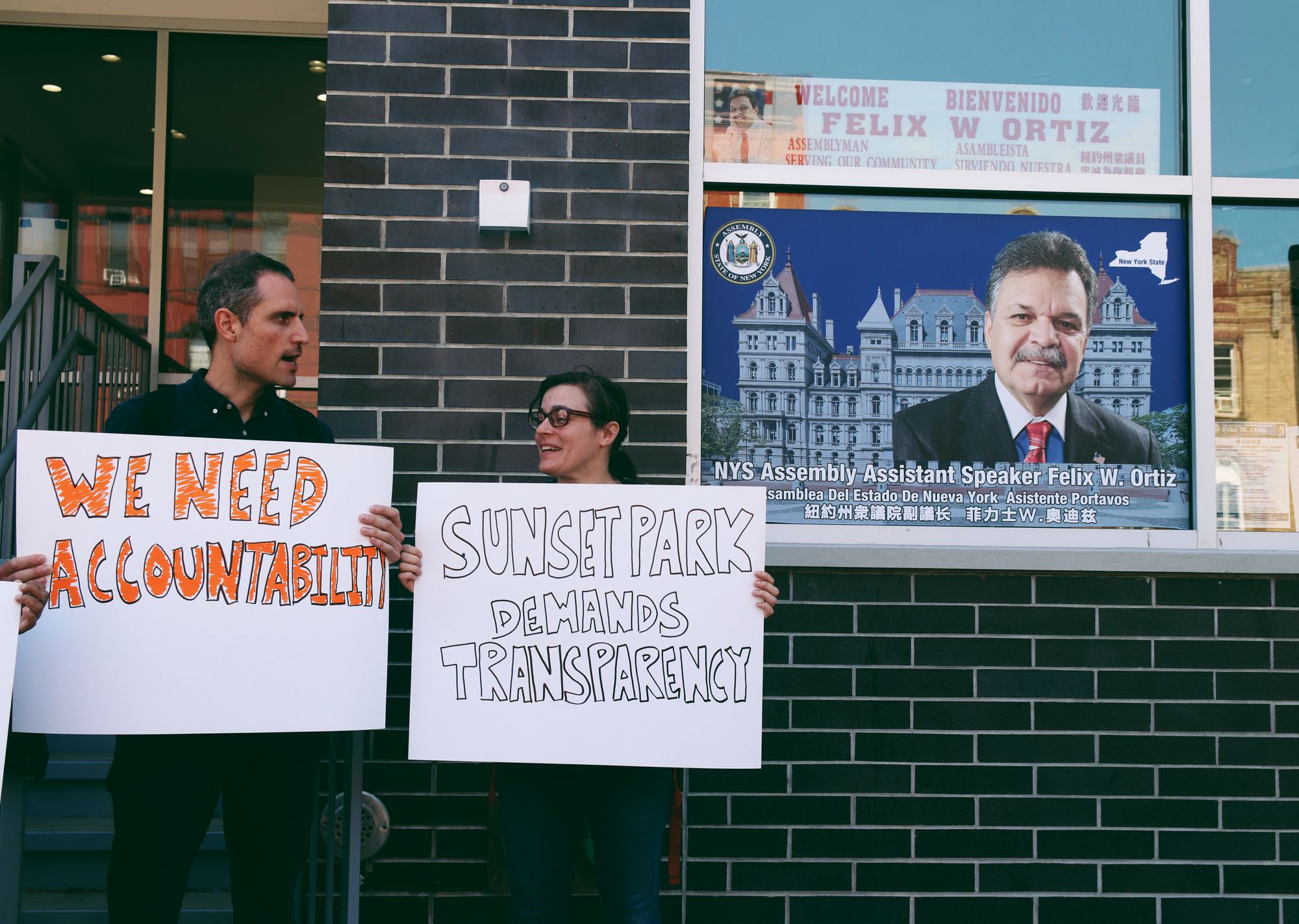 Jorge Muñiz is a Sunset Park resident and has known Alam for a while now. After the arraignment, he approached Alam and asked him what was going on. Alam ignored his handshake and ignored his questions. Today afternoon, Muñiz and six other community members stood outside Ortiz's office to demand answers. How could all of this have happened? they asked.
"These are serious allegations. We all want to know what happened here," he said. "It's a major crisis for our democracy when money from a publically-funded election is ending up in private bank accounts."
Sunset Park resident John V. Santore also had a few words to share.
"Democracy requires transparency," he said. "Mr. Alam is innocent until proven guilty, but going forward, we expect Assemblyman Ortiz to be more transparent and more accessible to members of our community."
After the short presser, the few community members walked up the steps to Ortiz's office. A staffer came out the door and said Ortiz was not inside and they were not able to come in. She then handed out a few fliers that included Ortiz's statement. According to the statement, Alam is being terminated from Ortiz's staff "effective immediately."
"These are very serious charges. I am personally appalled, hurt, and disappointed that an employee would violate my trust," Ortiz said. "My constituents come first and they deserve to know that public employees are always working on their behalf. I want to thank the FBI and the US Attorney's office for their efforts and I look forward to working with them to ensure that justice is served."