Marine Park Puddles – A Tale Of Two Parks?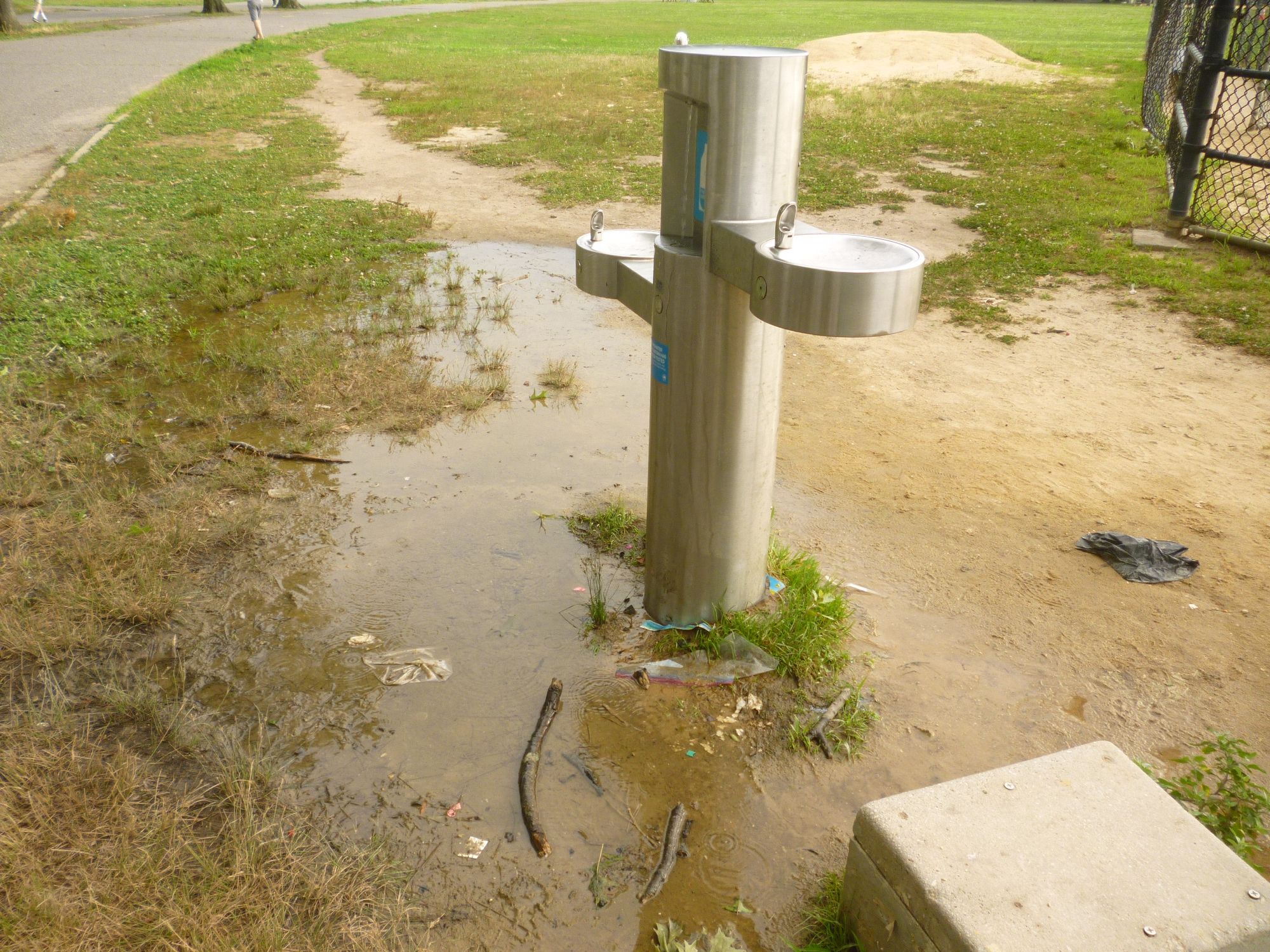 MARINE PARK – Huge puddles continue to plague Marine Park – worrying residents after Mosquitoes infected with the West Nile Virus were detected nearby earlier this summer. Even though the Department of Health is taking steps to eradicate them, neighbors say what really needs to happen is fixing the puddles in the Park once and for all.
"It sits there for years," said Ed Jaworski, Co-President of the Madison-Marine-Homecrest Civic Association. "In the winter it freezes over, and in the summer it attracts all types of flies and rodents."
The park is situated right behind MS 278 and is frequented by day camps during the summer, but the puddles create an obstacle to playing, locals say.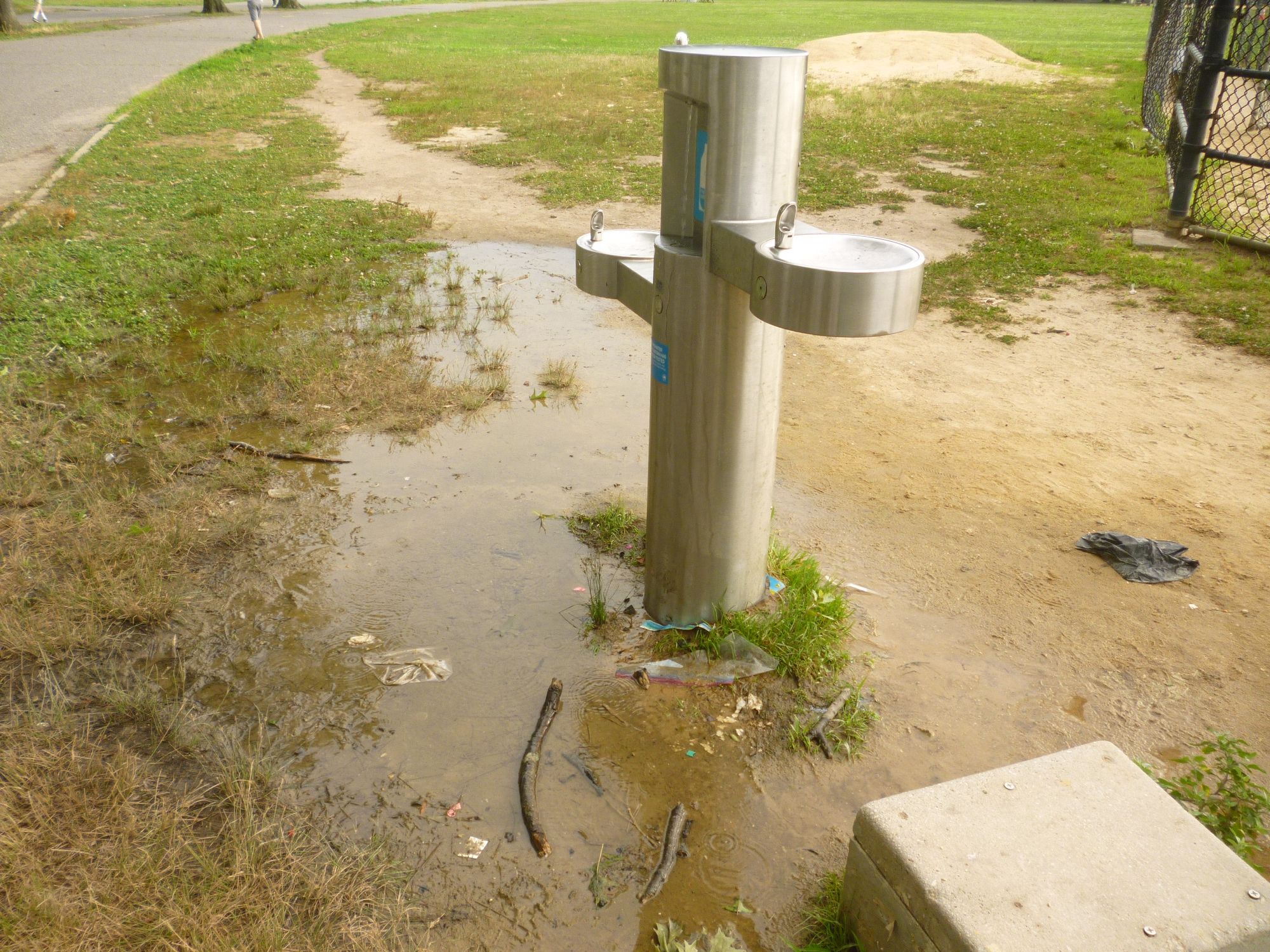 "It's like a lake filled with garbage," said Elizabeth Morrissey, who lives across the street from the park.
A Parks Department spokesperson laid the blame for the large puddles on "generous rainfall" and said crews do their best to deal with them when they form.
"We work hard to address and we pump and sweep large puddles regularly," said Anessa Hodgson. "For smaller puddles, they tend to dry out in a few days."
Mosquitoes lay their eggs in stagnant water, from which it takes about 2-3 days for them to emerge as adults, according to the Center for Disease Control.
While most people stung by West Nile virus-carrying mosquitoes are unaffected, 1 in 5 people become infected with West Nile virus, which can also have no serious effects on a person. Around 1 in 150 people develop a serious, life-threatening illness, according to the CDC. There have been no reported infections so far this year in Brooklyn, and only one infection was recorded last year.
The Department of Health says removing standing puddles is an essential step in combatting the spread of West Nile virus.
"We encourage anyone to remove any standing water that may harbor mosquitoes, or call 311 for standing water they cannot manage themselves," DOH Commissioner Dr. Oxiris Barbot said in a statement.
In addition to rain puddles, Marine Park is also plagued by a faulty two-year-old bottle filling station which had been running constantly for over three weeks, according to East 33rd St. Resident Stan Kaplan.
"[Kids] can't even get to the fountain because it's disgusting, it's all mud," said Morrissey.
Residents said the filling station has since been turned off, but the puddle remains.
Meanwhile, out of six similar bottle filling stations installed in Prospect Park in 2013, five are built on concrete, making puddling impossible.
The fountains in Prospect Park were donated and installed by Smart Tap LLC, according to the Prospect Park Alliance.
The Marine Park fountain was installed by Parks Department staff. When asked why the fountain was not installed on concrete like the Prospect Park fountains, the Parks Department said the fountain's placement had nothing to do with its puddling issues.
"When the fountain is working as it should, there is no puddling," said Hodgson.
Councilmember Alan Maisel told Bklyner on Friday that Parks Department plumbers were being dispatched to deal with the fountain, and that they had been tied up repairing swimming pools and sprinklers due to the summer heat beforehand. But as for the long term puddle issues, Maisel said the funds are just not available.
"If you can come up with a couple million dollars, we'll take care of it," he said. "Everything that people have complained about costs lots of money, whether it's the playground that has to be redone, the oval that has to be redone, that ball field has to be done, we're talking about $20 Million."