Marine Park Dad Shaves Head In Solidarity With Child Cancer Sufferers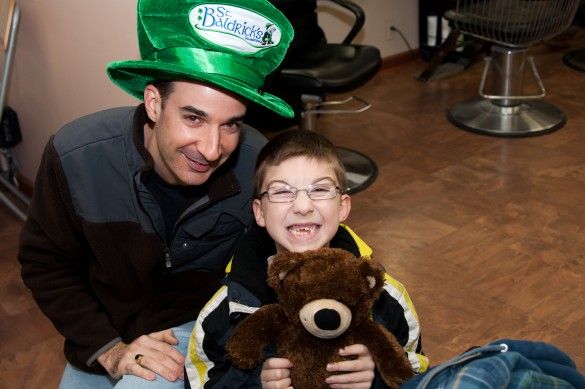 "Anyone who does anything to help a child in his life is a hero to me." ― Fred Rogers, who would have been 84 years old today.
On St. Patrick's Day, lifelong Marine Park resident Joseph Savarese, 39, rose before dawn on a foggy Saturday morning to quietly get his head shaved at Lucky's Place barber shop on Quentin Road and East 31st Street.
He has done this every year for the past seven years.
The annual ritual of shaving his head is Savarese's way of showing solidarity with children who suffer from cancer, part of a fundraiser for the St. Baldrick's Foundation, a volunteer-driven cancer charity.
And this year it had a very personal meaning.
Last month, many years after being diagnosed with the disease, an uncle of whom the soft-spoken Savarese was particularly fond, succumbed from the ravaging effects of cancer.
"He was battling two forms of cancer for the past 13-15 years. The cancer shattered his left leg last year," Savarese said in an email, and, in early February, doctors discovered that his uncle's spine also "had hair line cracks in it."
Article continues after photo.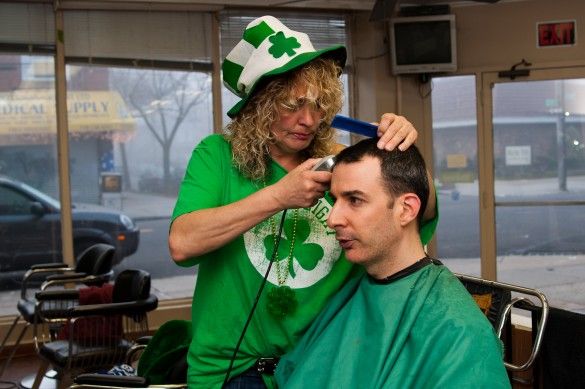 The St. Baldrick's Foundation, committed to funding "the most promising research to find cures for childhood cancers and give survivors long and healthy lives," is the world's largest volunteer-driven fundraising program for childhood cancer research." Since its founding 12 years ago, nearly 200,000 volunteers — including more than 17,200 women (notable for having a greater reluctance toward having their heads shaved) — have contributed to the organization, which funds more in childhood cancer research grants than any organization, with the only notable exception being the United States Government.
Savarese, a married father whose precocious six-year-old Christopher "has my eyes" — something he tells people, when they comment that his son more closely resembles his blond-haired mother, Patricia ("Trish"), of Irish and German descent — was wearing his St. Baldrick's t-shirt to Lucky's.
Article continues after photo.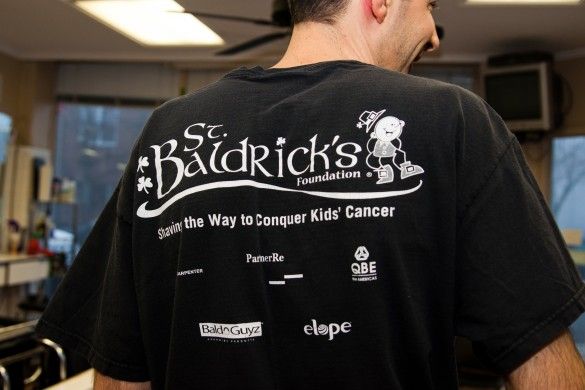 The part-barber shop, part-social club, whose ambiance exudes a "Where Everybody Knows Your Name"-type vibe, partially explains why Savarese — who loved the show Cheers growing up — has enjoyed getting his hair cut there for 25 years. Savarese also brought along a poofy, emerald green St. Baldrick's top hat to wear before and after the official shaving. Christopher tagged along with his stuffed bear, Mocha.
Savarese's charitable work is something of a neighborhood and family affair. His longtime barber Stephanie — a curly-haired blond, with a thick Brooklyn accent, who's been cutting Savarese's hair since 1987 — also contributes to the organization.
According to him, in addition to her monetary donations to St. Baldrick's over the years, Stephanie gladly donates her time to the children's cancer foundation by cutting Savarese's hair for free. His wife Trish, in turn, always generously donates to St. Baldrick's, to offset the cost for the annual head-shaving her husband receives.
Article continues after photo.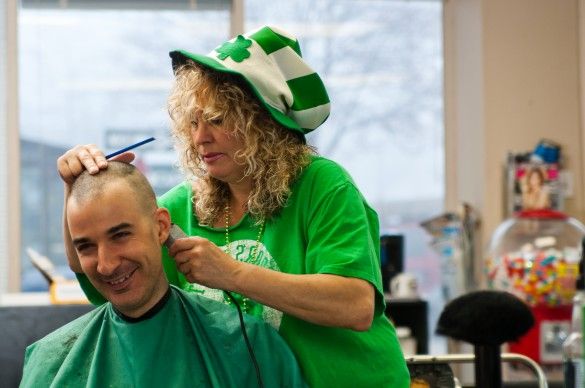 Savarese — who is also an Eagle Scout, an expert wood carver (you can see his website, "Whittle and Chips" here), a published magazine writer, something of a minor YouTube celebrity, and an aviation enthusiast (he acquired Lt. Col. Jimmy Doolittle's autograph before he died in 1993 at 96 years-of-age) — may have been the only Lucky's Place customer at 7:00 a.m. this St. Patrick's Day morning, but he was by no means alone.
On the Thursday before St. Patrick's Day, The New York Daily News reported that, for the third year in a row, dozens of St. John's University faculty, staff and students also had their heads shaved in solidarity with children suffering from cancer, during an event for St. Baldrick's at the school. Combined with charity food sales and raffles, the fundraiser on the St. John's Jamaica, Queens campus raised more than $22,000. There were hundreds of head-shaving events, large and small, just like Savarese's and St. John's, throughout the nation on St. Patrick's Day.
Article continues after photo.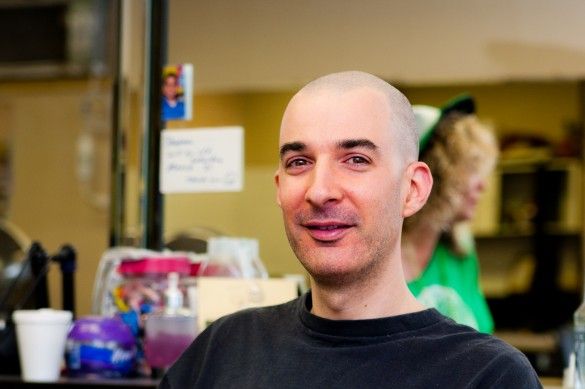 Donations for Savarese's annual head shaving mostly come from an intimate circle of family and friends, but the "one-shavee show" — who has inspired his loved ones to open their hearts and their wallets in the amount of more than $2,000 in the past seven years — expressed a desire to raise more money for the children's foundation in the future.
One can certainly speculate that, for the Marine Park Michelangelo — who could carve intricate masterpieces out of a block of wood, and then, astonishingly, present them to some pretty well-known personalities — finding a way to up the ante shouldn't be too difficult.
The modest Marine Parker shrugged.
"I just think it's a nice way to give to charity," he said.
There are a number of ways you can get involved with the St. Baldrick's Foundation. You can donate through Joseph Savarese by going to his page and clicking on the "Make A Donation" button on the left hand side of the screen. You will then be walked through a brief and simple donation process. You can also call your donation in by telephoning (888) 899-BALD (2253) or, if you'd prefer to mail in a check, you can download an easy-to-fill-out donation form. If you'd like to volunteer, there are also a number of ways for you to do that, and, as the website notes, "not all of them lead to a shiny scalp!"