Maria The Ice Cream Girl Talks New Children's Book, Her Dad & Why She Loves Bensonhurst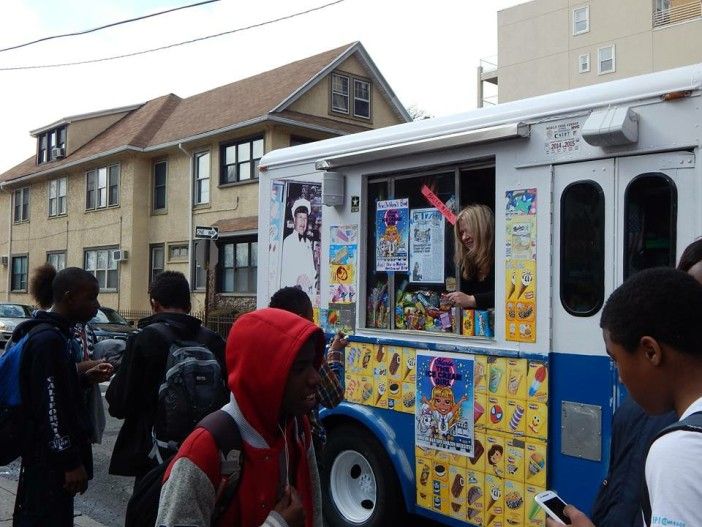 Few personify Bensonhurst's honest, working class ethos and generous spirit more than Maria "The Ice Cream Girl" Campanella. Brooklyn's first female ice cream vendor, Maria got her start at 19, working alongside her father, Angelo "Chubby" Campanella, who earned a reputation in the neighborhood, not just for his frozen treats, but for his generosity and willingness to lend a helping hand. (Maria famously fought the city hall to have a street named after her father — an honor typically reserved for fallen firefighters and NYPD officers — and won!)
Known for dispensing blunt, sisterly advice to neighborhood kids, the Maria is now embarking on her latest project: a children's book. Loosely based on her own life, the book follows a street-savvy kid named Maria and her lovable puppy sidekick named "Chicken" as they ride around in their ice cream truck offering life lessons to other children. Maria will be signing copies "Maria The Ice Cream Girl" tomorrow, April 21, 7pm, at Cafe Venezia in Gravesend, 706 Avenue U. Light snacks will be served, and all who attend will receive a coupon for Queen Anne Ravioli & Macaroni.
Maria agreed to chat with us about the inspiration for her new book, how she got her start, her late father, and why she loves Bensonhurst.
1. What gave you the idea to write a children's book?
I've always wanted to write one. In fact, I have on the side burners a book proposal about my life as Maria — way different from my children's book — but about me as a teen. Everybody deserves a chance to turn their life around — my dad gave me the chance and put me on the truck to work when I was 19.
Getting back to your question, I ran into a person who admired my style and knew of me from what I do in the community, and he inspired me to do something creative with my character and offered to help direct me. My suggestion was my own cartoon show on TV, but his friend suggested that a children's book was the first step into that field — I was all for it, because that was always a dream too — and I then made it come true.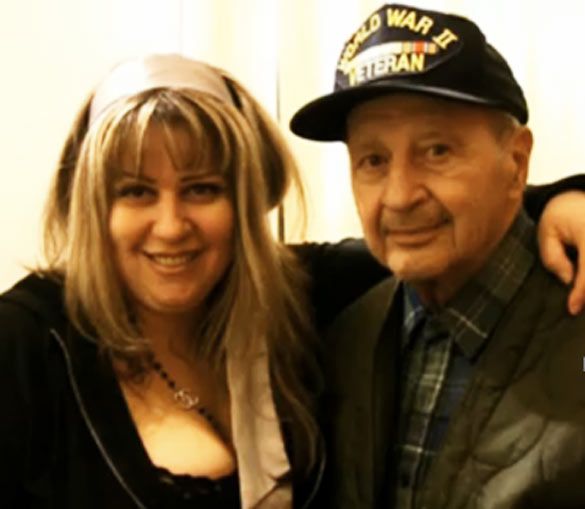 2. Can you tell us about the process of writing the book, as well as finding an illustrator and publisher?
First I wrote the children's book based upon my life.  I was lucky to find this friend — his heart is of gold and his friends' also — and he suggested another friend, who illustrated my book. I can just say, this guy is amazing. His cost to me was much lower for me than the work he has done, or what others would've charged for this kind of work. Between the two of them and myself, we worked together closely and detailed every aspect of this book that identified my family members, friends, and a storyline down to a tee.
Then I got accepted by Page Publishing and self published with them; I didn't want to wait years, if I was to find a vanity publisher. I had my story edited before time and illustrations done so they were able to publish my book quicker — and the fee was pretty reasonable.
3. How is the fictional Maria the Ice Cream Girl similar to the real Maria the Ice Cream Girl?
It is me. I do a lot of charity. We weren't born to this world without a stranger's help, we were in need of help. And when are old, we need help to survive. And in between, when we are in need, we are going to need others. That's why we must help those in need. It's not all about us. We need to help those in need as best we can. You never know who's gonna pick up your family member from the ground when they fall, or who's gonna feed a friend of yours who goes hungry. We're here for a reason, life is a gift from God. We need to help.
Also, [like the fictional Maria] I'm out on the streets with these kids and I protect them best I could — and safety always comes first — and I talk to them. I'm their friend; they know they can come to me, but they also know a respect between us. If they're doing something wrong I'm gonna lay it on them, and they're gonna listen, it's all about respect on the street. I'm the queen of the streets and they're my babies.
4. Can you tell us about how you became known in Bensonhurst as Maria the Ice Cream Girl?
My dad an ice cream man since 1944, known on same route I still do as "Chubby the Ice Cream Man." He put me on the truck when I was 19, and I've been helping him ever since. My dad retired three or for years before he passed away, six years ago. My commitment to him was to help him and my mom as best as I can, so he won't have to work as hard because of his lifelong illnesses. Mom helped with everything else.
5. How have people responded to the book?
They adore it! They love that it's real and interactive. [Maria] is a great character for children that's fun and full of serious life lessons. They simply adore it and can't say it enough.
Each character in the book is something any kid can relate too — main cast has a musician, a karate champ, a book smart kid, a dancer/cheerleader, a gamer girl, a girl whose family owns a pizzeria, and my real-life adorable doggy "Chicken" too!
6. If this does well, will we see a series of Maria the Ice Cream Girl books?
Oh yes and more! Hopefully — I'm taking this to the moon.
7. What do you love most about Bensonhurst?
It's always rich in culture diversity, it has great community boards and organizations to make a better life for all, a great NYPD, and fire department (they even rep in my book). I love my neighbors, I love 86th street, Avenue U, Kings Highway, 18th Avenue, the bakeries, restaurants; I love the people, the houses, the Marlboro projects.
I love everything in between and all around — one big, great life for everybody!
Buy Maria the Ice Cream Girl on Amazon here, or come out to tomorrow's book signing.