Man Skewered In Manhattan Beach BBQ Brawl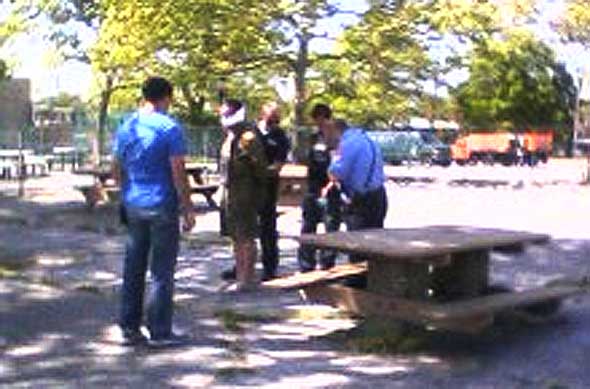 A friendly outing to Manhattan Beach turned violent this afternoon, after a brawl left six people bloodied and one man in the hospital.
Just minutes after 3 p.m. a group of four visitors enjoying a beachside barbecue were attacked by two men. The two men, who appeared to be in their thirties, began shouting at a group of two men and two women who appeared to be in their fifties. The younger men were upset because smoke from the group's barbecue bothered them. The park was nearly empty.
According to witnesses, one of the younger thugs slugged one of the older men. As fists were thrown, both women were shoved to the ground and at least one was being kicked and stomped on, said witnesses.
Then one of the assailants grabbed a metal skewer and began slashing at the men. One of the victims had scratches on his face, and the other was "stabbed in the head," according to a police officer who arrived later. The victim was taken to a hospital to receive stitches. The witness said the victim had a gash at least five inches long across his face.
"Blood was everywhere. Everyone was bleeding," said Bryan Horohoe, a visitor from New Jersey who witnessed the brawl. Horohoe attempted to stop the fight, which he said lasted just a minute or two. "You can't hit women like that," he said, after describing the brutal attack.
Police arrived about 20 minutes later and arrested the two men and charged them with second degree assault. One of the men arrested appeared to have a broken nose.
At nearly every meeting leading up to the summer months, both Manhattan Beach civic groups demand increased police presence when beaches open on Memorial Day. Residents say that the influx of beach-goers from other communities leads to violence and crime throughout the neighborhood.