Make Art This Weekend For The Global Youth Climate Strike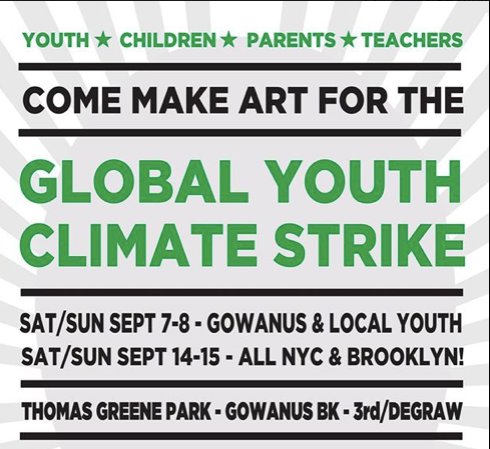 GOWANUS/RED HOOK – Bring the kids to Thomas Greene Park this weekend and create art for the upcoming Global Youth Climate Strike taking place on Friday, September 20.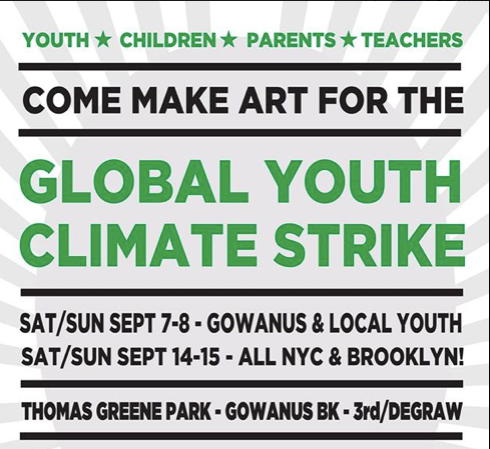 Gan Golan—ArtBuilt's artist in residence who worked in a mobile studio at Thomas Greene Park this summer—will lead attendees in creating signs, posters and banners for the strike. Golan also hosted young artists last weekend (Sept. 7 & 8), providing free art supplies, work space, and guidance to make signs, banners, silkscreens, and other visuals for the march. Last Saturday's event also offered a musical instrument-making workshop and marching workshop to teach young activists how to rally safely.
Golan's ongoing "TimeSeed" project uses seeds to create artwork that documents the stories of Brooklyn residents, activists, and environmental justice groups, and shares their experiences with climate change.
This weekend's (Sept. 14 & 15) art-making event will feature speakers, music, performers, and other family-friendly activities. The event is hosted in partnership with ArtBuilt, NYC Parks, Queens Museum, Gowanus Canal Conservancy, Arts Gowanus, Textile Arts, Arts & Democracy, NOCD-NY, and Friends of Thomas Greene Park.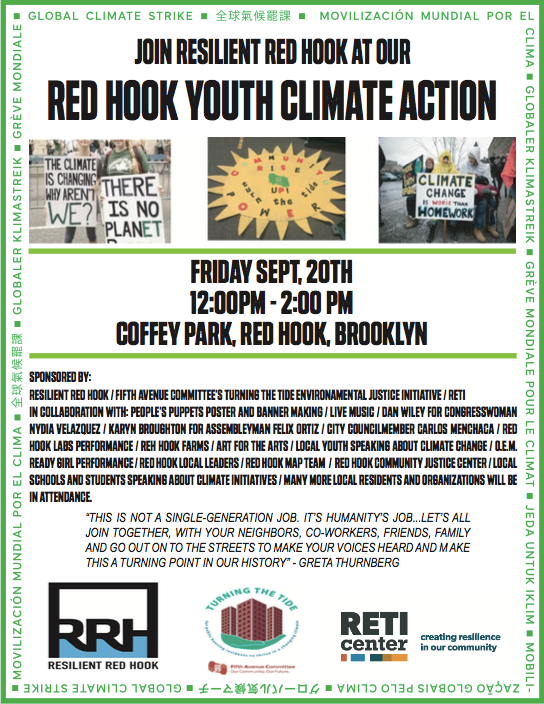 Next Friday, September 20—three days before the United Nations Climate Summit in NYC—millions from more than 150 countries are expected to take part in various Climate Strikes to demand leaders take action against the global climate crisis. Here in Brooklyn, Resilient Red Hook will host Red Hook Youth Climate Action at Coffey Park from 12pm to 2pm. Kids and adults are welcome. Click here to RSVP and let organizers know you'll be joining the event.
Art Build For The Climate Strike
Saturday, September 14 & Sunday, September 15, 10am to 6pm
Thomas Greene Park (3rd Avenue & Degraw Street), Gowanus