Public Hearing This Monday On Housing Development Planned For Industrial Zone Near Navy Yard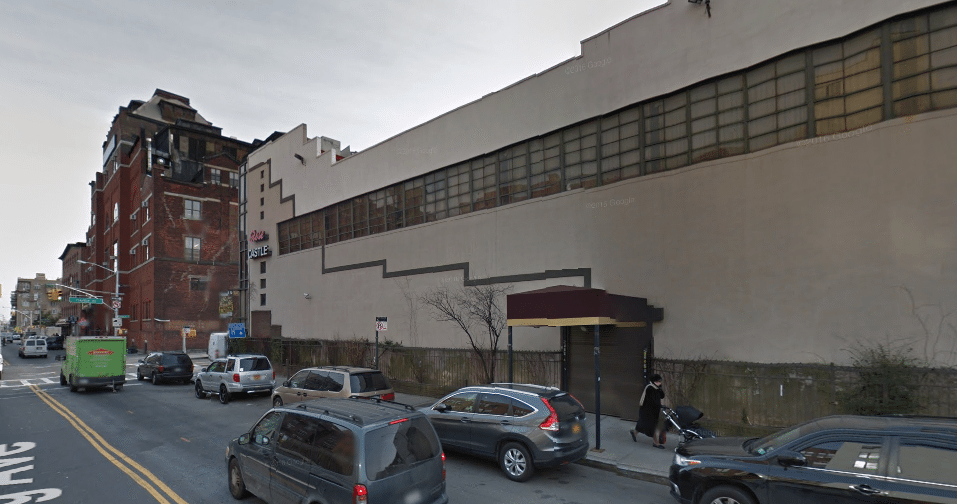 (This story was updated on 12/2/16 at 1:25pm.)
Developers have filed initial plans to construct almost 300 apartments in an area zoned for manufacturing near the Brooklyn Navy Yard.
As first reported by YIMBY, Riverside Developers USA is seeking to develop two sites: 376‐378 Flushing Avenue (between Kent and Franklin Avenues); and 43 Franklin Avenue (a through‐block with frontage on Franklin Avenue to the west and Skillman Street to the east), south of Flushing Avenue.
The development site is just across the BQE from the Brooklyn Navy Yard.
Because it requires zoning changes, the project has begun working its way through the City's Uniform Land Use Review Procedure (ULURP), and will be reviewed by the local Community Board and the Brooklyn Borough President, and must be approved by the City Planning Commission and the City Council.
Community Board 3 is holding a public hearing on the project this coming Monday, December 5th, at 7:30pm, at the Restoration Plaza Community Room, 1368 Fulton Street, lower level.
After hearing community feedback, the Board will issue its recommendation as to whether the project should proceed.
Project Details
According to environmental assessment documents filed with the Department of City Planning, Riverside Developers USA seeks to make 367-378 Flushing Avenue the future site of an eight-story, 176,671‐square foot residential and commercial building with 168 living units, and 43 Franklin Avenue would be the site of a six-story, 126,839 square foot residential building with 128 units.
Riverside Developers USA is backed by South Williamsburg-based investors Zelig Weiss and Fedor Itskovitch, says YIMBY.
The Flushing Avenue site (below) is currently home to the Rose Castle Banquet Hall, which YIMBY says is "used by the growing Hasidic community in northern Bedford-Stuyvesant and South Williamsburg."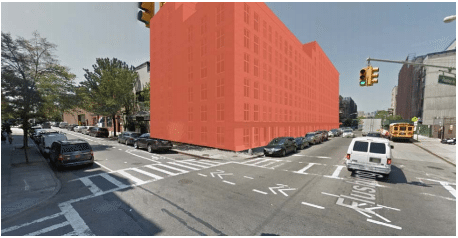 The Franklin Avenue site (below) is currently a parking lot.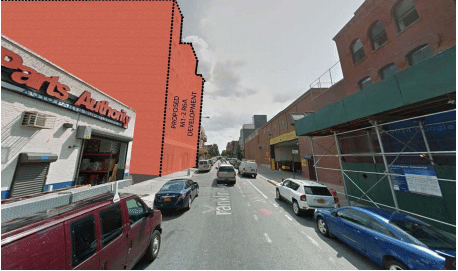 The project requires changing the zoning of parts of two different blocks. If approved, part of block 1884 would change from manufacturing to residential/commercial (M1‐2 to R7A/C2‐4), and part of Block 1885 would change from manufacturing to mixed-use (M1‐2 to M1‐2/R6A (MX‐4).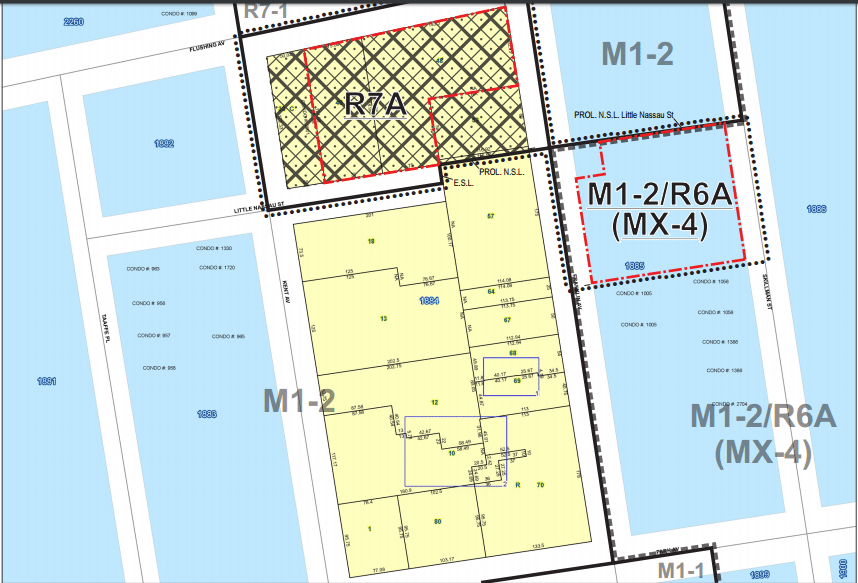 Riverside Developers USA is also seeking to utilize the City's Inclusionary Housing incentives, which offer an "optional floor area bonus in exchange for the creation or preservation of affordable housing, on-site or off-site, principally for low-income households."
To take advantage of the incentives, thirty percent of the units — 88 apartments — would have to be rented to families making up to 80 percent of the Area Median Income, or $78,336 for a three-person household, reports YIMBY. The units must also remain "permanently affordable."
Concerns About Loss of Manufacturing Space
The rezoning of land from manufacturing to residential use raises red flags for those concerned about the ongoing loss of affordable commercial space and decent paying blue collar jobs throughout Brooklyn.
In their proposal, the developers maintain that there is no manufacturing taking place at the Flushing Avenue site, or elsewhere within the portion of Block 1884 proposed for rezoning.
Regarding the parking lot on Franklin Avenue, the developers state: "in…almost fourteen years, Development Site 2 has failed to attract a viable development for manufacturing use…the lack of development…justifies a new proposal to rezone this portion of Block 1885."
A catering hall, window and door contractor's warehouse, and public parking lot would be displaced by the project, but these businesses employ fewer than 100 employees, the developers maintain. The new development will have approximately 8,802 square feet of retail space, which they say "will provide new employment opportunities."
The developers also argue that the City has intended to strike a balance between existing businesses and new development in the area. They note that after the City created a mixed use district adjacent to the proposed development site in 2001, the hope was to "allow for new manufacturing uses and the continued operation and expansion of existing industrial uses, as well as the residential reuse of underutilized and vacant land in this area."
Advocates for industrial businesses say that numerous site-by-site rezonings destroy the integrity of manufacturing zones. They maintain that the steady intrusion of housing into M-zones makes landowners less willing to rent space to manufacturers as they can charge higher rents for other uses, or even warehouse the space in anticipation of a future rezoning.
Introducing almost 300 new apartments into the area could cause other issues.
While the project does not surpass thresholds for the maintenance of adequate police and fire protection, the developer's assessment acknowledges that local elementary and middle schools may not have enough space for the projected number of students who could soon be living there.