Lutzina, A New Hookah Restaurant And Karaoke Bar, Takes On Bath Beach
Lutzina Bar & Lounge, a posh new hookah lounge, karaoke bar, and dining venue is celebrating its one-month anniversary in Bath Beach this week.
Nesting at 2031 Bath Avenue, the lounge resembles a classy, contemporary page out of a Martha Stewart Home and Garden catalog.
Stepping in, you feel as though you've been whisked straight out of Bensonhurst. The pale-white ceiling above the bar resembles a cracked hard-boiled egg. The faux diamond chandeliers revive a 1920s speakeasy. The elegant white lilacs at the bar seal this entirely bizarre package with a bow and question where Lutzina came from and how long it's planning to stay.
It sticks out in Bath Beach like a sore thumb. It's an anomaly. It doesn't fit in.
But that's also part of its charm.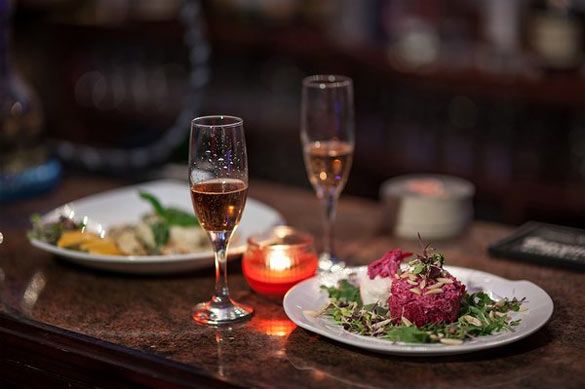 Lutzina Bar & Lounge is different, yes, and a bit of an oddball. It is, simultaneously, cozy, delicious, and intimate.
From the inside right of the venue, you can grab a seat in one of the many leather mocha tufted sofas. Across the street, you can see the Bath Beach diner welcoming hungry patrons. To the left, a classic Italian pizzeria.
Then, in walks Irina Demedina. She commutes daily from her home on Ocean Parkway and, upon entering, takes a seat beside me, leaning her head into the leather upholstery.
"I wanted it to be comfortable…to make people feel at home," said Demedina.
We scout the menu for some snacks and settle on the potato pierogi and the Kani salad. The variety of choices are impressive.
The Lutzina menu offers everything from typical buffalo wings 'bar food' to chicken shish kebob, paella Vallenciana, Siberian ravioli, and traditional Capellini Ai Scogli Di Mare, an Italian speciality made with clams, shrimp, calamari and mussels.
In fact, Demedina says that the menu was inspired by the amalgamation of neighborhood locals' ethnic backgrounds.
"There's a little bit for everyone," Demedina said. She added that there is a niche for her venue in this notoriously quiet neighborhood.
"Many Russians live here. There aren't too many bars. But [there are] a lot of young people," she said.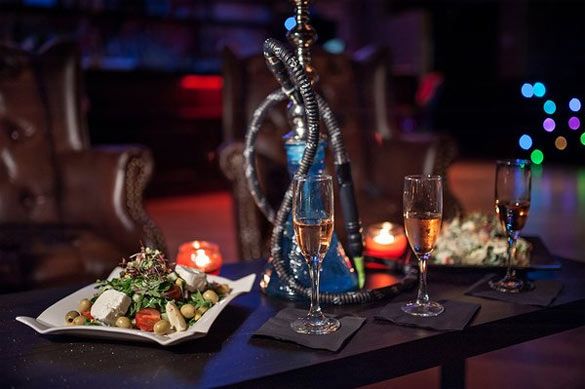 She said that the location, which had less than a dozen visitors on the Wednesday evening I visited, becomes more popular on weekends, when professional belly-dancers and popular DJs attract more locals.
In addition, the menu is starting to draw in a crowd. Lutzina makes all of its food in-house. Demedina even added that she recently hired a full-time chef away from Russian restaurant Lazzat, at 20th Avenue and Bath Avenue.
Still, despite the great selection, these last few weeks have been anything but easy for this new solopreneur.
To get through this first cruncher month, Demedina has been promoting her venue by word-of-mouth marketing, radio commercials, and $10 for $20 Yelp deals.
With her first month in business tucked away, Demedina offered advice for those looking to embark on the 'start-up' quest: "Have a good idea, a good location, and a lot of money in your pocket. To make it profitable…it is tough."
To combat this struggle, Lutzina also features a rentable party room, with karaoke options and a private catering menu.
Keep this place on your radar this fall: Lutzina plans to open an unlimited bottomless brunch menu this fall, with $20 for unlimited mimosas, bloody marys, and sangria.