Lundys Bros.: A Wistful Reminiscing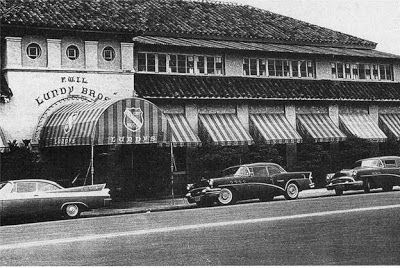 A talented writer running a personal blog named More Glib Than Profound posted a  chronicling of his childhood memories of F.W.I.L. Lundy's Bros. Restaurant. Living in Sheepshead Bay all my life, I've heard so many stories of the massive restaurant that, as legend has it, sold 15,000 meals on Mother's Day. But Lundy's was before my time, and the portrait painted in my mind was thinly done. More Glib, however, made me feel like I was there, to the point that in the middle of it I jumped out of my chair on Monday night and strode over to Randazzo's (the closest equivalent, which he also writes about) to partake in beer and clams at the bar.
What he writes of the restaurant's history is a little off. But in terms of atmosphere, if you're too young to remember Lundy's as it was in the 1960s, read More Glib's account. Here's an excerpt:
Lundy's had NO hostess service. That meant it wasYOUR job to scour the place for a vacant table. During summer weekends or holidays at prime dinner hours, you were left on your own to compete with other families to scout-out this two-level football field-like dining room. It should also be noted that Lundy's had other smaller, intimate nooks and crannies in the labyrinth of rooms along Ocean Avenue.
In emergencies, we traveled in pairs to hunt down unoccupied tables. If there weren't any, one of us would stake a claim on a table while the existing party was finishing. Then the other would run to alert the rest of our clan.
…
It was called Spanish Colonial Revival but it was ugly to me. The Lundy boys must have had a love of 4o-watt light bulbs because the place was a cave. The sand-colored stuccoed walls gave the place a mausoleum feel and the black tiled men's room complete with black stalls didn't help. The rest of the architecture featured sloping red mission tile roofs, arched entrances, corbel tables, decorative ironwork and leaded glass windows.
Once you were seated, the service was decent except that the all-Caribbean waiter team fought over silverware. Arguments broke-out when one of them was caught looting another man's horde.