Lunch Beat: 5ive Spice Is Banh Xeo Tacos, Banh Mi, And Pho Heaven
The neighborhood is chock full of many lunch spots, so how can you decide which one to choose? The new Park Slope Lunch Beat guides you through the myriad of choices available. We'll break down the basics, share some special tips, and provide a quick scorecard to help you pick the best place for your afternoon lunch destination.
Why am I writing this somewhere else and not returning to 5ive Spice (52 5th Avenue at Bergen Street) for lunch right now? I suppose we all have to exercise self-control — but it's not easy in this case.
5ive Spice opened this past Monday, October 26 after a long wait. But we happened by over the weekend and owner Mike Khuu told us that Monday was the day. "People have been looking in the windows, and telling us they're looking forward to coming in," said Khuu.
While this is officially a lunch beat, the menu at 5ive Spice remains the same for all meals, and you'll be happy that it does. It's a diverse menu that isn't overwhelming. With pho, Vietnamese-style tacos, banh mi, rice vermicelli salads, and dumpings, it was hard to decide what to select for our first meal.
When we spoke with Khuu last month, he told us the goal for the restaurant was to have a more traditional-style approach to Vietnamese food. He offered the Banh Xeo tacos as an example of this approach. The dish consists of a traditional Vietnamese pancake stuffed with a variety of meats and veggies. "We're going back to our roots," says Khuu. "It's traditional to eat them with your hands."
Before we got to the main dish, we began with the chicken dumplings (5 for $6). The dumplings were just crunchy enough, gently fried, and soft. If you're with another person, you can split a few of these smaller dishes. Add an order of summer rolls served with a peanut sauce (2 for $6), or spring rolls with fish sauce (4 for $6).
So on to the Blackened Catfish Tacos (2 for $8), which are topped with bean sprouts, pickled carrots, daikon, mint, and fried shallots. The toppings combine in both flavor and texture — and they complement the catfish very well. The tacos "shells" for this traditional food are soft "pancakes," unlike what we may think of as a Mexican taco shell.
We went for the green sriracha and mole sauces — both were delicious. You'll be happy to hear the restaurant sells bottles to take home with you.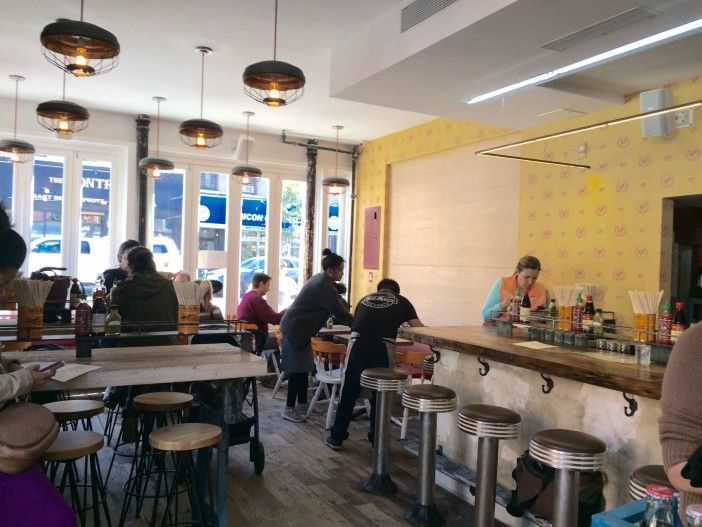 The opening day restaurant goers we spoke with were very happy with their meals. Staci Gleasman was eating the Lemongrass chicken pho ($9) and was really impressed. "Get some extra green sriracha," she said. We're in complete agreement.
It may not be well-known up here, but New Orleans has a thriving Vietnamese population and culture. So it's not that surprising to have Cafe du Monde coffee and chicory featured in their Vietnamese Coffee ($3). We went with the iced coffee, but it is served hot as well.
Coffee and chicory date back to the French Revolution, when coffee was hard to come by in France. So chicory was added to the taste. It traveled over to Canada, and the Acadians brought it down to New Orleans from the Nova Scotia area.
You just don't get this taste many places in our area, so seize upon the opportunity to enjoy it here!
Keep in mind that alcohol isn't served at 5ive Spice. "We want this to be kid-friendly, and we're going to try to keep the price under $15 for all our dishes," said Khuu. The prices on the menu are as Khuu explained — it is a very fairly priced restaurant.
Now if you're stopping in to 5ive Spice for a bite before a Nets or Islanders game, try not to be late for the start. If it's crowded at 5ive Spice though, you'll need to wait on line. Which could make you late.
But we wouldn't blame you.
Park Slope Lunch Beat Rundown: 5ive Spice
Where: (52 5th Avenue at Bergen Street)
Phone: 718-857-3483
Regular Hours: 12pm-10pm, all week.
Reservations: None taken.
Who To Bring: You'd probably be ok with a party of 6, although this place will catch on quickly and you may have to wait. A person coming alone will enjoy sitting at the counter.
Kid Friendly? Yes. The owner wants to make it so. But it will get crowded, so just be aware.
Best Time To Visit: Anytime during the lunch special time frame is fine.
Best Bites: Try the chicken dumplings ($6) as the appetizer (ask for some extra green sriracha). The blackened catfish tacos ($8) are fantastic. The grilled chicken lemongrass pho ($9) was a hit with a few diners. The Vietnamese coffee ($3) comes either hot or cold.