Love Is in the Air: Valentine's Dinner in Park Slope
Park Slope is a romantic town. With restaurants nestled amidst old brownstones on tree-lined blocks, our neighborhood is the perfect setting for an intimate dinner and moonlit stroll. Lucky for us hopeless romantics, we won't have to roam far on Valentine's Day; from Latin fusion to upscale seasonal American fare, Park Slope offers a special dining experience for every palate. Whether married, on a date, or celebrating with friends (or if, like me, you're just having dinner with your Mom), our talented chefs are sure to inspire a magical night.
1. Bogota Latin Bistro, 141 5th Avenue at St. John's Place, (718) 230-3805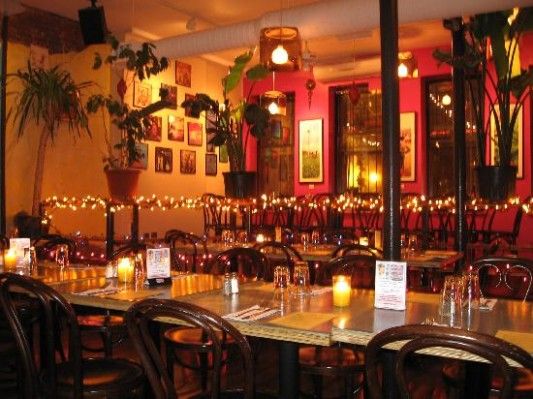 In the more relaxed spirit of Valentine's Day, Bogota offers an exotic, delicious and affordable prix fixe three-course Latin feast ($40) that fits the needs of even the most discriminating eater. With an authentic and diverse Columbian menu and full Mojito bar, Bogota transports you to Latin America with festive Spanish music, friendly service, and a colorful and eclectic interior. Whether a meat lover, vegetarian, vegan or gluten-free, Bogota's menu has a variety of options.
(Photo via Happy Hour)
2. Flatbush Farm, 76 Saint Mark's Avenue, (718) 622-3276
"As 'Futurists' we feel that the voluptuousness of the palate is for both sexes to enjoy, an upward movement through the human body." –the Farm's manifesto
With high ceilings and a sleek, edgy and minimalist interior, the Farm uses simple, wholesome, and locally sourced ingredients to elevate classic dishes to sophistication. In addition to the regular menu, Chef Michael Roberts arouses the senses with a sampling of decadent and sensuous Valentine's Day specials. Start with a rich and creamy duo of Bone Marrow & Caviar, or aphrodisiac Oysters Rockefeller for two. Mains include a melt-in-your-mouth Split Maine Lobster or velvety Pumpkin Ravioli in Butter Cream. If dinner doesn't have you rushing home to steal a kiss (which is doubtful), end your evening with a romantic nightcap at the Bar(n).
(Photo via Big Bang Studio)
3. Miriam, 79 5th Avenue at Prospect Place, (718) 622-2250
"Israeli cuisine is as close to a true world cuisine as exists." –Miriam owners
With Arabic lanterns, handcrafted lights, and handmade drapes against a backdrop of red brick, Miriam offers a warm, inviting and unassuming ambiance for a relaxed and romantic evening. A fusion of cooking styles from around the globe, Miriam's menu reinvents traditional Jewish and Middle Eastern cuisine for the sophisticated palate. A celebration of the senses, Chef Rafael Hasid presents a seasonal three-course Israeli prix fixe menu ($55) with optional wine pairings ($25) for Valentine's Day.

(Photo credit Jessica Anne Guyette)
4. Palo Santo, 652 Union Street between 4th & 5th Avenues, (718) 636-6311
Tucked away on the ground floor of a Park Slope brownstone, Palo Santo is a cozy refuge from the busy bustle of 5th Avenue. With a stone and brick interior, crackling fireplace, and rustic wood furniture, chef Jacques Gautier offers five courses of eclectic, adventurous and elegant pan Latin cuisine by candlelight. Using greenmarket ingredients, wild fish, and grass-fed charcuterie, his romantic menu will simultaneously surprise and delight your taste buds.
(Photo via Palo Santo)
5. Rose Water, 787 Union Street, (718) 783-3800
Dining at Rose Water never disappoints. A culinary journey of the senses, each lovingly presented plate delivers a delightfully unusual blend of tastes, colors and textures that both stimulate and satisfy the palate. Using simple, local, high-quality ingredients, chef Brett Macris presents a four-course prix fixe Valentine's menu ($75  + wine pairings) in a quiet and cozy setting.
(Photo credit Joe Buglewicz/NYCgo)
OTHER GREAT SPOTS:
(Photo of strawberries via Gravity Centre)