Lott House History Series Starts This Sunday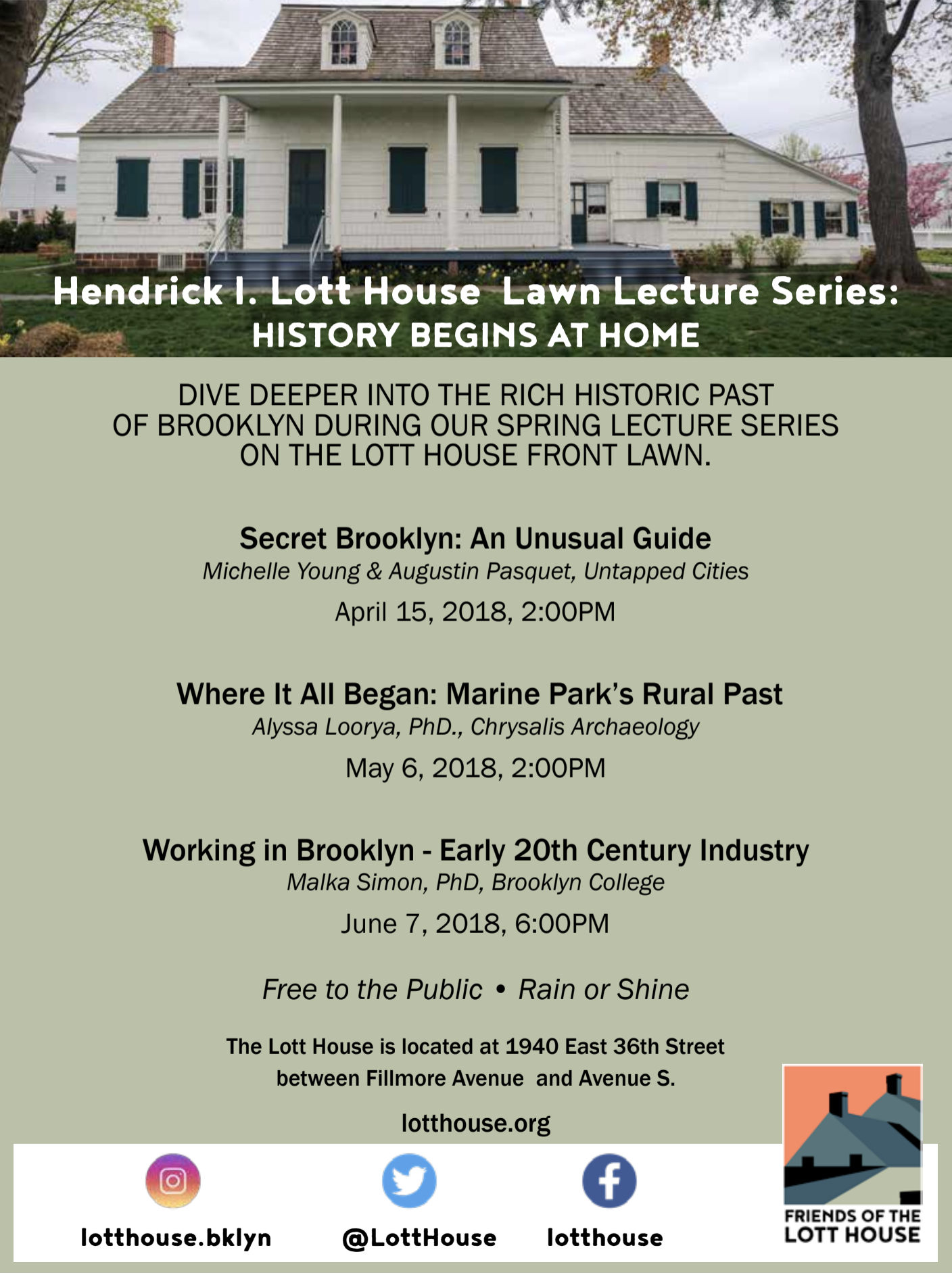 MARINE PARK – This Sunday, April 15th (@2pm), kicks off the first of three free Sunday lectures at the Hendrick I. Lott House.
As recently as 120 years ago, most of current day Brooklyn was quite rural, and Lott House is one of last surviving farmhouses of the old Dutch families that settled the southern parts of Brooklyn some 300 years ago.
You are probably familiar with the Lefferts House in Prospect Park, which was picked up and moved there from its original location on Flatbush near Maple Street in 1918. Lefferts house dates back to 1783, and its siting in the park preserves the rural feel, long gone from what is now known as Prospect Lefferts Gardens.
The Lott House still sits where it was built, and was owned and occupied continuously by members of the Lott family for 280 years. The oldest part of the house was built in 1719, and it was a private residence still in 1989.
Titled "History Begins at Home", the three part series will feature Michelle Young & Augustin Pasquet from Untapped Cities, Malka Simon, Ph.D. of Brooklyn College and Alyssa Loorya, Ph.D. of Chrysalis Archaeology as your guides, and together explore the past and present of our wonderful borough.
This Sunday's lecture will be by the authors of Secret Brooklyn: An Unusual Guide, and organizers promise those attending will "learn how to go on an urban safari for wild parrots, discover a performance of robots in a church, find out how to touch the oldest subway tunnel in the world and the world's smallest Torah." A sampling of the 125 interesting locations in Brooklyn, and of course – the Lott House is included.
The second lecture will focus on Marine Park's Rural Past, and will take place on May 6th, so mark your calendars. It will be led by Alyssa Loorya, PhD, R.P.A.. President and Principal Investigator of Chrysalis Archaeology.
The third lecture will be about Working in Brooklyn – Early 20th Century Industry by Malka Simon, PhD from Brooklyn College.
The free lectures will be held on Sundays, April 15 and May 6 at 2pm and Thursday June 7 at 6 pm on the Lott House lawn. The Hendrick I. Lott House is located at 1940 East 36th Street, Brooklyn, NY 11234.  Additional details at lotthouse.org