Los Pollitos II Closes, And Wild Gluten-Free Pizza To Replace Rotisserie & Guac
Fans of both gluten-free dishes and pizza are about to get both options in one.
Construction is well under way at 148 5th Avenue (at Douglass Street) which will soon become Wild, a gluten-free, farm-to-table restaurant specializing in pizza. The new culinary neighbor will also serve a full menu — including gluten-free chicken parmesan and a "dessert pizza" as well.
But it comes at the expense of the loss of long-time neighbor Los Pollitos II.
The Mexican place closed on Sunday, April 24 after serving its well-known rotisserie chicken for 16 years. Los Pollitos II made the announcement via Facebook:
"It is so hard to say goodbye to the place where we have served so many guests, to the place where many lasting memories were created and strong friendships were formed. After 16 years of serving our Park Slope friends with great food and top-notch drinks, Los Pollitos 2 will close their doors for the last time on Sunday April 24th at 10:00 pm. We will be delighted if you could join us this weekend for a final taste of your favorite dish and say a final 'adios' to us personally!
Love to see you soon,
Los Pollitos 2"
Owner Marina Charny plans to open the third Wild in early June. This restaurant is a franchise, and includes two other locations. The West Village spot is at 535 Hudson Street, and the other Brooklyn outpost is in Williamsburg (340 Bedford Avenue).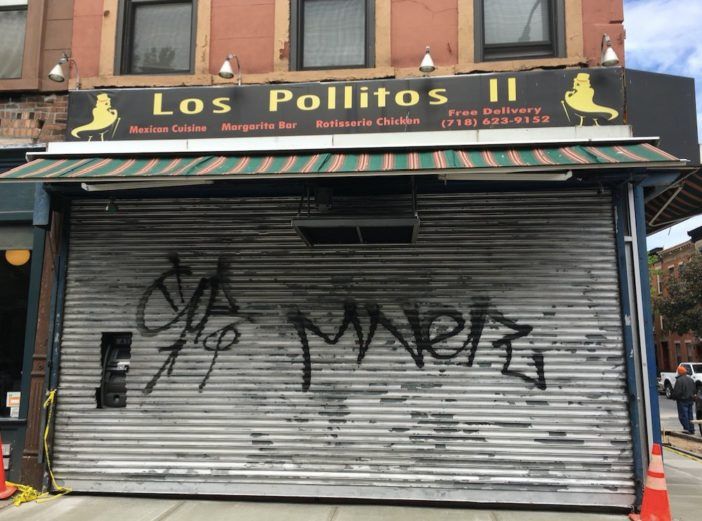 Los Pollitos II's departure comes after a series of temporary closures throughout its history, including two seizures for non-payment of taxes in 2011 and 2013. The Mexican place served a mean Coconut Mojito, and we wish the owners our very best.