Looting After Sandy – Who's Telling The Truth?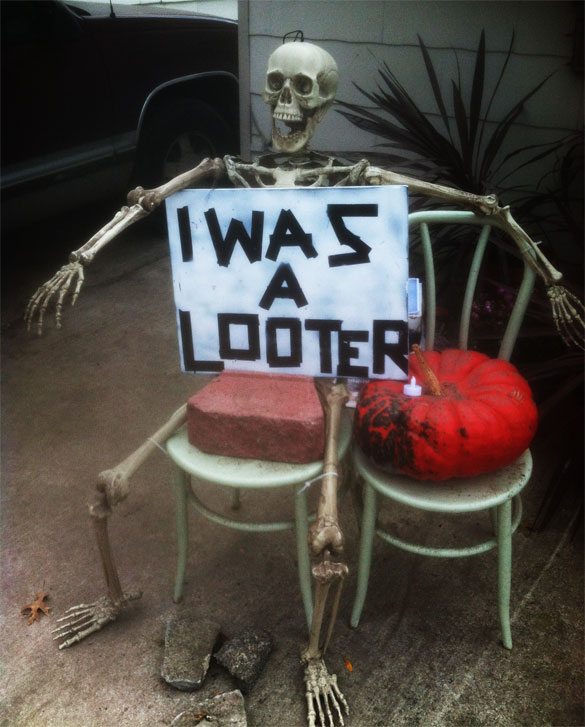 After Superstorm Sandy swept through Southern Brooklyn late last October, burglaries rose 366.7 percent, a statistical reality attributed to looting. While there is no denying that looting shot up after Sandy, the general chaos of the time also led to false arrests which may have skewed the stats, according to a report in the New York Daily News.
Walking the streets late at night in the days immediately following Sandy was a dangerous proposition. Power was down and the streets were flooded. Donald Franks, a barber from Coney Island, found this out the hard way.
According to the Daily News, Franks, on his way home from his job at the Home Depot, was walking past Key Food supermarket right when some teens were looting it. The police on the scene arrested Franks, sending him on a horrid nine-day odyssey to Riker's Island. Behind bars, Franks suffered a seizure, was subjected to seven strip searches, and was verbally harassed by officers, he claims.
"It was very stressful," Franks told the Daily News. "The whole thing has been embarrassing. I want people to know that I'm not running into stores stealing things."
Sixteen others were arrested the night of the Key Food incident, which only resulted in two indictments, with the majority of cases being reduced to misdemeanors and other minor offenses. In the end, Franks was not indicted, and he is suing the city as a result of his harrowing ordeal.
The Daily News also tracked controversial comments made by NRA Chief Wayne LaPierre regarding the looting in Southern Brooklyn following Sandy.
In an online column, LaPierre charged that Bloomberg made a huge mistake by not allowing the National Guard to police the area immediately following the storm, allegedly leading to a climate in which criminals ran wild and violence soared.
Personal accounts from local residents and facts counter LaPierre's claims, according to the Daily News:
Shootings were down 17%. Rape was down 47%. Robberies were down 22%. Assaults were down 18%. Grand larceny was down 45%. And car thefts were down 22%.
Overall, crime fell by 25%.
And [NYPD spokesman Paul] Browne delivered another inconvenient truth for the NRA man — the city actually went a record eight straight days without a single murder.
According to the story in the Daily News, local business people in the heart of Coney Island also disagreed with LaPierre's assessment.