Loehmann's Plaza Fire Finally Getting Cleaned Up
Nearly six months after a suspicious fire burned at Loehmann's Seaport Plaza (2027 Emmons Avenue), the damaged storefronts are finally restored and turning up on the real estate market.
The fire happened in November at XO Creperie, causing major damage to the second level of Loehmann's Seaport Plaza. In its wake, XO Creperie and neighboring restaurant Sherizade shut down, and Loehmann's closed for three months while it renovated because of smoke and water damage.
Since that time, XO Creperie looked like it did in this photo, taken in January: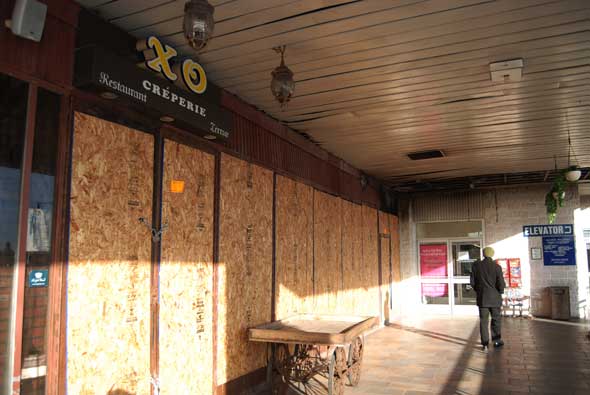 Note the fire damage that spans the entire width of the balcony ceiling, just outside the Loehmann's side entrance. Hanging wires stayed that way until about a month ago, according to one employee of the clothing store.
Now, work on the inside is under way as they put in new drywall and furnishings and, apparently, redo the electrical wiring: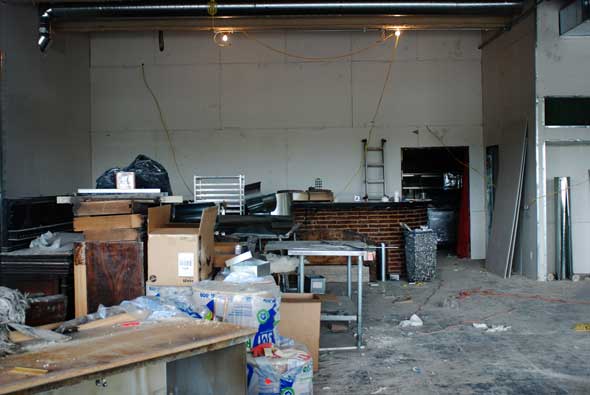 And according to the sign on the old Sherizade storefront, the 1,150 square foot retail space is represented by New Line Realty: