Locals Furious Over DOT Changes To Emmons Avenue
The Department of Transportation is wrapping up the implementation of a new traffic pattern along Emmons Avenue that it began last Monday, and local business owners and residents are saying the agency has made a bad situation worse.
The new traffic pattern includes a wider yellow-striped median separating the east-west lanes, as well as the extension of two left turn lanes from Emmons Avenue into Manhattan Beach – now stretching as far back as East 16th Street. The left turn bays on Emmons Avenue onto East 16th Street and Ocean Avenue have also been eliminated, while the one at Sheepshead Bay Road has been moved several feet closer to the water. The idea, it seems, is to make the road safer by increasing the distance between the lanes of traffic heading in opposite directions, while also allowing more room for queuing in the turn lanes for Manhattan Beach.
But the actual effect is a more dangerous situation, according to locals. The wider median means narrower lanes, and that combined with the longer turn lanes into Manhattan Beach means more bottle-necking – especially during Bay Academy arrival and dismissal times – and less clearance for those getting in and out of cars.
"We're concerned about it," said Oswalt Heymann, chief of staff to Assemblyman Steven Cymbrowitz.
The local pol's office has received several complaints from business owners near the intersection, as well as residents of a nearby apartment building who often park on the strip.
According to Heymann, the problems are three-fold: narrow lanes cause traffic jams when vehicles double park; less clearance for legally parked cars means more danger for those getting in and out of their vehicle; and a slight shift in lane alignment at the Sheepshead Bay Road intersection is an accident waiting to happen.
Previously, Emmons Avenue's extra wide lanes made it easy for drivers to navigate around double parked cars without leaving the lane, Heymann said. But now a double parked obscures the entire lane.
"It works on paper, because [on paper] there's no double parking," he said. "Sure, it's technically illegal. But in reality, it's what happens, it's what people do, and the [new pattern] doesn't work."
And the inability to double-park is a burden that hurts the pockets of local businesses.
"I'm not happy about it. We don't need it. It's a waste of money," said Dominick, co-owner of V & S Italian Kitchen & Pizzeria (1723 Emmons Avenue). He said that the new alignment makes receiving deliveries a hassle, and that customers running in to pick up an order may no longer come by if they need to find parking further away.
He said the city should be looking for ways to make parking easier, not harder.
"Everyone knows the biggest problem in the area is parking," Dominick said. "[The new pattern is] not creating more parking. What's it accomplish?"
Meanwhile, Cymbrowitz's office is also worried about dangers to pedestrians. The wider lanes of Emmons' past meant more clearance for drivers to get out of their parked vehicles safely. Now they're within inches of the lane, on which drivers often plow down at high speeds.
"The way it's set up is so when someone opens their car door, there's no room for error," Heymann said.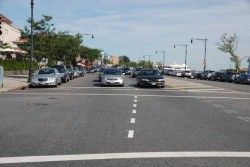 One change that drivers may not notice as they race down Emmons Avenue is a new lane shift at Sheepshead Bay Road. At the intersection, dotted lines show that the westbound lane moves about a foot-and-a-half to the right. Heymann said he observed the intersection for just five minutes and saw several near-accidents – "kisses" – as one car would shift and the other car wouldn't. Multiply that by the number of minutes in the day, Heymann said, and you've got a prime spot for more accidents.
"While 99 percent of cars will [shift lanes at Sheepshead Bay Road] without an accident, it's a very heavily trafficked roadway," said Heymann.
Cymbrowitz's office has reached out to the Department of Transportation to express concern over the changes, and they hope to get the agency's Brooklyn commissioner on location. So far they haven't received an answer. The DOT has not yet responded to Sheepshead Bites' inquiries either.
Still, it's not all bad news for some. When contacted for information on the traffic changes, Community Board 15 Chairperson Theresa Scavo gave us the rundown. She summed it up by finding the one silver lining in this latest DOT fiasco.
She wrote, "THERE ARE NO BIKE LANES."