Local War Veteran Hunts For Lost Dog Tags, Requests Help Of Bites Readers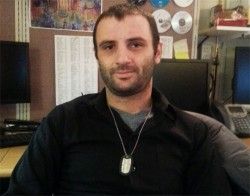 A local veteran of the U.S. Navy traveled the world's seas in the War on Terror, but has now lost a prized reminder of his service at local subway station.
Aron Kiperman, Petty Officer 2nd Class of the U.S. Navy from 2001 to 2006, thinks he lost one of his dog tags near the Neck Road train station last Monday, and is pleading with neighbors to keep an eye out for it. As one of the few possessions that travels the globe with a U.S. military member and stays with them once they've left the service, dog tags are highly valued by the servicemen who wear them. And they also serve as tokens for family members to honor the memory of a fallen service member, whenever he or she may pass.
"Every day that I wore my dog tags it reminded me of my five years in service," Kiperman wrote to Sheepshead Bites. "When a soldier or sailor dies, one tag stays with the body; I believe it is stuck into the mouth. The other tag goes to a family member. I know a young man, Steven, who died last year – his cousin Mike wears his single dog tag around his neck all the time."
Kiperman's dog tags traveled with him from ship to ship, port to port.
He enlisted in the Navy in March of 2001 to help pay for college, though his brother warned that under the newly elected presidential administration, war may soon break out.
He had no idea how prescient that warning was. After graduating bootcamp, Kiperman was assigned to the U.S.S. George Washington, an aircraft carrier stationed in Norfolk, Virginia. After working a 10-hour-long night shift, he hit the mess deck for breakfast and then to his sleeping quarters. On his way, he passed his shipmates, gathering around the television, where they watched the Twin Towers' north tower in flames.
"Moments later, I witnessed the [second of the] 9/11 attacks while being on a U.S. Navy Aircraft Carrier. Right there and then I thought of my brother, who months earlier warned me," he said.
The vessel set sail to New York, sailing around the Rockaways with Kiperman manning a 50-caliber machine gun.
"From that spot I saw the huge cloud coming up from Ground Zero. I also was able to see Brighton Beach, Sheepshead Bay, and Rockaway Beach. I couldn't believe that I went to the Navy far from home and ended up seeing my neighborhood from a warship in the ocean," he said.
Then they deployed.
The vessel, with Kiperman and his dog tags, stopped by Portugal, Italy, Greece, Slovenia, Dubai and the United Arab Emirates, and Kiperman earned ribbons and medals and promotions. He became an Operations Specialist, working in "the coolest part of the ship," the Combat Information Center.
In 2004, they boarded a brand new ship, the U.S.S. Momsen, a guided missile destroyer in the same mold as the U.S.S. Cole. He served on the vessel's maiden voyage through the Panama Canal, and brought it to its home port in Everett, Washington, where he moved with his wife.
He still missed home.
"I'd drive cross country in three days just to get back to good ol' Brooklyn," he said.
Kiperman was honorably discharged in 2006, and has returned to school and also works as an IT specialist at the Metropolitan Opera.
On Monday, March 25, he lost one of the dog tags that made the long journey with him.
"I parked the car on East 18th Street and Avenue V and placed the tags  in the same pocket where my wallet was.  If I lost it around there it must have happened when I pulled out my wallet to get my Metrocard. By the time I got to work I realized I only had one tag left," he said.
He has scoured the area since then to no avail, but hopes someone might see this article an reunite them.
"I am now left with one tag. Hopefully the two tags will be joined back together soon," he said.
If you have found the lost dog tag, please e-mail nberke [at] sheepsheadbites [dot] com, or call (347) 985-0633.