Local Veterans Remembered And Honored At Ceremony With AM Mosley (PHOTOS)
One week ago, the nation paused its regularly scheduled programming to take a day to honor and remember the veterans of this country, young and old, man and woman, alive and passed on. On this Veterans Day, dozens of these American heroes, from Fort Greene and Clinton Hill, as well as Bed-Stuy, gathered at St. Joseph's College for a ceremony, where they were presented with metal stars and certificates of appreciation by Assemblymember Walter T. Mosley.
"Every day we [must] honor veterans — the liberties and rights we have are preserved by your sacrifice," said Mosley to the assembled veterans and their families. "So many vets don't have families to come home to and are homeless. . . I was taught that we must respect [our elders] every day because we never know when is their last day on earth. It's the same with veterans."
Among the vets present was Reverend Hardee Smallwood, now 82 years old, who served for seven years as a private first class in the U.S. Marine Corps during the Korean War, and who earned a Purple Heart.
And the late Edward A. Carter, whose sister, daughters, and grandchildren accepted the awards in his honor, for his 14 years of service as a lieutenant in the U.S. Army during the Korean War and a corporal in the U.S. Air Force during the Vietnam War.
There was also Vietnam War veteran Richard Washington, siblings Harold and Annette Wilson, who served in the U.S. Navy and U.S. Army, respectively, and brothers Cato (Jr.) and Freddy Thomas, who both served in the Vietnam War — Cato as a lance corporal in the Marine Corps and Freddy as a private in the Army.
U.S. Navy Petty Officer Korine Williams — who grew up in the Whitman Houses — and her husband U.S. Marine Corps Black Ops Sergeant Reginald Jerman were also present, as there was nowhere else they'd rather be on this day.
Veterans Day and being surrounded by veterans "means a whole lot to me," said Williams. "My dad was a veteran and corrections officer. I didn't plan on being in for so long (20 years), but I wanted to see something different. I love this community."
According to Smallwood, who continues to regularly sit on the stoop of his childhood home on Monroe Street between Nostrand and Marcy Avenues in Bed-Stuy, reminiscing about his mother, father, family and friends, Veterans Day means "a whole lot of things."
"Lost lives. Being stuck in Korea. I had to dig a foxhole down the river. Stayed there for 18 days. When finally found is when it started to snow. I lost a lot of men. Friends who can never be brought back," said Smallwood. When asked what he does on Veterans Day each year, he answered "what I do every day. Serve God? Pray. It does me good, but it doesn't change things."
One thing that has changed, though, is the addition of children and grandchildren — the expansion of families.
"He's an inspiration," said grandson Marvin Patterson. "I learned how to serve the community. How to accommodate people and be giving. People know they can come to him for wisdom."
Similarly, three generations of the Carter family remember their brother/father/grandfather/cousin as being a rock — both for them and the larger Fort Greene and Clinton Hill communities.
"He was known as the Mayor of Fort Greene, a black cowboy, founder of the Navy Yard board, a Community Board 2 board member, and part of the Fort Greene Youth Patrol," said his daughters Tyrana and Sabrina, granddaughter Tarema, niece Michelle, and sister Marie.
"He passed a few years ago, but for him to still be remembered [on Veterans Day and by neighbors] means everything," they said. "He gave us reassurance. We learned to be supportive, endure, chase dreams, and have leadership and stability and political awareness. We're so proud of him."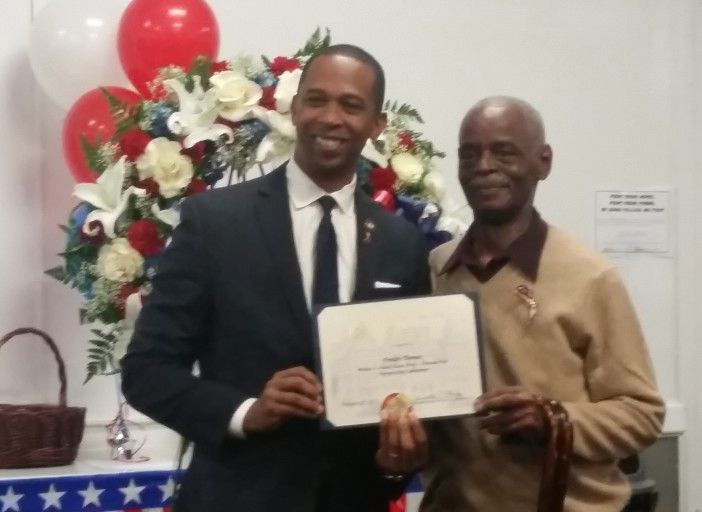 .