Local Textile Artist Showcases Her Work At The Farm On Adderley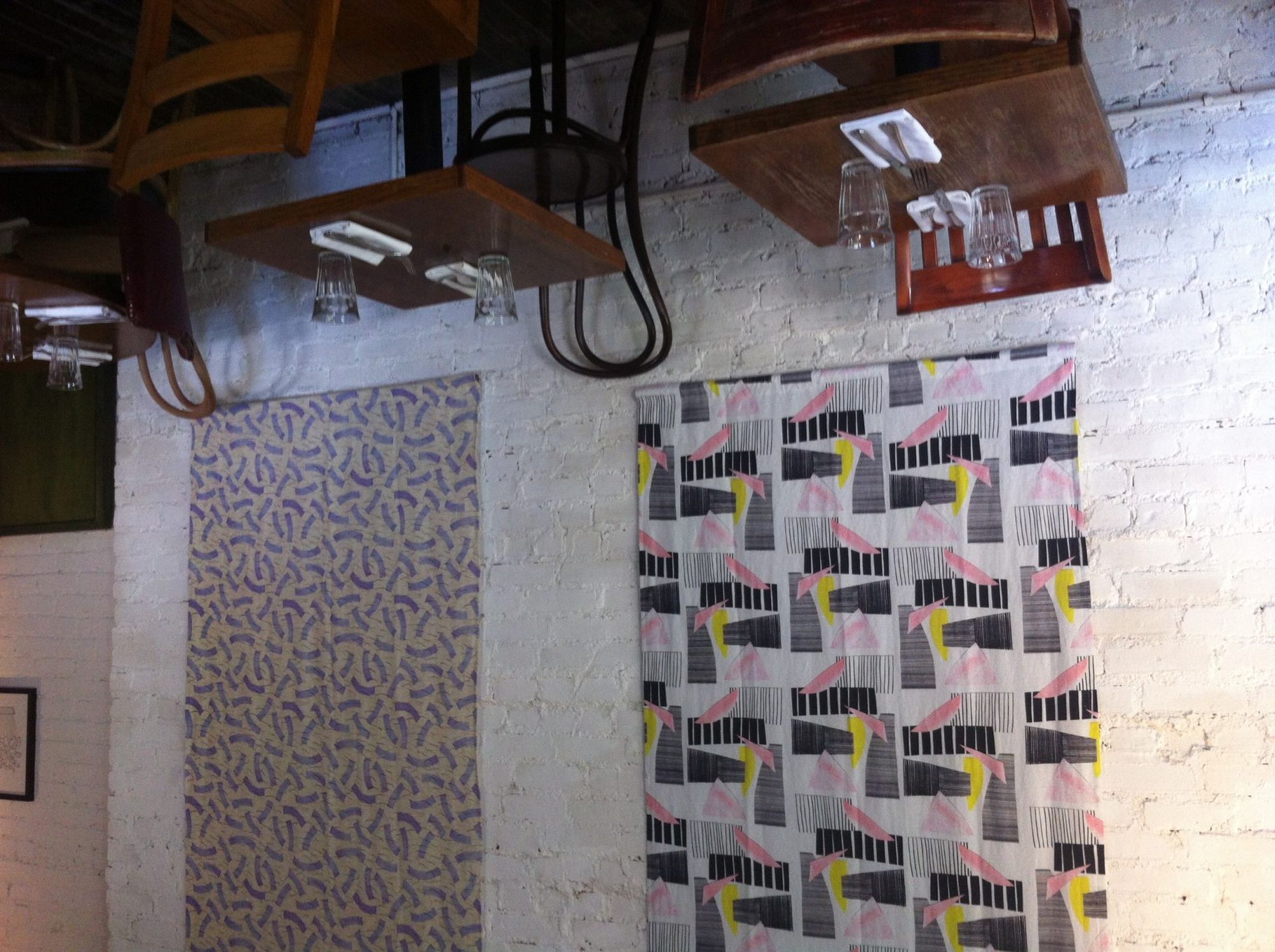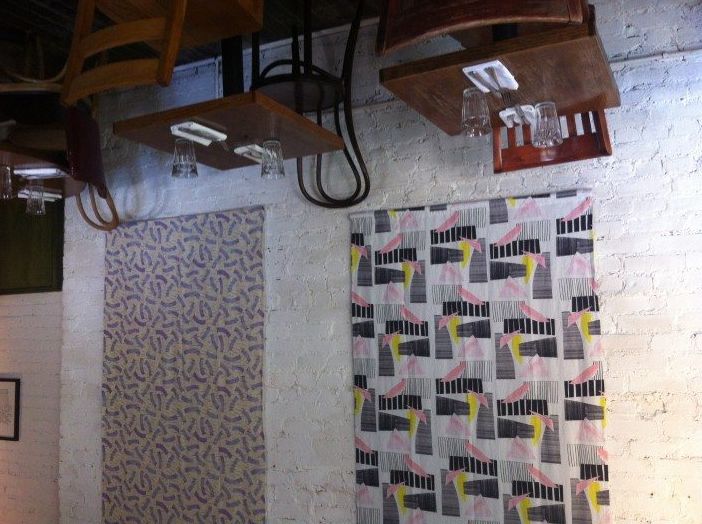 If you've stopped by the Farm On Adderley recently you might have noticed some of the prints decorating the walls. They are designed by neighbor Emma Harling, who does textile design for a number of different clothing brands and stores. She's lived in the neighborhood since 2013 when she moved to New York from Sweden.
We asked Emma to tell us a little bit more about her work and what her process for designing a print looks like.
DPC: Tell us a little bit about yourself.
Emma Harling: I'm 26 years old and was born and raised in Göteborg, Sweden. I moved to New York in 2013 when I got a job as a textile designer for a design studio in Brooklyn, where I got the opportunity to design prints for companies such as L.A.M.B., Anthropologie, Urban Outfitters, H&M, Monki, Forever 21, Aldo, Juicy Couture, Clinique, Macy's, and more. Today, I work with clients mostly in the U.S., and Sweden.
Originally, I wanted to become an illustrator as I always have loved drawing. During my late teenage years and early twenties, I worked with fashion on the side of my studies in various ways – I was a sales representative, a wholesale manager, and did an internship with the illustrator and fashion designer Lovisa Burfitt in Paris, for example. I moved to Paris when I was done with high school and lived there for a year. One of the things that is so amazing with Paris is that they have the most incredible art collections. I used to go to museums whenever I had a day off and look at things. I'd sketch and take notes. Being able to see all this work from different style periods in person at that age gave me a great foundation of my mental reference library.
Anyway, I moved back to Göteborg and found my hometown more boring than ever. I decided to open up an art gallery together with two friends. We put on shows that we wanted to go to ourselves, but that no one else was putting on. We were good at finding interesting up-and-coming artists. We put on art shows twice a month, and our gallery became a huge success, but we didn't really make any money, and it took a lot of time and energy. We shut down the operation after a year and decided to go to art school ourselves. I majored in printmaking. I experimented a lot with silk screening on fabric. Everyone in art school wanted to become a fine artist, but I wasn't so sure that I had what it took to create that kind of conceptual work. I was confused. My roommate at the time asked, "Why don't you do prints for fashion?" and that was an eye opener. An actual job where I could combine all of my interests, experience and qualities!
I started working towards that direction, doing freelance work and internships, and eventually ended up where I am today.
Textile design and fashion is very much connected to inventions and what is going on in the art world. But there are certain limitations to textile design. The surface, and available printing techniques, for example. I like the limitations, and that it has a functional purpose. It also requires a certain trend sensibility, knowing what to pull at the right time.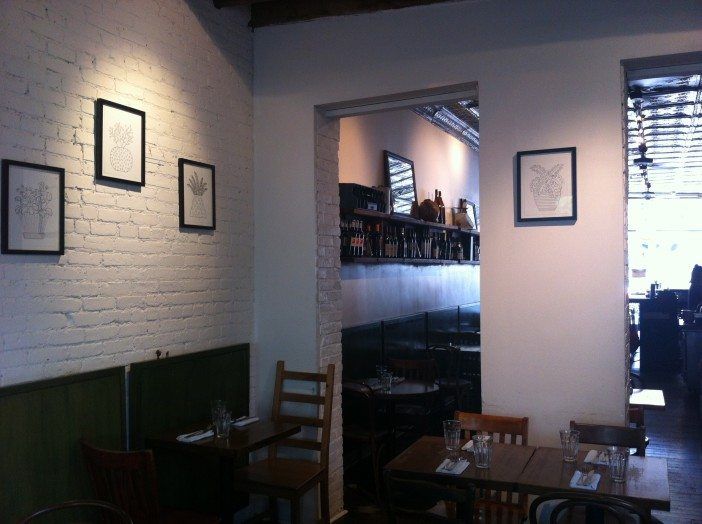 Tell us about the work you have displayed at Farm on Adderley.
It's a small series of printed wall hangings that I designed in July, specifically for that space. In addition, I framed some of the original drawings that I used to create the patterns so that people get a hint of what the process looks like.
I thought a lot about scale and harmony. I wanted them to be playful and happy, yet not too demanding to look at while you're sitting down for dinner. The colors I chose to use are to me very Scandinavian. There's a certain light there, which is bright and grey at the same time which makes the colors are pretty low key – they're light, soft, dusty, harmonic.
The motifs are of geometrical shapes, and plants. I like plants. The exhibition will be there until January, and everything is for sale.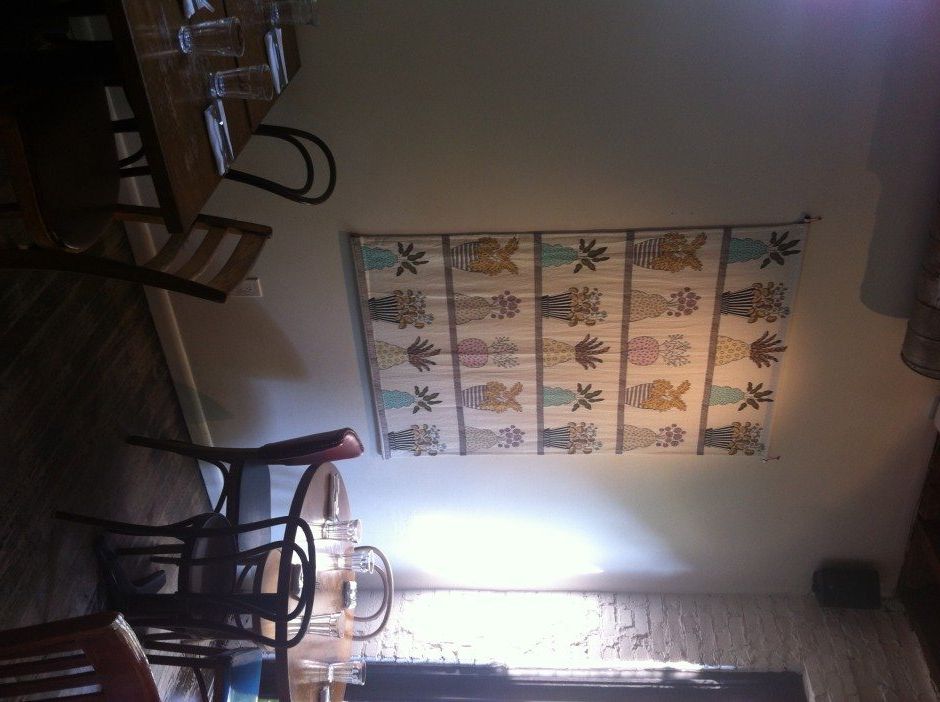 Tell us about your process for designing something.
I usually start by looking at images. I pull out everything that I like that day. Then I try to figure out why I like it, and think of how I can do it differently. I choose some kind of motif and start drawing. I draw, paint, or collage everything by hand on paper. I get more ideas as I draw, and one thing usually leads to another. When I have a pile of artwork, I scan everything and figure out the repeat on the computer. By now I've gotten to know the artwork. The last thing I do is pick the colors. I bang out a lot of patterns at the same time. If I'm not happy with the result of something, I keep it aside until I figured out what to do with it.
Why did you settle in this neighborhood?
My husband has friends who have been living here for many years, and this is where he always stayed when he came to visit. When we moved to New York, a bedroom opened up for us, and we've been here since. It's a very friendly neighborhood, and it's amazing how quiet it is compared to other parts of the city. I love how it's close to the city, the park and the ocean at the same time.
What is one of the neighborhood's hidden (or not-so-hidden) gems?
I like the fabric stores on Flatbush Avenue – especially Beautiful Fabrics and Flatbush Fabrics.
What are some of your influences?
Inez Svensson, Astrid Sampe, Sonia Delaunay.
Anything you've read/seen lately that you'd recommend?
The Life and Loves of a She-Devil by Fay Weldon.
---
Emma's work is up at The Farm On Adderley, 1108 Cortelyou Road until January. You can find out more about her work at emmaharling.com.