Local Student Seeks Equality In Autism Research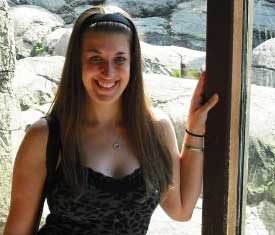 A life-long Manhattan Beach resident is looking to improve the balance of gender-based autism research with a study targeting fathers of affected children.
As a doctoral candidate in the School and Community Psychology program at Hofstra University, Nora Abend Fayerberg discovered a heap of information about exam stress and emotional effects in mothers of autistic children. But for the men in the family, there was hardly a word written or a study produced.
Fayerberg's looking to fix that.
"So many people give up on those kids because they find it difficult to form a social/emotional connection," Fayerberg said. "I find that the greatest rewards come from advocating for individuals who can't advocate for themselves. Since fathers of children with autism are so underrepresented, I wanted to fill that void in the literature by giving them a voice."
Statistics show that raising an autistic child is an ensnaring onus, sometimes shattering families. Approximately 1.5 million Americans suffer Autism Spectrum Disorder, and the divorce rate among those families hovers around 80 to 85 percent.
Research such as Fayerberg's is the basis on which clinics and care-providers shape their services, so the dearth of literature into the effects on fathers means a shortage of means with which to cope.
Fayerberg, whose younger brother is a gifted student with dyslexia and dysgraphia, is seeking 40 fathers of children with autism for her research. Participants will receive a research packet with six questionnaires that will take about 30 minutes to complete. Fathers should have at least one child with autism under the age of 12.
Here's the full letter to parents:
Dear Parents:
I am a doctoral candidate in the School and Community Psychology program at Hofstra University. I am writing to you because I am currently conducting research for mydissertation, which explores the effects of parental roles on fathers. An extensive review of the literature indicates that parents of children with disabilities experience higher levels of stress than parents of children without disabilities. Among the studies that have examined stress in parents of children with disabilities, the primary focus has been on the mother. Autism spectrum disorder (ASD) is a specific type of disability that causes impairments in social interaction, deficits in communication, and restricted, repetitive,and stereotyped behaviors. Parents of children with autism have been known to report more psychological distress than parents of children with other types of disabilities as well as parents of typically-developing children. Again, mothers play a dominant role in the research. The literature does not appear to include any studies dedicated exclusivelyto fathers of children with autism.
My study will compare fathers of children with autism to fathers of typically-developing children in an attempt to show the similarities and differences between the two groups. I believe that fathers of children with autism are extremely underrepresented in the literature, so my ultimate goal is to be able to give them a voice and advocate for the importance to include them in services. My research packet consists of six short questionnaires, which should take approximately 20 to 30 minutes to complete. Participation is completely voluntary, but if you are interested in helping me contribute to the literature, please email me at nabend1@pride.hofstra.edu.
Thank you for your time. I look forward to hearing from you!
Sincerely,
Nora Fayerberg, Psy.D. (ABD)
Hofstra University