Local Pols Honor Amity School's Karate Kids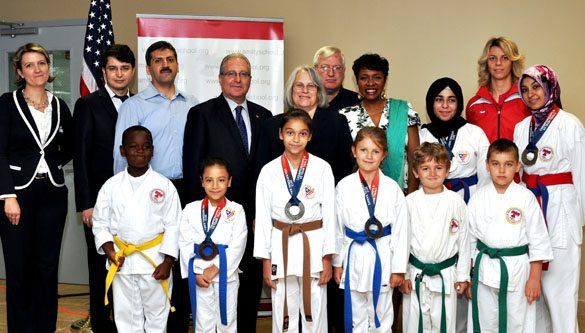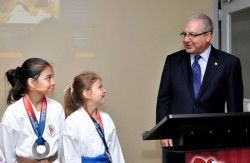 Two weeks ago, we told you about how Amity's students kicked butt at at the U.S. National Karate Championships, racking up 13 medals for the 3867 Shore Parkway private school. Now, local politicians have taken note, and converged on the school on Wednesday to honor the feisty fighters.
Congresswoman Yvette Clark, Assemblywoman Helene Weinstein, Assemblyman Steven Cymbrowitz and Assemblyman Alain Maisel visited Brooklyn Amity School to congratulate the students of Amity School for representing New York in the nation's biggest karate championship. Amity's students, ranging in age for 6 to 17, won five gold, five silver and three bronze medals, and local pols credited the students and their teacher, Meral Olmez, a two-time world champion, for their hard work.
"These young martial artists from Brooklyn Amity School's after-school karate program have made all of us here in Southern Brooklyn so proud," Cymbrowitz said. "Congratulations to all of these students who so ably competed with the utmost sportsmanship, to Sensei Olmez for believing in her young students, and to the Brooklyn Amity School, which has once again proven its commitment to excellence."
"I want to congratulate the students of the Brooklyn Amity School and Sensei Meral Olmez on their success in this year's USA National Karate Championships," added Clarke. "With a win of 13 medals, Brooklyn was well-represented by this group of young athletes who were able to demonstrate great skill, ability and a strong drive for excellence."
Photos courtesy of Assemblyman Steven Cymbrowitz.