Local Pols Gather For BJ's Wholesale Club Ground Breaking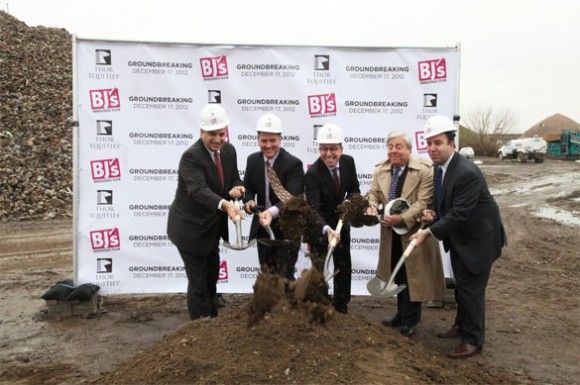 Brooklyn Borough President Marty Markowitz, City Council Member Domenic Recchia and Brooklyn Chamber of Commerce President Carlo Scissura all gathered for the groundbreaking a of a new BJs Wholesale Club in Gravesend.
(UPDATE: When will Bensonhurst's BJ's open? September 13!)
Since Superstorm Sandy struck late last October, the time-table for the construction was moved up in an effort to spur job growth in the area.
"By moving up the construction time table and creating 300 well-paying jobs, they are helping to drive the economic recovery in South Brooklyn—especially in nearby Coney Island—one of the areas hardest hit by the storm," said Markowitz in a press release.
As we previously reported, the megastore, where you can buy everything from computers to over-sized boxes of cereal, will occupy a 200,000 square foot space at 1752 Shore Parkway. It gained the City Council's approval in September 2011, and is being developed by Thor Equities. It's not without controversy: some locals are concerned that it will siphon customers away from mom-and-pop business owners.