Local Pol Pushes Ban On Pet Piercings, Puppy Plastic Surgery
Local Assemblywoman Nicole Malliotakis is seeking a statewide ban on cosmetic procedures for pets, including piercings, tattoos, tummy-tucks and more.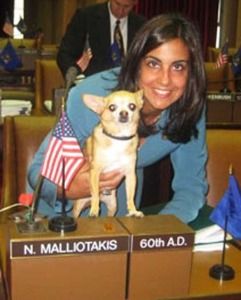 Malliotakis, herself the owner of a teeny, tiny adorable chihuahua named Peanut, introduced a bill establishing such procedures as a misdemeanor. She said she was compelled to introduce the ban following what the airing of Pet Crazy, a 20/20 documentary about dogs, cats and other animal companions being subjected to a slew of plastic surgery (including facelifts) and cosmetic procedures like tattoos.
"I was sickened after seeing the images of dogs with tattoos and piercings through their eyebrows and noses.  While the psychological effects on these animals is an area of debate, the fact remains that most of these procedures require an application of general anesthesia which poses a health risk in itself," Malliotakis said. "The animal must then go through the pain of recovery and possible infection, or post-surgery complications.  These non-medical cosmetic procedures are not just odd and unnecessary, they amount to animal cruelty."
The bill not only makes the procedures illegal, but also the sale of pets who have been undergone them.  This would remove the impetus for retailers to physically modify an animal in the hopes of increasing its value to prospective buyers.
An earlier draft of the bill included banning neuticles – artificial testicle implants – but the provision was removed when her office learned that most neuticles are implanted at the time of neutering, not during a separate procedure.
According to Malliotakis, the bill has garnered support from local animal rights advocates, including Anarchy Animal Rescue of Staten Island and No More Tears Rescue.
If passed, violating the ban could be punishable by up to a year in prison and a fine of $1,000.
State Senator Marty Golden will carry the bill to the Senate.