Local Orgs Donate For Hero Teen's Funeral, Donations Still Needed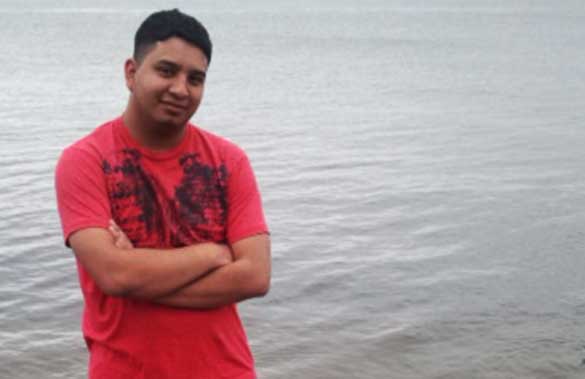 Donate now to help the Caballeros!
Local organizations, businesses and residents rallied to deliver some good news to grief-stricken Caballero family: their heroic son will receive a proper funeral without further financial burden to the family.
The Caballeros' 18-year-old son Jhordan died Friday after saving his 8-year-old brother from their burning home, then rushed back into the blaze to attempt the rescue of an elderly neighbor before succumbing to the thick smoke.
The Brighton Neighborhood Association spent the weekend leading the charge to help the Caballeros, recent Peruvian immigrants who found themselves unable to pay the hefty fees for a proper burial. The BNA, with the help of several local businesses and the good will of neighbors, told Sheepshead Bites they've managed to cover the basics.
Sheepshead Bay's own St. Mark Roman Catholic Church will dedicate a mass to Jhordan Caballero; his brother is a student at the church's school. John J. Healey Funeral Home, Dignity Memorial, at 2005 West 6th Street will put on the viewing and memorial service, and has also worked with its partners to secure a casket, flowers and other essentials. All Faiths Cemetery at 67-29 Metropolitan Avenue, Queens, NY, 11379, is providing the plot where the heroic Caballero will finally lay at rest.
The viewing at Healey Funeral Home will take place Wednesday, February 29, from 2:00 p.m. to 5:00 p.m. and from 7:00 p.m. to 10:00 p.m. The St. Mark mass will take place on March 1 at 10 a.m.
But all is not over for the Caballero family. The fire destroyed their home and all their possessions, and they're in need of clothing and other items to get by.
According to the BNA, the Caballeros and their 8-year-old son need the following items:
Men's pants, size 32 x 30
Men's shirts, size medium, or 15 1/2 collar
Men's shoes, size 9 1/2
Women's tops, size XL
Women's pants, size 14
Women's shoes, size 7W
Children's pants, size 14
Children's shirts, size M
Children's shoes, size 1
The family is also hunting for a new apartment on a modest budget. The BNA has pointed out that they have a history of on-time payments with their previous landlord. Once they find an apartment, they will need furniture, appliances, sheets, towels and other furnishings.
To meet that end, the BNA has already received hundreds of dollars from neighbors, including $500 from the FDNY Engine 246 Ladder 169, the same outfit that helped quell the flames.
If readers have any of the items above, or would like to make a financial contribution, they can contact the Brighton Neighborhood Association, 1002 Brighton Beach Avenue, Brooklyn, NY, 11235. You can call (718) 891-0800 or e-mail bnapsinger@aol.com if you have additional questions.
Since the BNA does not have a PayPal account, Sheepshead Bites is offering to collect credit card and PayPal donations on their behalf. You can choose the amount and use the button below to make a donation in this manner:

(Please note that donations made to the family or BNA through Sheepshead Bites are not tax-exempt as we are a for-profit business operating solely as a middleman.)