Local Leaders Criticize DOT Proposal For C.I. Ave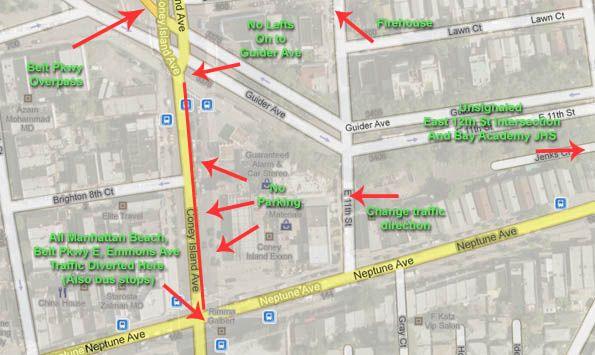 Local leaders  are looking for ways to put the brakes on what they say are dangerous and complicated changes around the Coney Island Avenue Belt Parkway overpass being proposed following a Department of Transportation study.
The changes are part of the Coney Island/Gravesend Sustainable Development Transportation Study, a proposal seven years in the making that aims to clear up roadway confusion and improve safety at major intersections between Sheepshead Bay, Coney Island, and Bensonhurst.
The changes proposed for Coney Island Avenue between Guider Avenue and Neptune Avenue are as follows:
Southbound cars on Coney Island Avenue will no longer be able to make a left turn on Guider Avenue, and instead will have to go to Neptune Avenue.
On the northbound side of Coney Island Avenue, parking will be eliminated altogether between Neptune Avenue and Guider Avenue.
Also on the northbound side: a left turn lane will be implemented for the westbound Belt Parkway entrance; a no-turn lane for those continuing on Coney Island Avenue; and a lane for those accessing Belt Parkway East, taking drivers past the car wash.
But the plans have sparked anger from civic group leaders and Community Board 15 for overlooking simple solutions and instead embracing complicated changes that are dangerous to drivers and threaten businesses.
"Their entire project calls for reducing parking and limiting access to streets. All that is needed are signal lights. We do not help a situation by hurting the area businesses," said Community Board 15 chairperson Theresa Scavo.
Scavo has demanded an on-site meeting with DOT before changes are implemented, but isn't holding her breath for the department to come with an open mind.
"We're trying to stop it before it happens like in Community Board 13 and Gerritsen Avenue. We're begging, please don't implement this before you visit," Scavo said.
She referred to surprise changes in street directions in Coney Island last month – which were also part of this same proposal. On Gerritsen Avenue, DOT has implemented "traffic calming," shrinking a four-lane avenue down to two lanes despite widespread community opposition. (Within days of the changes on Gerristen Avenue an accident occurred involving a school bus that left nine injured that GerritsenBeach.net attributed to the changes.)
Scavo said the alterations will cause more problems, and diverting southbound Coney Island Avenue traffic to Neptune is a danger for all. She said traffic is already congested on Neptune Avenue, and bus stops on the corner will make matters worse. Drivers looking for the Belt Parkway will be forced to go down East 12th Street – which has no light or signal – or next to Bay Academy on East 14th Street, putting students at higher risk.
Judy Baron, chairperson of the Manhattan Beach Community Group traffic committee, complained at a recent meeting that the DOT didn't gather enough information and was making a decision that would make a bad situation worse.
"The DOT didn't know there was a gas station. They didn't know there was a bus stop, a fire station, or a school," she said. "Manhattan Beach Community Group wants to work with them to make sensible plans."
To alleviate Neptune Avenue traffic heading to the Belt Parkway, the DOT told Scavo they could reverse directions on East 11th Street. But that has problems as well.
"What about the fire house," asked Scavo about the nearby firehouse that would be limited by such changes."The answer from DOT: 'What fire house?'"
Local businesses on Coney Island Avenue are also upset about the plans, specifically the proposal to eliminate parking.
"There's not enough parking here as is," said Esther Ikhilevsky, owner of Guaranteed Alarm & Car Stereo Co. at 3029 Coney Island Avenue. "It's a car business, people drive here and get out of their cars and come in."
She says almost all of the 20 to 30 customers each day drive there and many will stop coming if parking isn't available. When Sheepshead Bites spoke to her, she was totally unaware of the proposed changes; the DOT had not contacted her.
"My employees – how are they supposed to come to work. They park their cars here, too," she said.
Scavo and other local leaders agree that changes need to be made at the intersection, but the DOT is going too far.
"Add a left turn traffic light to Coney Island Ave and Guider both north and southbound and that entire intersection would be safer. Period," she said.
Ikhilevsky agreed. "[Turn signals] should have been done a long time ago because there's constantly accidents coming off the bridge," she said.
Scavo and the civic groups are still waiting to hear back from DOT officials. But Ikhilevsky is prepared to mobilize other businesses in the area against the proposal.
"Trust me. I'll have everyone petition against this," she said. "I'm known in the area."
With additional reporting by Arthur Borko.